Broadband internet returns to J&K, but with riders
Broadband internet returns to J&K, but with riders
Jan 15, 2020, 09:26 am
3 min read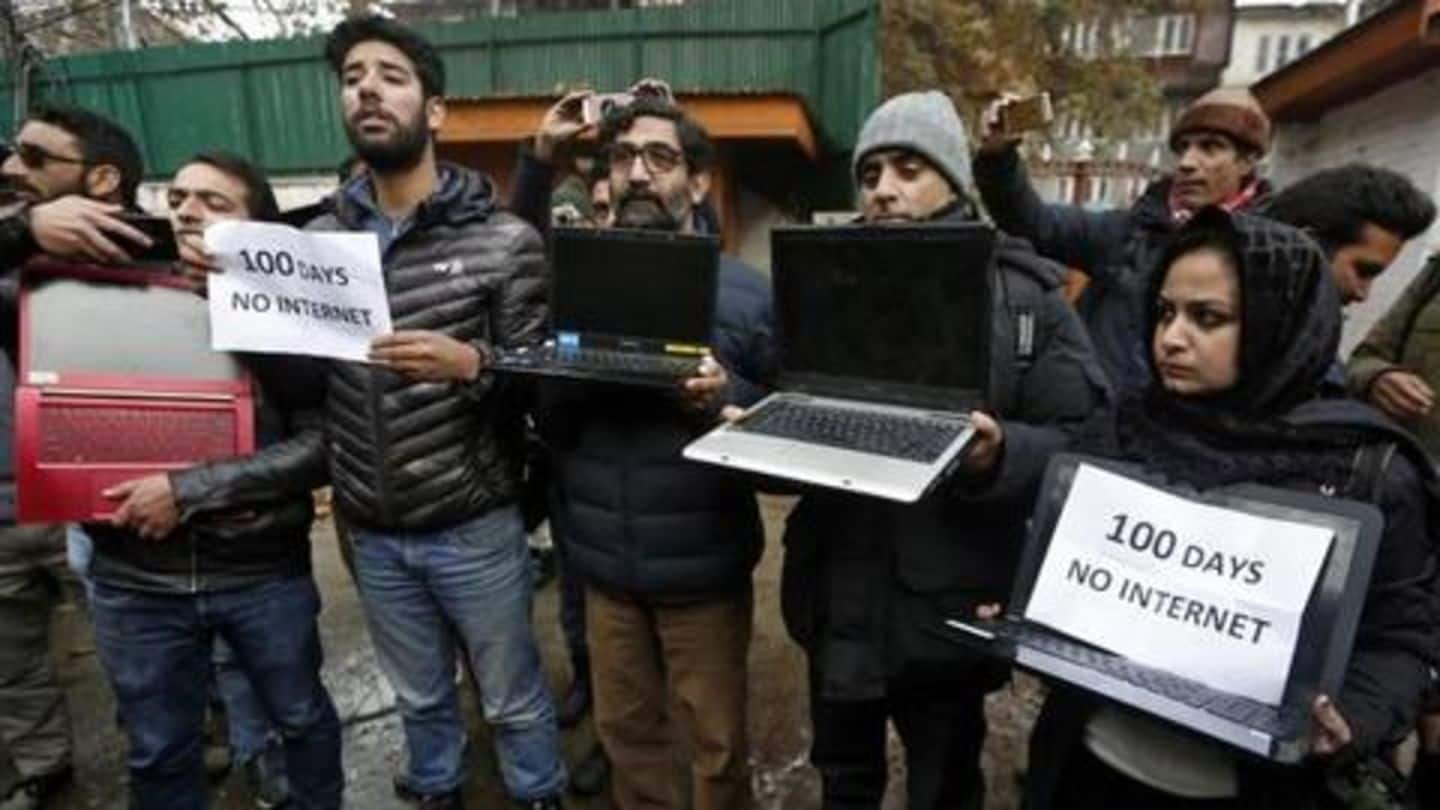 In August 2019, Jammu and Kashmir was put under a heavy security blanket to prepare the erstwhile state for the abrogation of Article 370. Internet services were also suspended increasing woes of locals. Now, after more than five months, the administration has decided to restore broadband internet, but restrictions on using social media are still in place. The restoration process will happen in phases.
Background: Recalling how the state's status changed last year
Till August, residents of J&K lived under a separate set of rules, pertaining to citizenship and property ownership. But the Centre, led by BJP, revoked the contentious Article 370, bringing J&K under the constitution's ambit. However, anticipating that this historic move will have violent repercussions, hundreds of army men were sent to J&K, communication modes were suspended, and politicians put under detention.
Months after blackout, Jammu region got broadband internet back
With the internet being blocked, concerns about human rights peaked, but the government kept citing security issues for this move. On Tuesday, J&K Principal Secretary (Home) Shaleen Kabra signed a three-page order allowing internet services to be restored in districts namely Jammu, Samba, Kathua, Udhampur, and Reasi. All the aforementioned districts fall in the Jammu region of the newly-created union territory.
"Broadband facility is being restored to get essential services functioning properly and tourism restarted. There will be a total ban on social media, though. A call on extending the facility to the general public will be taken after January 26, depending on the security situation," sources told Indian Express.
Services were restored despite threats
In the order, the administration noted that the services were returning despite a palpable threat of terrorist attacks. Unless modified, the order will come into effect for a week starting Wednesday. The order also specified that it is the institutions' responsibility to prevent any misuse. They should appoint nodal officers, allow authorized users, maintain a record and also monitor usage.
Institutions were asked to install firewalls
"Prior to giving such facility, the ISPs shall install necessary firewalls and carry out 'white-listing' of sites that would enable access to Government websites and websites dealing with essential services, e-banking, etc. excluding, however, all social media sites," the order went on.
In Kashmir, internet services will be restored in phases
As far as the Kashmir region of the union territory is concerned, internet access will initially be allowed in Central Kashmir including capital Srinagar. Two days later, the internet will be restored in north Kashmir, including areas like Kupwara, Bandipora, and Baramulla. South Kashmir, which has areas like Pulwama, Kulgam, Shopian, and Anantnag, will get internet in the final stage, a report in NDTV said.
Last week, Supreme Court advocated right to internet
This development comes days after the Supreme Court said the right to the internet comes under freedom of speech, and can't remain suspended for long. The top court was hearing a batch of petitions against the curbs and said the administration should take a decision soon while keeping law and order in mind. The bench also didn't favor frequent imposition of Section 144.