Coronavirus: Government imposes curbs on exports of diagnostic kits
Coronavirus: Government imposes curbs on exports of diagnostic kits
Written by
Siddhant Pandey
Apr 04, 2020, 06:44 pm
3 min read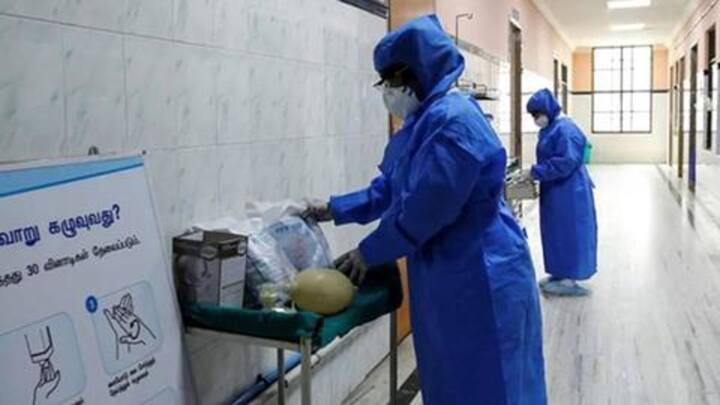 As the number of cases of the coronavirus disease (COVID-19) continue to rise, India on Saturday imposed restrictions on the export of diagnostic kits with immediate effect. The move comes amid a shortage of diagnostic kits for COVID-19 patients in India. Earlier this week, the Centre faced backlash over exporting medical protective equipment to Serbia. Here are more details.
Directorate General of Foreign Trade notified new export restrictions
A notification from the Directorate General of Foreign Trade (DGFT) stated: "The export of Diagnostic Kits (Diagnostic or laboratory reagents on a backing, preparation diagnostic or laboratory reagents whether or not on a backing, other than those of heading 3002 or 3006; certified reference materials) falling under any ITCHS Code, including the ITCHS Code mentioned above, is restricted, with immediate effect."
Restricted items can be exported with DGFT permit
Earlier, the export of diagnostic kits was allowed without any restrictions, even as India faced a shortage. Notably, restricted items can also be permitted for export after obtaining a license from the DGFT.
Last week, India exported 90 tonnes protective equipment to Serbia
On Sunday, the official Twitter handle of the United Nations Development Programme (UNDP) in Serbia said that 90 tonnes of medical protective equipment landed in Belgrade from India. This sparked immense backlash as healthcare professionals in India have repeatedly complained about the shortage of protective equipment. However, it was later clarified that the consignment only included surgical gloves.
Consignment consisted exclusively latex gloves: Serbian Ambassador to India
Serbian Ambassador to India Vladimir Maric told LiveMint, "The entire consignment consisted exclusively latex gloves purchased from Indian companies." Association of Indian Manufacturers of Medical Devices (AiMeD) forum coordinator Rajiv Nath, said, "There are no shortages of surgical gloves. There are shortages of PPE kits, coveralls, and masks," adding that India is reaching out to other nations for PPE masks, coveralls, kits, ventilators, etc.
Masks and coveralls under 'prohibited' items under export policy
According to a March 9 amendment in the export policy of the Ministry of Commerce, masks, ventilators, and the textile raw material for masks and coveralls, fall in the 'prohibited' category of items and cannot be exported.
India has reported nearly 3,000 cases of COVID-19
As per the latest update from the Health Ministry, by 9 am on Saturday, India had reported a total of 2,902 cases of COVID-19. These include 68 deaths and 2,650 active cases along with 183 cases where the patient had been cured or discharged, and one patient who migrated out of India. Maharashtra remains the worst-hit state, reporting 537 coronavirus infections on Saturday.
COVID-19 was first reported in China's Wuhan city in December 2019. The disease is caused by a novel coronavirus called SARS-CoV-2. The virus attacks a host's respiratory system triggering symptoms such as fever, cough, and breathing difficulties. In severe cases, it may cause pneumonia, multiple organ failure, or death. COVID-19 has spread to over 170 countries, killing 60,000 and sickening 1.1 lakh.