Video: Chinese rocket re-enters Earth, light-up skies over Maharashtra, MP
Video: Chinese rocket re-enters Earth, light-up skies over Maharashtra, MP
Apr 03, 2022, 01:14 pm
3 min read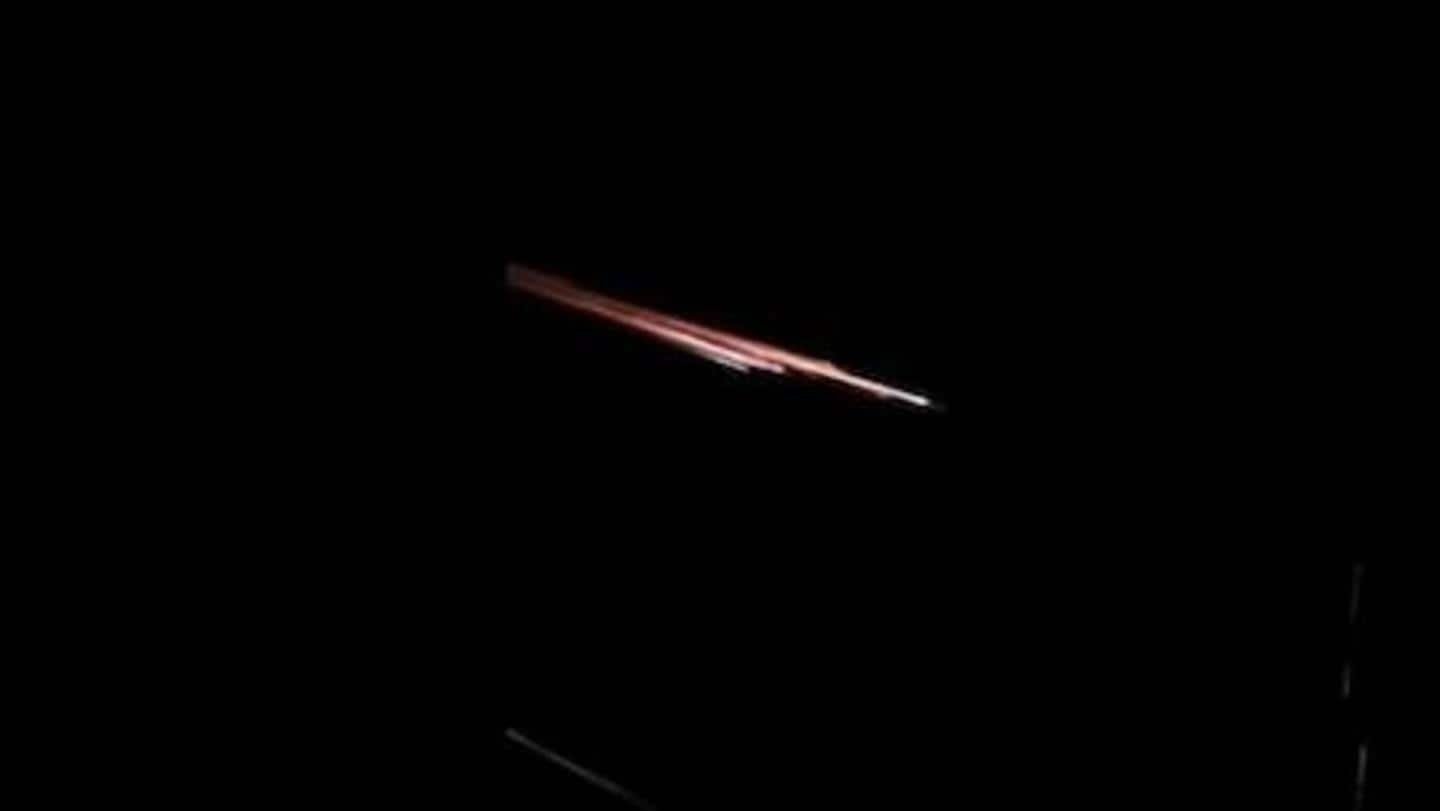 A blistering streak of light slashing through the night sky caught skywatchers off guard in regions of Maharashtra and Madhya Pradesh on Saturday, leading them to believe it was a meteor shower. The streak, however, was the remains of a Chinese rocket that re-entered Earth's atmosphere and burned in skies over India. The rocket was Chang Zheng 5B, which was launched in February 2021.
Why does this story matter?
The Long March 5 rocket family has been critical to China's space ambitions, from delivering modules and crew for its planned space station to launching explorative probes to the moon and Mars.
Since the re-entry of the 3B rocket body was expected on Saturday, US Astronomer Jonathan McDowell referred to the occurrence seen over Maharashtra as a potential "re-entry of a Chinese rocket stage."
What did the US scientist say?
"I believe this is the re-entry of a Chinese rocket stage, the third stage of the Chang Zheng 3B serial number Y77 which was launched in Feb 2021-it was expected to re-enter in the next hour or so and the track is a good match," McDowell, an astronomer at the Center for Astrophysics in Cambridge, tweeted. The international scientific community agreed with him.
'It seems like a satellite...might have fallen accidentally'
The president of the Skywatch group, Suresh Chopade, in Nagpur, stated that the unusual event was witnessed by a number of people in Maharashtra and appears to be related to a satellite. "It seems like a satellite of some nation might have fallen accidentally or may have been caused to fall intentionally. It does not seem like a meteor shower or fireball," Chopade said.
Just spotted this thing going over my head 10 min ago It was very close in altitude. Any expert who can guess about this? pic.twitter.com/fkg5kDZoCv

— Frustrated Pluto (@frustratedpluto) April 2, 2022
Meteor shower or Chinese rocket re-entry?
However, Suresh Chopade did not rule out the possibility of a meteor shower since he wasn't confident but added that the colors indicated that "a metallic thing" was accompanying it as it approached Earth. A meteor shower is a celestial event in which multiple meteors are observed to radiate or originate from a single point in the night sky.
Twitterati believed it to be a meteor shower
One Twitter user wrote while sharing a video of the event, "Comet shower seen in the western region of India. This was drop-dead gorgeous. @NASA @isro @neiltyson #Nagpur #Amravati #Dhule #Akola." Another person shared a video on Twitter stating, "#meteor #meteorshower 7:46 PM 2 April 2022 Above Nagpur, Maharashtra." "Meteorite was seen disintegrating over Nagpur. #ISRO #NASA #Nagpur #India #TrendingNow," another tweet read.