With unique wooden bicycle, Coimbatore man teaches health and business!
With unique wooden bicycle, Coimbatore man teaches health and business!
Written by
Pallabi C Samal
May 22, 2018, 10:28 pm
2 min read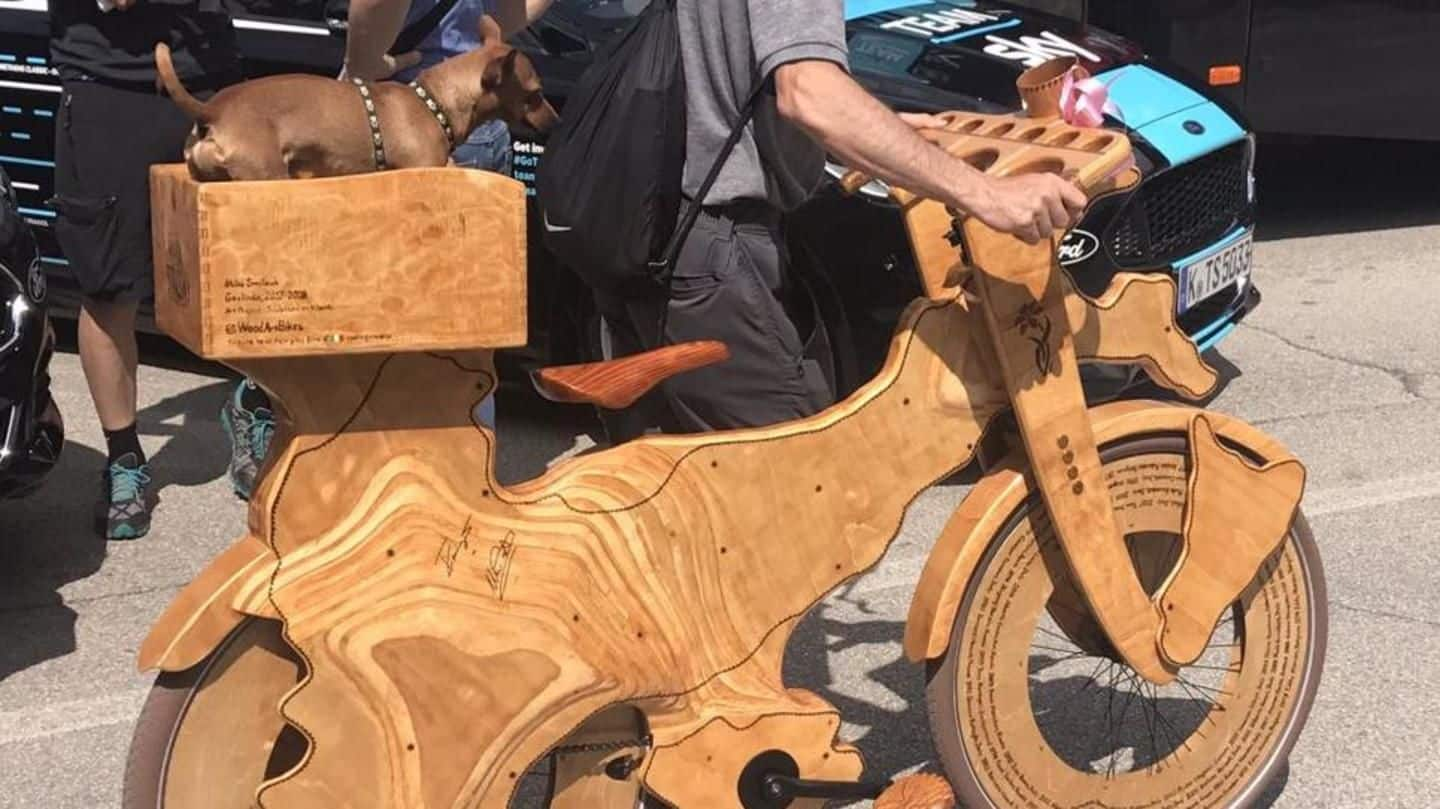 He wanted a new frame for his bicycle; he ended up making one... out of wood! Coimbatore-based PK Murugesan mostly cycles his way around the city, so when his cycle's frame was damaged in transit, he was in desperate need of a new one. However, this time he didn't go for the vulnerable metal frame; instead, he chose engineered wood, and it's a beauty!
It took Murugesan just 15 days to design the bicycle
33-year-old Murugesan is an interior designer. So understanding the basic structure was not a big deal for him. It took him 15 days to make a sketch and eventually build a wooden bicycle. Retaining some parts like the handle bar and the seat in their original built, Murugesan made the entire cycle with wooden parts. But Murugesan has bigger aims with this bicycle.
He wanted to make a bicycle to attract people's attention
He wanted people to notice his bicycle, so that he gets a chance to talk to them about how riding bicycles can help reduce vehicular emission. "As I had interest in environmental issues, I thought making a wooden bicycle would attract people's attention (to bicycles)," he said. And he was right. The moment he ventured out with his new 'beast', people got inquisitive.
Murugesan is working on improving design, bring down manufacturing cost
"People stopped me on road and asked me about the cycle. Many wanted one made for them," he said. That's when he thought of giving it a commercial spin. However, it's going to take time; he's still in the designing phase. Modifying his bicycle cost him Rs. 25,000. "I'm planning to bring down the cost to 18,000 and improve the design," he shared.
Currently, tires are getting changed to multi-terrain bike type
For his bicycle, he used tires that are only suitable for paved surfaces, meaning the ones used for city terrain bikes. He plans to change that to "multi-terrain bike tires that would be suitable for long rides too." After everything is set, he would start a firm after registering his design. Given the rising pollution and fuel-prices, this bicycle is surely worth a shot!