Coronavirus: India's tally crosses 31.6 lakh; over 58,000 dead
Coronavirus: India's tally crosses 31.6 lakh; over 58,000 dead
Written by
Siddhant Pandey
Aug 25, 2020, 02:27 am
2 min read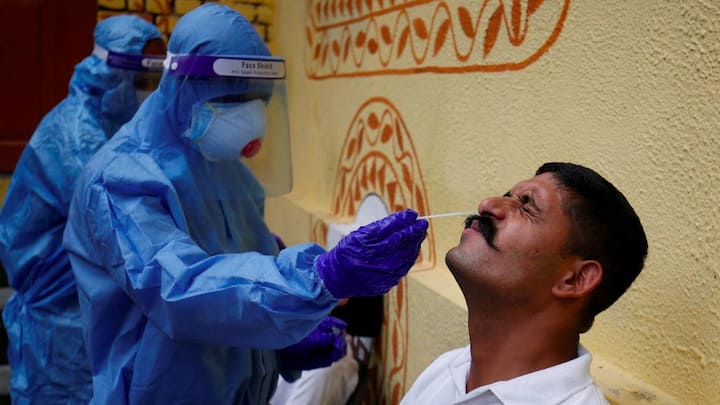 On Monday, India reported a little under 60,000 new coronavirus infections. The nationwide total has now reached 31.64 lakh. Over 800 fresh fatalities also pushed the death toll to 58,565. At least two states independently reported record single-day spikes in cases: Madhya Pradesh (1,292 new cases) and Chhattisgarh (1,136). Haryana Chief Minister was among those who tested positive on Monday. Here are more updates.
Health Ministry confirms 31,06,348 COVID-19 cases, 57,542 deaths
Till 8 am on Monday, the Union Health Ministry had confirmed 31,06,348 COVID-19 cases, including 57,542 deaths, 7,10,771 active cases, and 23,38,035 recoveries. According to data compiled from official state and union territory government statistics, India has reported 31,64,867 cases and 58,565 deaths (including co-morbid fatalities). Meanwhile, the number of recoveries also reached 24.02 lakh.
How India's worst-hit states fared on Monday
Maharashtra: 6,93,398 total cases, 22,465 deaths, 5,02,490 recoveries. Tamil Nadu: 3,85,352 total cases, 6,614 deaths, 3,25,456 recoveries. Andhra Pradesh: 3,61,712 total cases, 3,368 deaths, 2,68,828 recoveries. Karnataka: 2,83,665 total cases, 4,810 deaths, 1,97,625 recoveries. Uttar Pradesh: 1,92,382 total cases, 2,987 deaths, 1,40,107 recoveries. Delhi: 1,62,527 total cases, 4,313 deaths, 1,46,588 recoveries. West Bengal: 1,41,837 total cases, 2,851 deaths, 1,11,292 recoveries.
These states recorded their biggest spikes
Madhya Pradesh saw a record spike of 1,292 cases, bringing the total to 54,421 including 1,246 deaths and 41,231 recoveries. Chhattisgarh reported 1,136 new cases, the biggest spike yet. The total has reached 22,054, including 206 deaths and 13,424 recoveries.
Maharashtra reports over 11,000 new cases; Haryana's tally crosses 55,000
Maharashtra, Andhra Pradesh, Karnataka, and Uttar Pradesh reported massive spikes of 11,015, 8,601, 5,851, and 4,677 cases respectively. Haryana reported 1,074 new cases. State Chief Minister Manohar Lal Khattar said that he has tested positive for the virus. The total reached 55460, including 613 deaths and 45,405 recoveries. 1,061 more cases were registered in Delhi while Tamil Nadu saw a spike of 5,967 cases.
117 new cases in Chandigarh; Rajasthan sees second-biggest spike
Chandigarh reported 117 new cases, the fifth consecutive day that daily new cases rose above 100. The UT's total tally has reached 3,035, which includes 37 deaths and 1,646 recoveries. Rajasthan reported 1,346 new cases, the second-biggest single-day spike so far, bringing the state's total to 71,955. 967 patients have died in the state while 56,600 have recovered.