Coronavirus: India's tally reaches 13.6M with 1.6L new cases
Coronavirus: India's tally reaches 13.6M with 1.6L new cases
Apr 13, 2021, 01:04 am
2 min read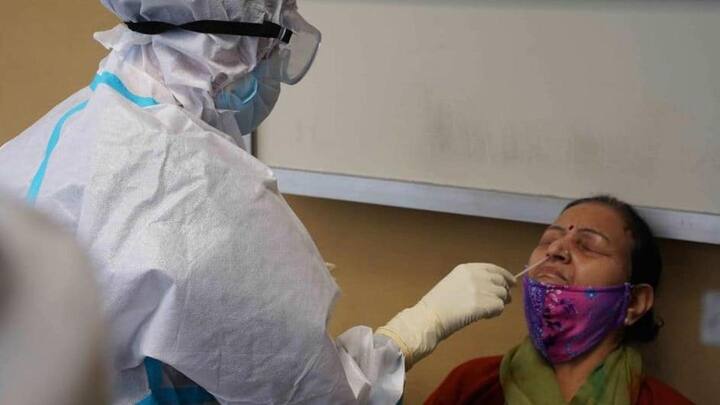 India on Monday reported more than 1.6 lakh fresh coronavirus infections, pushing the nationwide tally to nearly 13.6 million cases. Meanwhile, more than 880 more patients died in the past 24 hours, bringing the death toll to 1,71,109. Maharashtra, which is the worst-hit state in India, continued to report a high daily positivity rate in coronavirus infections. Here are more updates.
Health Ministry confirms 1,35,27,717 COVID-19 cases, 1,70,179 deaths
Till Monday morning, the Health Ministry had reported 1,35,27,717 COVID-19 cases, including 1,70,179 deaths, 12,01,009 active cases, and 1,21,56,529 recoveries. According to data compiled from state/UT statistics, India reported 1,36,86,073 cases and 1,71,109 deaths till Monday night. Over 12.2 million have recovered. 10,82,92,423 vaccine doses were administered in India till 8 pm on Monday and 37,63,858 doses were given on the day.
How India's worst-hit states fared on Monday
Maharashtra: 34,58,996 total cases, 58,245 deaths, 28,34,473 recoveries. Kerala: 11,72,882 total cases, 4,794 deaths, 11,20,174 recoveries. Karnataka: 10,74,869 total cases, 12,941 deaths, 9,85,924 recoveries. Andhra Pradesh: 9,28,664 total cases, 7,311 deaths, 8,98,238 recoveries. Tamil Nadu: 9,40,145 total cases, 12,927 deaths, 8,80,910 recoveries. Delhi: 7,36,688 total cases, 11,355 deaths, 6,87,238 recoveries. Uttar Pradesh: 7,05,619 total cases, 9,224 deaths, 6,14,819 recoveries.
These states recorded their biggest spikes
Punjab added 3,477 new cases on Monday, pushing the state's tally to 2,76,223, which includes 7,559 deaths and 2,40,798 recoveries. Delhi reported 11,491 new cases. Madhya Pradesh reported 6,489 new cases, pushing the state's tally to 3,44,634, which includes 4,221 deaths and 3,01,762 recoveries. 6,021 new cases brought Gujarat's total caseload to 3,53,516 infections, including 4,855 deaths and 3,17,981 recoveries.
Maharashtra reports 51K more cases; 13.5K fresh infections in Chhattisgarh
51,751 more people tested positive in Maharashtra, while Karnataka reported 9,579 new cases. Chhattisgarh reported 13,576 new cases pushing the state's tally to 4,56,873. 5,031 patients have died in the state, while 3,52,986 patients have recovered. Uttar Pradesh, Tamil Nadu, Kerala, and Andhra Pradesh reported 13,685 (7% positivity rate), 6,711 (8%), 5,692 (12.5%), and 3,263 (9.6%) new cases respectively.