#NewsBytesExclusive: Abhijit Iyer-Mitra on Shaheen Bagh and Gunja Kapoor episode
#NewsBytesExclusive: Abhijit Iyer-Mitra on Shaheen Bagh and Gunja Kapoor episode
Feb 10, 2020, 07:05 am
6 min read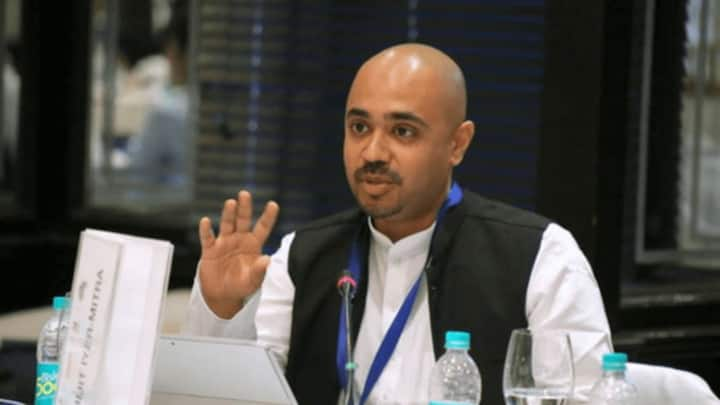 The Shaheen Bagh protest against the Citizenship Amendment Act should not have been "allowed" to go on for so long, feels Defense analyst Abhijit Iyer-Mitra. He also thinks it's not a voluntary protest and women are definitely not in charge of it. In an exclusive conversation with NewsBytes, Mitra spoke about the agitation, what happened with right-wing YouTuber Gunja Kapoor, and Sharjeel Imam's speech.
Mitra visited the site twice, found everything quite "intimidating"
Mitra's views about Shaheen Bagh are shaped by his visits to the site. He called the atmosphere "intimidating". "I didn't want to enter the protest area because I feared I wouldn't be able to come out," he told us. Giving an insight, Mitra said there are barricades put up, passes are made for entry, and metal detectors employed for "screening" visitors.
He blamed media for not reporting the reality
On being asked if everyone is "checked" before being let in, Mitra replied in the affirmative. "How can this protest be organic? My problem with media is not one news channel has reported how difficult it is to enter the site. And you don't need to zoom in your cameras to see it. It's all visible from the outside," he went on.
You give favorable coverage, you get access, claimed Mitra
Referring to an incident where two panelists of India Today were shoved during a live program, Mitra said, "This is how the organizers function. They trade access for favorable coverage. Women are mere puppets in this entire scenario and men are calling the shots."
Mitra was unaware his friend Gunja planned a visit
About what happened with Gunja, Mitra expressed shock. The YouTuber, who entered the site wearing a burkha was manhandled by the protesters for "asking too many questions". Mitra is friends with Gunja, and he didn't know she was planning to visit the site. After she was heckled and cops rescued her, he sent her messages and she narrated her ordeal, Mitra told us.
Gunja was talking to protesters when she was grilled: Mitra
Since Gunja hails from Lucknow, she managed to "gel well", Mitra added. "She was talking to everyone when suddenly a woman, whom media identified as Upasana Sharma, kept telling Gunja she is a Hindu. Why did she have to talk about her religion? Why haven't these fact-checking websites figured out her credentials yet?" Mitra asserted. Then Gunja was asked something that "gave her away".
Mitra disclosed entering the site is no child's play
"Gunja was asked 'who sent her' and she replied 'she came on her own'. Just then her burkha was stripped; her phone and ID taken away. This proves unless you have been sent by someone, you aren't welcome to Shaheen Bagh," Mitra went on.
Cops threatened lathi-charge, thereafter, Gunja was released
Mitra added, "A female cop failed to reach Gunja twice. It was only after they threatened lathi-charge that she was handed over to cops after men took the call. The poor girl is traumatized and will have to seek psychiatric help." He asked how could anyone know Gunja "intruded" the site. "They have walkie-talkies, they Google the persons entering, it's all organized," he claimed.
Mitra said Gunja was held hostage and assaulted
"Over the next few hours, Gunja was asked the same question in different ways. She was asked if she accepted Islam, was suggested to do so, and protesters also spoke about calling someone from BJP for her 'release'," Mitra added. Pertinently, cops from Sarita Vihar and not Shaheen Bagh came to her rescue. Police personnel from Shaheen Bagh are gheraoed, he explained.
Protesters hurt Gunja but didn't leave marks on body: Mitra
"The protesters pinched Gunja, pulled her hair, but were careful enough to not leave any marks. You have to understand any voluntary protest can't be this organized in just 50 days. They have their own intelligence, something even Delhi Police can't breach," he added.
About children's involvement, Mitra said it's akin to Palestine-Israel problem
When asked for an opinion on children participating in the protest, Mitra replied, "I didn't think much about it earlier, but now I know these women are using kids as shields. This is what happens in Palestine, where Israel is portrayed as 'baby-killer'." He went as far as saying that if the government decides to forcefully break this protest, the women will "let kids die".
According to Mitra, Delhi Police can hardly be blamed
So isn't Delhi Police responsible for how it handled protests? According to Mitra, it's a deeper problem. "In our country, there are no police reforms and we can't expect them to behave like their counterparts in France. Our cops are underpaid and not trained. In third world policing, cops either resort to lathi-charge (like what happened during Anna Hazare agitation), or watch," he explained.
BJP hoped to polarize votes, failed miserably, said Mitra
However, Mitra wasn't so quick to exonerate BJP as they didn't act sooner. "BJP thought the protest will polarize votes, but that didn't work. AAP and Congress are also responsible to some extent, and so is the judiciary for not stepping in when it should have," Mitra added. When asked if BJP leaders are inciting violence, he replied, "Everyone is!"
Mitra also believes communication isn't a problem
"It is not a communication problem on BJP's part. No matter how you talk to these protesters, they are dumb. Now, not even a local leader should try talking because the narrative will be twisted to the government coming down on its knees," he said.
On Sharjeel Imam, Mitra said he chose his words carefully
Further, on JNU student Sharjeel Imam, who is in jail for calling to cut Assam from India, Mitra said the former is an extremely bright student and an equally dangerous extremist. "Calling for a communication blockade is an act of war and Sharjeel knew what he was talking about. However, I don't think police will succeed in charging him with serious offenses," he said.
Mitra said AAP will win and eventually protest will end
Mitra predicted AAP will win Delhi Elections and on Monday, Supreme Court will say that the protest is illegal. "The organizers will say they have been proven right in the court of law and people while ending the agitation. But mark my words, Shaheen Bagh protest is a nursery for suicide bombers and it has to be crushed," he concluded.