First Chief of Defence Staff to be announced next month
First Chief of Defence Staff to be announced next month
Nov 19, 2019, 12:52 pm
3 min read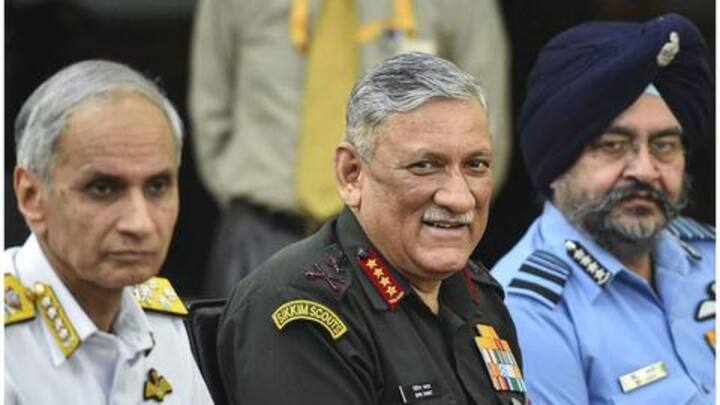 By next month, India could be looking at its first Chief of Defence Staff (CDS), a single-point military adviser to the government. At the same time, a new Army Chief will also be appointed as General Bipin Rawat is set to retire on December 31. Incidentally, Gen. Rawat was previously seen as a frontrunner for the post. Here are more details.
Exact responsibilities of the CDS yet unknown
According to Hindustan Times, India's first CDS is expected to be announced in December, although the exact responsibilities that they will undertake are yet to be finalized by the implementation committee, headed by National Security Adviser Ajit Doval. However, sources confirmed to HT that the CDS will be a single-point military adviser to the government, as suggested by the K Subrahmanyam-led Kargil Review Committee.
Implementation Committee constituted to finalize CDS responsibilities
An official release on the appointment of CDS stated, "An Implementation Committee was also approved and constituted to further determine and finalize the exact responsibilities, an enabling framework for this new post and all other issues involved to ensure smooth operationalization."
What will be some of the responsibilities of the CDS?
According to HT, the advice of the CDS will be binding on the three service chiefs. The CDS will not be a "paper tiger", but will promote jointmanship and head all tri-service structures which, as per experts, have been prone to looking after their own turfs. The CDS will also take on the mantle of prioritizing hardware for future Indian military needs.
Integrated Defence Staff chief to become Vice CDS
Further, sources said that the CDS will carry four stars and will be "first among equals" with respect to chiefs of the three services. With the creation of the CDS, the existing position of the Integrated Defence Staff will be converted to Vice Chief of Defence Staff. The current IDS chief Lt Gen PS Rajeshwar has been posted to the Andaman and Nicobar Command.
Why is synergy between the three services important?
Notably, jointmanship, which involves the integration of strategy, capabilities and execution across the three services, had been deemed necessary by experts in the event of a two-front war on India's northwestern and northeastern borders. While China's People's Liberation Army has already been split into military regions and theater commands, Pakistan's armed forces operate on a joint staff headquarters concept.
Reform pending since 1999 Kargil War
The implementation committee was appointed by Prime Minister Narendra Modi after he announced the creation of CDS in his Independence Day address this year. The reform had been pending for the past 20 years since the 1999 Kargil War, following which, a high-level committee had been established to look into the gaps in India's security system.