Petrol, diesel prices may be hiked by Rs. 15/liter
Petrol, diesel prices may be hiked by Rs. 15/liter
Written by
Pratyush Deep Kotoky
Mar 08, 2022, 10:23 am
3 min read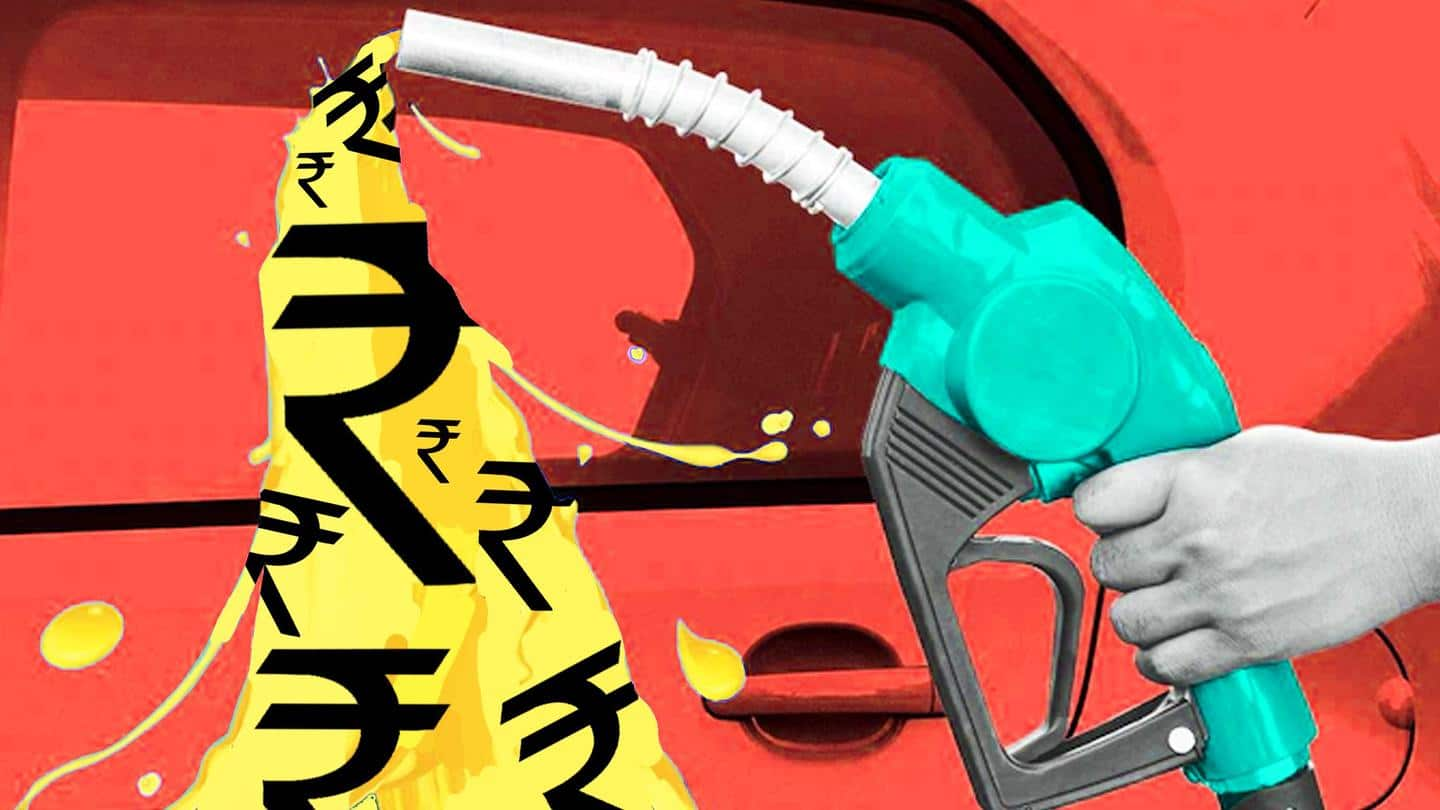 Petrol and diesel prices are likely to be hiked this week as oil marketing companies are preparing to pare losses accumulated from keeping rates steady for over four months. Notably, international oil prices have jumped to a 13-year high of $140 per barrel. Industry sources believe fuel prices need to be increased by Rs. 15 per liter for retailers to break even, NDTV reported.
Why does this story matter?
India relies on overseas purchases to meet about 85% of its oil requirement. Thus it is most vulnerable in Asia to higher oil prices.
Since 2017, fuel prices are to be adjusted daily in line with the benchmark international rate in the preceding 15 days.
But rates have been on freeze for over four months despite the rise in global prices.
International oil prices highest since July 2008
West Texas Intermediate crude futures, the United States oil benchmark, rose to $130.50 per barrel Sunday evening--its highest since July 2008--before retreating. The international benchmark--Brent crude--hit a high of $139.13 at one point overnight, also its highest since July 2008. Notably, global oil prices have been on the boil ever since Russia put its forces on the Ukraine border last month.
How is it impacting India's crude oil import?
According to the Petroleum Planning and Analysis Cell of the oil ministry, the basket of crude oil that India imports rose above $111 per barrel on March 1. It was at an average of $81.5 per barrel of the Indian basket of crude oil at the time of freezing of petrol and diesel prices four months back.
Weakening rupee adding to the woes
Meanwhile, the weakening of the Indian rupee is also compounding things. Notably, the rupee tumbled to a record low of 77.01 per dollar on Monday. The twin blows of oil prices, which is already up more than 60% this year, and a weakening rupee may hurt the nation's finances, avert a nascent economic recovery and fire up inflation.
'Government may now allow daily price revision'
"With the last phase of polling ending on Monday, it is now expected that the government will allow state-owned fuel retailers to return to daily price revision," an industry official said. However, oil companies are not expected to put the entire burden of loss in one go. They are expected to moderate it and raise rates by less than 50 paise/liter every day.
Increasing crude oil price will widen India's CAD: ICRA
In a report, rating agency ICRA said India's current account deficit (CAD) will widen to 3.2% of GDP in 2022-23 if the crude oil price averages $130/barrel. CAD is likely to widen by $14-15 billion for every $10/barrel rise in the Indian crude basket. The "dollar-rupee cross rate to trade in a range of 76.0-79.0 per dollar" until the Russia-Ukraine crisis subsides, it added.
Why Russia-Ukraine crisis is impacting oil prices?
Russia makes up for a third of Europe's natural gas and about 10% of global oil production. About a third of Russian gas supplies to Europe travel through pipelines crossing Ukraine. Oil prices had spiked after Russia invaded Ukraine on fears that oil and gas supplies from Russia could be disrupted--either by the conflict in Ukraine or retaliatory western sanctions.