Jat protests: Haryana prepares for violence even as community divided
Jat protests: Haryana prepares for violence even as community divided
Nov 26, 2017, 01:02 pm
2 min read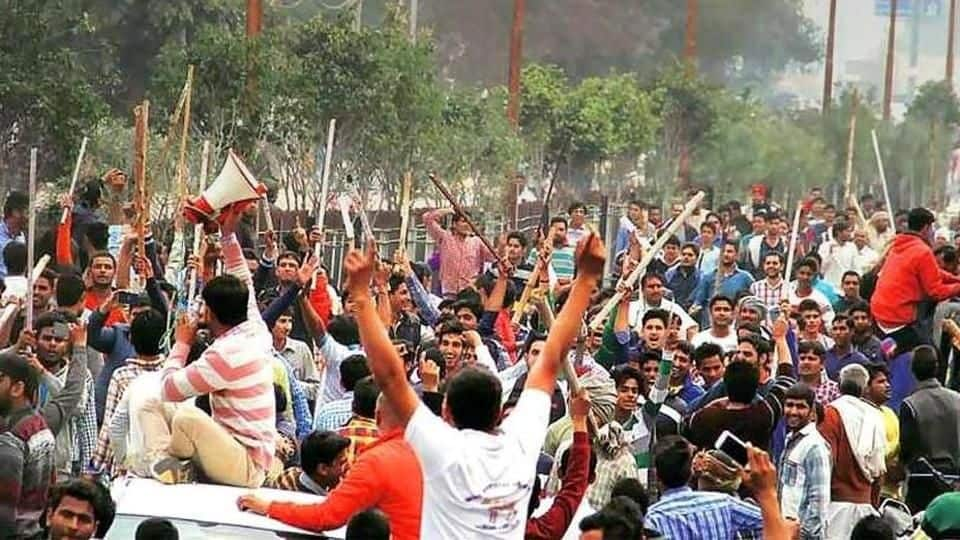 The Jat reservation protests seem to have divided the community into two groups, with many youths opposing planned rallies by All India Jat Arakshan Sangharsh Samiti (AIJASS) chief Yashpal Malik. Most of these youths were jailed during the 2016 agitation and are out on bail. To prevent a law and order breakdown, mobile internet services have been suspended in 13 Haryana districts. Here's more.
Jats are traditionally an agricultural community in Northern India. Forming 29% of Haryana's population, in 2016, the total Jat population in India was estimated at 8.25cr. Jat protestors demand to be included in the Centre's list of OBC, in contrast to their current OBC status in seven states; OBCs get 27% reservation in government jobs and education.
30 people died in a matter of days
The Jats launched a series of protests in February 2016, but they soon turned violent. Tension spread to Sonepat, Jhajjar, Bhiwani, Rohtak and more. Vehicles were set on fire and property worth hundreds of crores damaged. About 30 people died in a matter of days.
Youths arrested in 2016 want no more quota protests
Subsequent Jat protests have focused on retraction of cases against those arrested in February and recognition of victims as martyrs. But youths don't want Malik to proceed with quota rallies. "Malik has collected crores of rupees in our name but has done nothing for us." The Haryana Jat Mahasabha has sought action against Malik and BJP MP Raj Kumar Saini for 'vitiating the atmosphere'.
But Malik terms them "govt-sponsored protests" with vested interests
To counter Malik's protest-cum-bhoomi pujan of a coaching institute named after Deenbandhu Chhotu Ram at Jassia, youths and Sarpanch Association members sat at the site and launched dharnas. They also clashed with cops on the NH709. Some were detained. However, Malik called these protests "government-sponsored" which will "not affect our rally". Saini has called for a rally in Jind.
Meanwhile, internet suspended in Haryana and security personnel deployed
Among this, the situation remained tense in Jassia. Contingents of security forces including the RAB were deployed. Mobile internet services, SMS and dongle networks have been suspended in Bhiwani, Charkhi Dadri, Fatehabad, Hansi, Hisar, Jhajjar, Jind, Kaithal, Karnal, Panipat, Rohtak and Sonepat until the midnight of November 26. Check posts have been set up at all entry points for the Jassia rally.