Smriti Irani recommended over 5,000 KV admission requests
Smriti Irani recommended over 5,000 KV admission requests
Nov 23, 2015, 07:27 pm
2 min read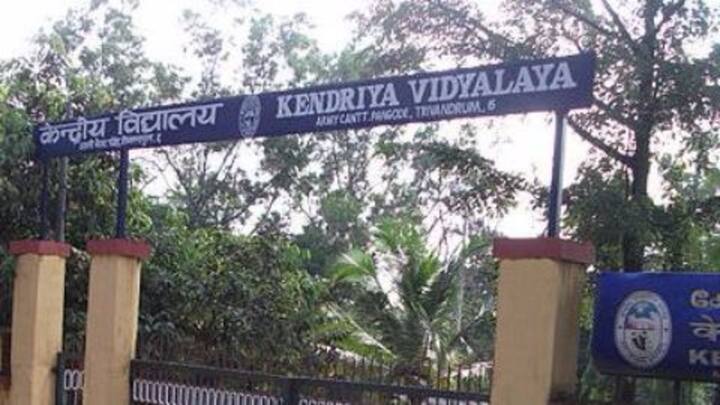 The Human Resource Development (HRD) minister, Smriti Irani, recommended about 5,100 admission requests to Central government-run Kendriya Vidyalaya chain of schools in the academic year 2015-2016 according to an Economic Times report. Out of the 5000 plus admission recommendations, only around 3,000 were effected and the Kendriya Vidyalaya administration is investigating why. Irani's recommendations marks a "four-fold jump from quota levels of her predecessors."
The Kendriya Vidyalaya Sangathan
The Kendriya Vidyalaya Sangathan (KVS) is the New Delhi-based apex administrative authority for around 1,000 Central government-run Kendriya Vidyalaya schools. The Kendriya Vidyalaya schools cater to the education of the children of transferable Central government employees and admits around 1.5 lakh students every academic year. The HRD minister, Irani in this case, officiates as the chairperson of the Kendriya Vidyalaya Sangathan.
Official's statement to the Economic Times
"The Minister recommended about 5,100 admissions at KV schools in 2015-16. The same was reported at the KVS board meeting and was noted," said an official who had attended a KVS meeting on 30 October 2015, according to ET.
The Economic Times report
The Economic Times report criticised Smriti Irani's plethora of admission recommendations to Kendriya Vidyalaya schools. "Smriti Irani's admission recommendation bonanza is undermining the PM's promise of striking at the roots of corruption. Her action only serves to promote a culture of patronage...she should set up a system that will enable the most disadvantaged the same opportunity as their more affluent counterparts," the report stated.
MP quota for KV schools increased
In a meeting held in October 2015, KVS board of governors decided to increase the admission quota for Members of Parliament (MPs) to 10% from the previous 6%. Consequently, almost 7,900 seats fall under the MP quota now.
Irani expresses contempt on Twitter over report
HRD minister Smirti Irani took to Twitter to express her contempt over the Economic Times report, tweeting, "Ur source based lie as usual ignores facts." The ET journalist responded with "utmost respect", saying the HRD Ministry had not responded to emailed queries on the issue. This followed another round of online sparring between Irani and the journalist, which was widely circulated on Twitter.
Irani lashes out at ET journalist
In response to a tweet by the ET journalist, Smiriti Irani tweeted, "2 line humari aur baaki ka version aapka. And by the way respect aap na bhi kare to koi farak nai padta."