'Don't want to die like Lankesh': Humans of Hindutva goes-offline
'Don't want to die like Lankesh': Humans of Hindutva goes-offline
Dec 29, 2017, 04:43 pm
3 min read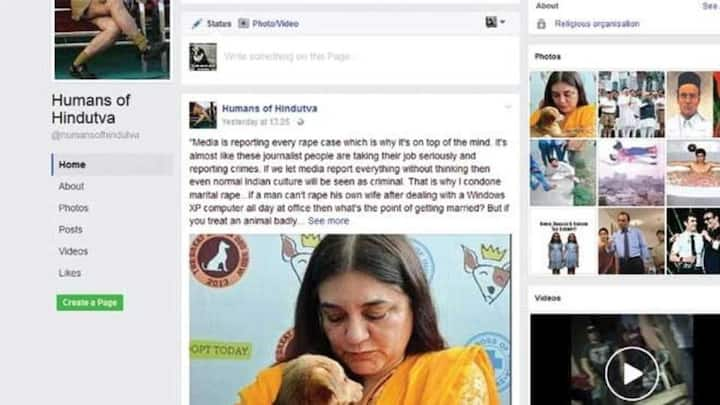 Humans of Hindutva (HoH), a popular Facebook page satirizing mostly the right wing, has been taken down. In a post on Satyanash, a website ran by the same person, he said it was because he was receiving death threats. DailyO editor Jairaj Singh said trolls had gotten hold of the administrator's phone number. In the nine months the page ran, the administrator stayed anonymous.
The writer reportedly got a book deal two months later
HoH began in April 2017, taking its name from the Humans of New York page. The first post was of UP CM Adityanath threatening to give paneer to beef-eaters, reported Scroll. The posts generally followed a pattern: a photo accompanied by a satirical post, mostly against the right wing. HT says he was offered a book deal just two months after starting the page.
'I joined the fake news party', said HoH admin
In an interview with Scroll, HoH's administrator explains he started the page after a heated argument with a "nationalist friend". "My friend said if I had a problem with the way things were, why didn't I do something? I did. I joined fake news party."
The page has been taken down twice before
However, it has faced opposition more than once. In May, it got blocked by Facebook, apparently after users reported it for violation of norms. After it posted an open letter for Facebook, it got blocked for another three days, says DailyO. In September, he deactivated the page, saying it "wasn't worth taking a bullet for". But within a couple of hours, he resumed posting.
'Congratulations to Hindutva on winning this David vs. Goliath fight'
Saying goodbye once again, the administrator clarified he wasn't banned or mass reported. "I have recently received threats to my life which I can't take lightly. I am outnumbered...and come from a middle-class family with no political/police connections." "I have no desire to end up like Gauri Lankesh or Afrazul Khan." "I have deleted the HOH page and will delete this website soon."
TOI editor Aarti Tikoo Singh, with whom HoH had a long-drawn-out war of words publicly, said on the development: "For me, he remains an anonymous troll whose word about threats I cannot take on face value until he submits proof." "There are hundreds of people in India who abuse the government without the cloak of anonymity." "HOH is simply a coward...(who) deserves no sympathy."