Fate of Aadhaar's first recipient and village
Fate of Aadhaar's first recipient and village
Dec 30, 2016, 08:05 am
2 min read
The first Indian to receive an Aadhaar card, Ranjana Sonawane, hails from Tembhli, a remote village in Maharashtra. Her village made headlines in 2010 when Sonia Gandhi and former PM Manmohan Singh descended on Tembhli to launch the Aadhaar project. Let's take a look at how Ranjana, her family and this village is faring during times of demonetization.
Aadhaar card but no subsidy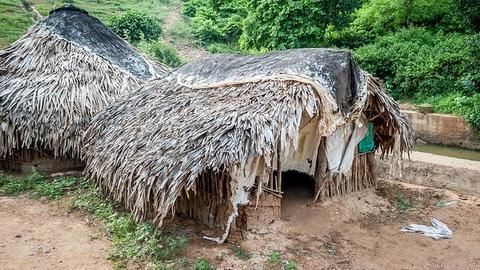 Ranjana Sonawane does have a unique identity and although Aadhaar was intended to ensure access to government subsidy, insurance and banking facilities, she has yet to benefit. There is no electricity or cooking gas in her house and has never received subsidy in her bank account since she received the Aadhaar card. She also claims that Tembhli villagers have lost faith in governments.
Cash crunch from demonetization hits hard
Villagers are struggling to get by since demonetization was announced. Daily wagers have no jobs since farmers have been unable to get cash from banks and aren't hiring people. Ranjana sells toys at village fairs but can't do so now as she has no money to travel. Her husband concurs and says, "There is no work and no money in the market."
On PM Modi's plan for a cashless economy, a villager says, "We are already cashless. See our empty bank passbooks. The previous government made us the first Aadhaar village. This one can declare Tembhli the first cashless village."
Village residents feel helpless
The village Sarpanch hasn't been paid his wages for several days; he plans to reach out to Maharashtra CM to apprise him of the villagers' problems. A shop keeper in Tembhli is at his wits end as he can longer sell his goods on credit. Despite the government's campaigns about transitioning to a cashless economy, most are unaware of mobile and online banking.
Despite all odds, hope is alive
Despite not understanding demonetization, Ranjana says, "The Modi government has scraped big notes to punish the rich. Modi will collect black money from them and use that for the poor. The PM must start this scheme from our village, rather from me."