Gurugram: Meet this father-daughter duo who scaled Mt. Everest
Gurugram: Meet this father-daughter duo who scaled Mt. Everest
Written by
Pallabi C Samal
May 18, 2018, 12:31 am
2 min read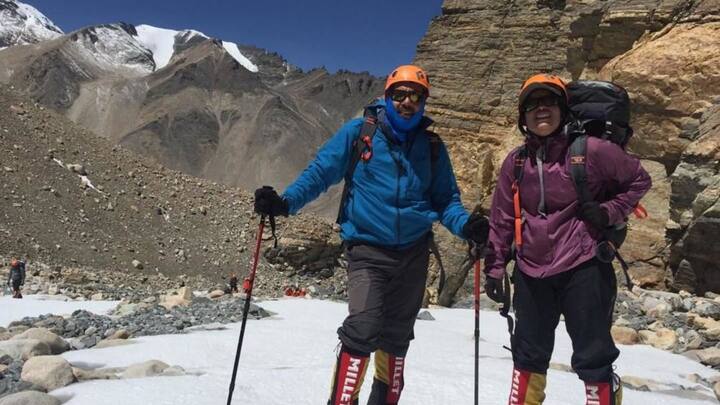 Around 4:30AM on Wednesday, when many of us were still rolling on our beds and were in our slumber, there was a Gurugram duo who reached the summit of Mount Everest, becoming India's first father-daughter duo to achieve the feat. Meet Ajeet Bajaj and 24-year-old Deeya, who embarked on this journey on April 16 and completed their mission within a month. Here's their story.
"Saw the most amazing sunrise from top of the world"
"'We saw the most amazing sunrise from the top of the world' was their first reaction," said Shirley Thomas Bajaj, Ajeet's wife, who spoke to them yesterday. After unfurling the tricolor, the mountaineers started their descent, guided by Sherpa, Sardar Mina Niru. At the time of writing, they had reached ABC (Advanced Base Camp) and would spend the night there.
Deeya was born with the adventure bug, courtesy adventure-junkie dad
It was Deeya's idea, said Shirley. Having an adventure junkie like her father was just the push she needed. Notably, Ajeet is the first Indian to ski North and South Poles in a year and in 2008, he completed 'Polar Trilogy,' after kayaking across Greenland Icecap. He also received the Padma Shri in 2012, in recognition of his incredible feats.
Deeya is her father's ideal successor: Here's why
Deeya, a Cornell University graduate, was the youngest person to undertake the Trans-Greenland Skiing Expedition in May 2011. A year later, Ajeet and Deeya were the first Indians to ski across Greenland IceCap.
Expedition had bigger purpose: Statement of gender equality
The whole expedition was undertaken for a much bigger cause. "It was to call attention to the fact that with right opportunities, any girl can reach the highest summit," she explained. Being a doting father of two girls, Ajeet can't fathom why society has such poor perception about girls. So when Deeya hatched the plan, he grabbed the opportunity to accompany her.
Congratulations from Shashi Tharoor, Ashok Gehlot, Amitabh Kant and us!
Their preparations started a year ago, with them carefully planning their diet and fitness. For training, they scaled mountains in Ladakh, France, and Nepal between August-2017 and February this year. They were finally ready for Everest in April. Soon after they finished their mission, congratulatory messages started pouring in from the likes of Shashi Tharoor, Ashok Gehlot to Amitabh Kant. Congratulations from us too!