Modi, Saudi King to sign key agreements to strengthen ties
Modi, Saudi King to sign key agreements to strengthen ties
Written by
Siddhant Pandey
Oct 29, 2019, 06:35 pm
2 min read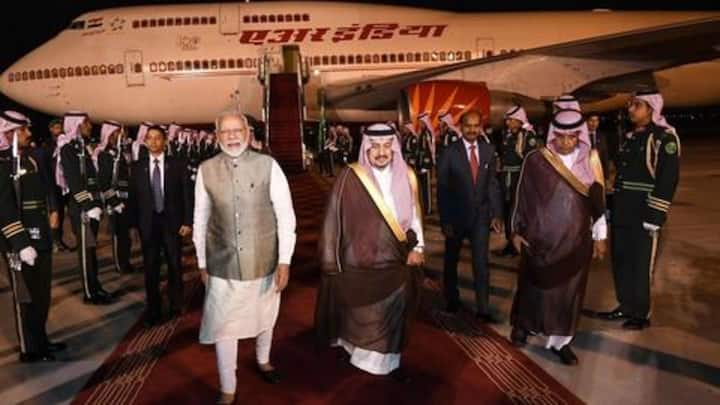 In a bid to strengthen bilateral ties between India and Saudi Arabia, Prime Minister Narendra Modi is expected to sign several agreements with the Kingdom. Modi, embarked on his two-day visit to Saudi Arabia on Monday, attended a key financial conference in Riyadh and held talks with top Saudi leadership. The agreements will boost India-Saudi relations in many sectors including energy and finance.
Modi to sit down with Saudi King today
On Tuesday morning, Modi held meetings with the Minister of Energy, Prince Abdulaziz bin Salman Al Saud; the Minister of Environment, Water & Agriculture, Abdulrahman bin Abdulmohsen Al Fadley; and the Minister of Labor & Social Development, Ahmad bin Sulaiman Alrajhi. He also met Jordan's King Abdullah II and will sit down with King Salman bin Abdulaziz Al Saud today to sign the agreements.
Agreement on Strategic Partnership Council to be signed
Modi told Arab News that he will sign an agreement on a Strategic Partnership Council to boost trade, investment, security and defense with Saudi Arabia. The Council will comprise two arms: one under the foreign ministers of both nations and another under their respective commerce ministers, Hindustan Times reported. It will be chaired by Modi and the Saudi Crown Prince Mohammed bin Salman.
Council will enable both nations to monitor their partnership
The Council is meant to enable the foreign ministers on either side to oversee political and diplomatic relations. Similarly, commerce ministers will look after commercial and energy ties. This way, both nations will better monitor the progress of the India-Saudi strategic partnership.
Saudi Aramco-backed refinery in Raigad to be finalized
Additionally, India and Saudi Arabia also look forward to finalizing the Saudi Aramco-backed refinery in Maharashtra's Raigad district. The project, which will also involve investments from UAE's ADNOC and Indian public sector oil companies, is set to be India's largest Greenfield refinery. Another agreement between the Indian Oil Middle East and Saudi's Al-Jeri Company will involve downstream co-operation for petrol stations in the Kingdom.
Other agreements to be signed between India, Saudi Arabia
Modi will also sign an agreement to integrate e-Migrate and e-Thawtheeq portals to facilitate the migration of Indian labor into Saudi Arabia. Around 2.6 million Indians reside in Saudi Arabia and last year, their remittances amounted to $11 billion. Other proposals include launching RuPay in Saudi Arabia to facilitate payments/remittances by the Indian diaspora and an agreement on training diplomats on either side.