Slapped with 2 FIRs, JNU students demand no legal action
Slapped with 2 FIRs, JNU students demand no legal action
Written by
Siddhant Pandey
Nov 19, 2019, 06:40 pm
3 min read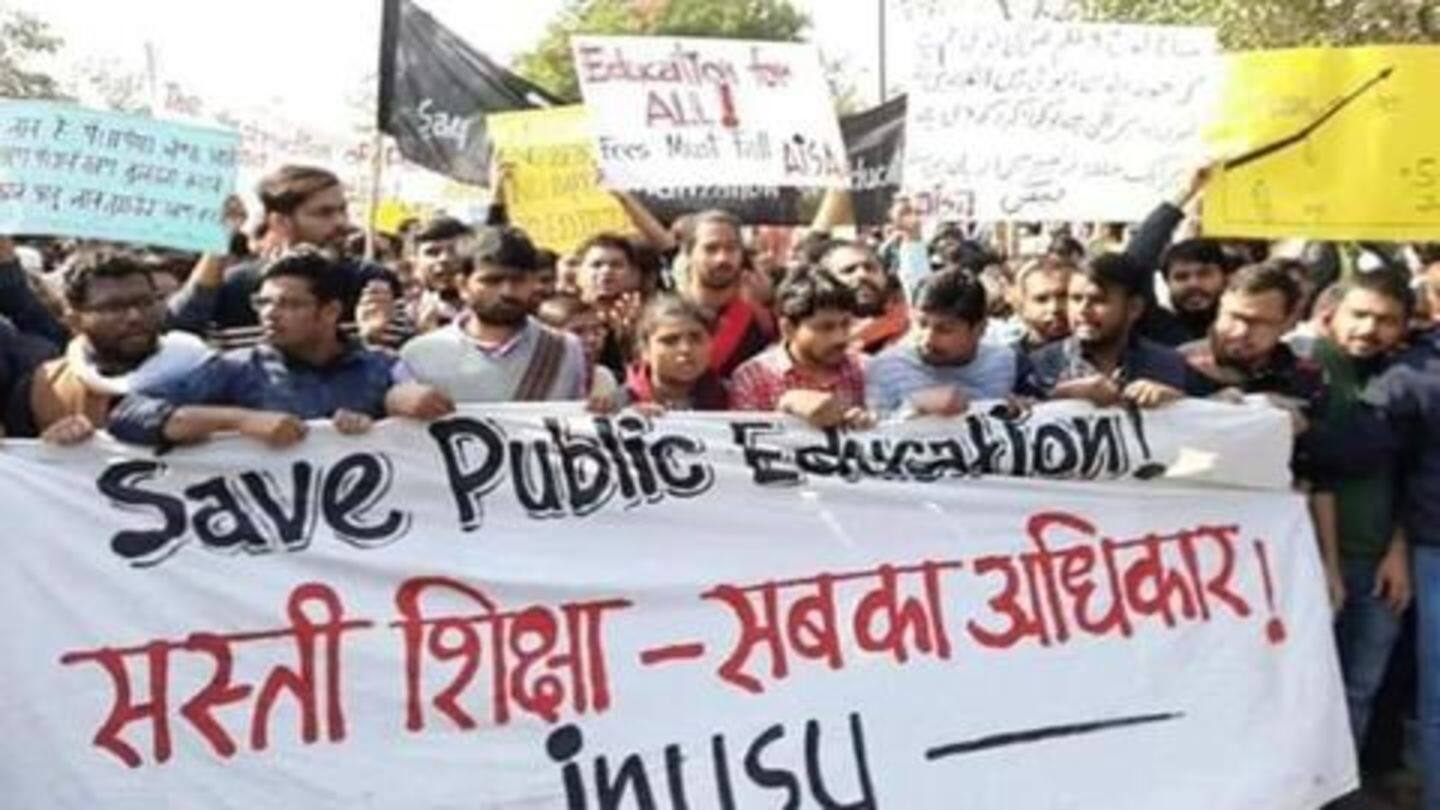 After a second FIR was filed in connection with the Jawaharlal Nehru University (JNU) protests, the varsity's student union has demanded no administrative or legal action against the protesting students. On Monday, JNU students marched towards the Parliament protesting a proposed hostel fee hike, however, they were stopped by the police and a violent clash broke out. Here are more details.
FIRs lodged at Lodhi Colony, Kishangarh police stations
On Tuesday, an FIR was registered at the Lodhi Colony police station against protesting students for rioting, obstructing public servants from carrying out their duties, and damaging public property under relevant sections of the Indian Penal Code (IPC). A senior police official told PTI that another FIR had been lodged at the Kishangarh police station on Tuesday, however, he did not divulge further details.
Deputy Commissioner of Police (South) lists charges slapped on students
The FIR at the Lodhi Colony police station includes charges under IPC Sections 186, 353, 332, 188, 147, 148, 149, 151, 34, and Section 3 of the Prevention of Damage to Public Property Act, Deputy Commissioner of Police (South) Atul Kumar Thakur told PTI.
30 cops, 15 students injured during protest, say police
On Monday, protesting students marched towards the Parliament, even as Section 144 was imposed. Heavy deployment of police personnel and paramilitary forces stopped the students near campus. Over 100 students were detained, including JNUSU president Aishe Ghosh, secretary Satish Chandra Yadav, and ex-president N Sai Balaji. 30 cops and 15 students were injured, the police said. A visually-impaired protestor, Shashi Bhushan, was also injured.
Students allege they were lathi-charged, groped by male cops
Visuals from the scene showed that students were lathi-charged, however, top police officials denied the use of brutal force. JNU Student Union president Aishe Ghosh also alleged that male police officers groped women protestors and claimed to have been detained by four male cops herself.
Meanwhile, students met with MHRD Joint Secretary
Separately, Ghosh said they had a meeting with the Joint Secretary of the Human Resource Development (HRD) Ministry, GC Hosur, and urged him to ensure that no administrative action was taken against the students. She told reporters, "Students have been getting notices through e-mail for these protests. But these protests are for a just cause and no student will pay even a single-rupee fine."
Student hand over demands to MHRD Joint Secretary
Further, the students also handed over a memorandum of demands to the MHRD Joint Secretary, including a complete rollback of the hiked fee and sacking of the JNU Vice-Chancellor. Earlier, the HRD Ministry set up a three-member committee to restore normal functioning at JNU.
Registrar refused to meet MHRD Committee: JNUSU President
Ghosh told reporters, "We have come to know is that the Registrar has refused to meet the Committee. When the Registrar and the VC are not meeting the high-level committee, how can they ask us to step back?" She added, "The MHRD should tell the V-C to rescind the fee hike and if the V-C does not agree then he should resign."