Hijab row: Karnataka HC adjourns hearing till tomorrow
Hijab row: Karnataka HC adjourns hearing till tomorrow
Written by
Pratyush Deep Kotoky
Feb 14, 2022, 07:45 pm
3 min read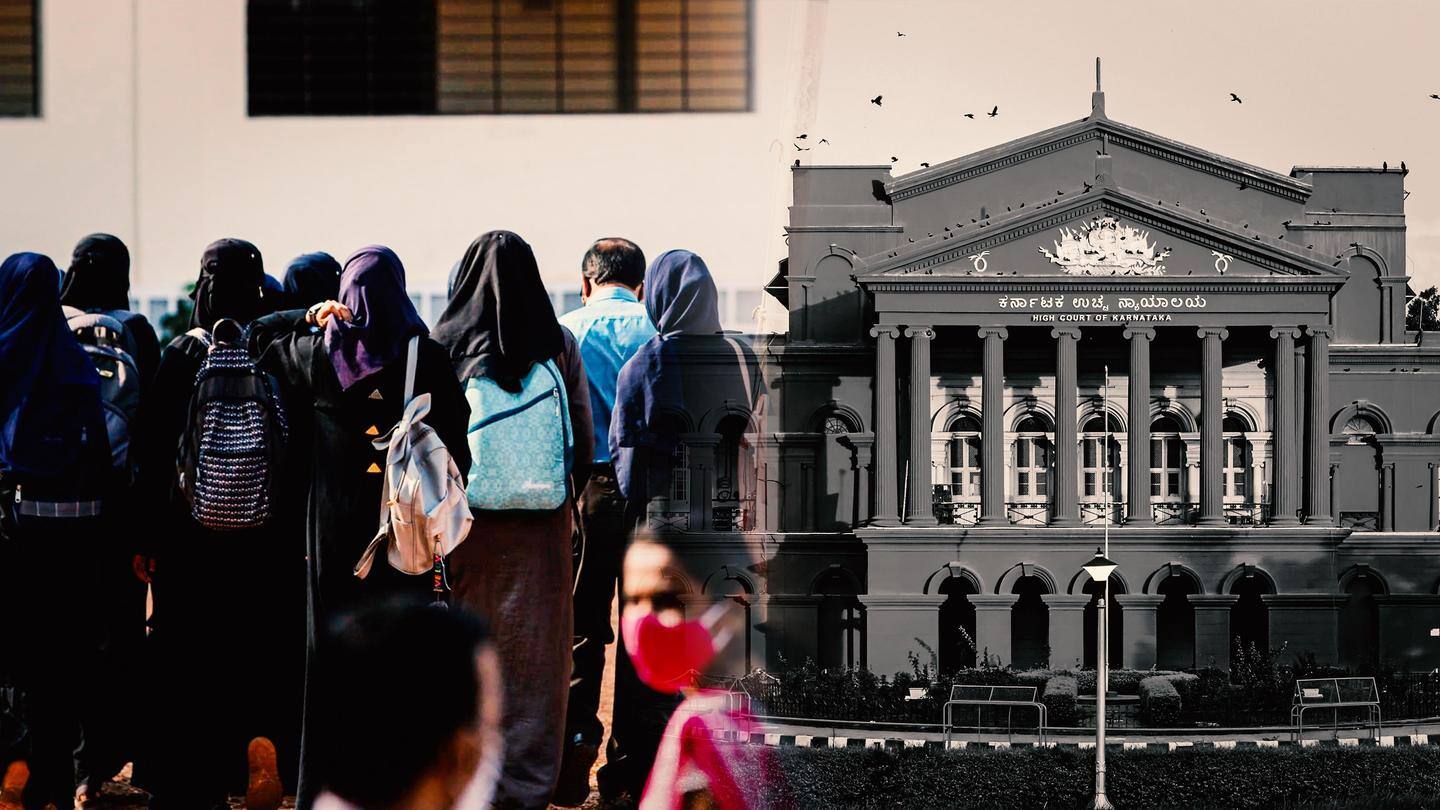 The Karnataka High court on Monday adjourned the hearing of the petition challenging the ban on hijab (headscarves) in colleges till Tuesday. The court will hear the matter again on Tuesday at 2:30 pm. Last week, in an interim order, the court had restrained students from wearing any religious attire in the classroom till the matter is pending in the court.
Why does this story matter?
The HC is hearing a plea filed by Muslim girls studying in government colleges in Udupi against the ban on hijab in classrooms.
Notably, Karnataka has been witnessing protests over headscarves for the past several weeks.
It started after six women students at a government college in Udupi were barred from attending classes for wearing hijabs.
The protests have also spread to other states.
What happened in court today?
On Monday, a three-judge bench comprising Chief Justice of Karnataka HC Ritu Raj Awasthi, Justice Krishna S Dixit, and Justice JM Khazi heard the petitioners' arguments, including discussions on Article 25 (1) and (2). Appearing for the petitioners, senior advocate Devadutt Kamat said the government order (ban on hijab) is in "the teeth of Article 25," and it is not legally sustainable.
What does Article 25 of the constitution say?
Article 25 of the Indian Constitution talks about "freedom of conscience and free profession, practice and propagation of religion." Article 25 (1) gives all persons equal rights for the same, "subject to public order, morality and health." Meanwhile, Article 25 (2) gives power to the legislature (State and Centre) to make laws to impose restrictions on certain grounds on this right.
Discussions on Article 25
Kamat argued that the government's declaration that wearing a headscarf is not protected by Article 25 is totally "erroneous." "As far as core religious practices are concerned, they come from Article 25(1) & that it is not absolute," Kamat said. "If core religious practices harm or offend public order then it can be regulated," he added.
To allow CDC to decide on hijab 'illegal': Kamat
Kamat further said the government's order allowing College Development Committees (CDC) to decide on wearing hijab is "illegal." "The only restriction that can be imposed under Article 25 is public order, which can only be imposed by the state," he said. "Can a College Development Committee, consisting of an MLA and some subordinates, decide on exercising fundamental freedom?" he argued.
Protests across Karnataka, Section 144 in sensitive areas
The hearing took place amid intense hijab-related protests across Karnataka, with a few incidents turning violent. Karnataka Chief Minister Basavaraj Bommai has also warned 'trouble makers' of legal action. Meanwhile, Section 144 of the Criminal Procedure Code has been imposed in sensitive areas for a week. Reportedly, the government has also extracted assurances from the community members not to escalate the issue further.
High schools in Karnataka reopened on Monday
Meanwhile, high schools up to Class X in Karnataka reopened on Monday after almost a week-long closure due to the hijab row. In Udupi district, which witnessed violence and tension last week, all the schools that reopened today saw normal attendance, Education Department sources told PTI. Notably, the holidays for pre-university colleges have been extended till February 15.
SOPs likely for headscarves: Report
According to reports, the Karnataka government is likely to come with SOPs on hijab after students were asked to remove headscarves outside school gates on Monday. Videos showed Muslim girl students who reached the school campuses wearing hijabs removed them before entering classes.