Aero India 2019: Army chief flies in Made-In-India Tejas jet
Aero India 2019: Army chief flies in Made-In-India Tejas jet
Feb 21, 2019, 04:54 pm
2 min read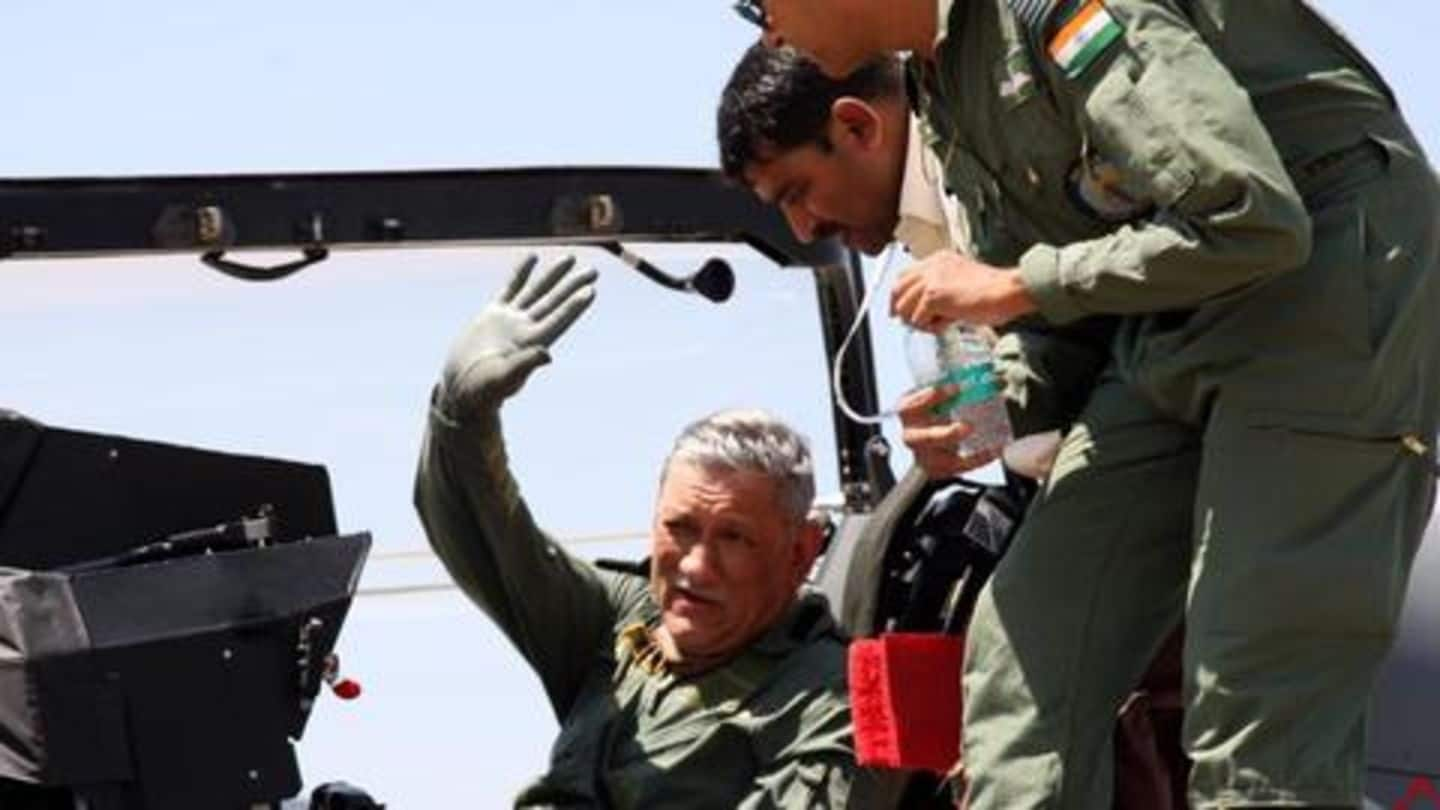 In a first, Army Chief Bipin Rawat flew in Light Combat Aircraft Tejas on Thursday at the ongoing Aero Space 2019 in Bengaluru. Rawat sat inside the two-seater trainer variant of the indigenously built jet and flew above the Yelahanka Air Force Station. The much-talked-about aircraft can easily carry heavy weapons and take down enemy planes from a distance. Here's all about it.
Looking at the features of LCA Tejas
LCA Tejas uses fourth generation technologies and is built from CFC material. It also comes with a quadruplex digital fly-by-wire flight control system. Its cockpit has all the round dialed electro-mechanical instruments. LCA Tejas also has a pulse-Doppler Multi-Mode Radar which is designed to operate effectively in Air to Air and Air to Surface domains. The aircraft can be refueled mid-air.
LCA Tejas can be refueled mid-air
Notably, LCA Tejas successfully completed its refueling trial in 2018. Russian-origin Ilyushin-78 tanker was used to put 1,900 liters of fuel into the jet at an altitude of 20,000 ft. The jet was piloted by Wing Commander Siddarth Singh. This exemplary feature of LCA Tejas will ensure it stays in the air for quite a long time. LCA Tejas' features made Rawat happy.
LCA Tejas will increase our air power, says Rawat
Hailing his experience in LCA Tejas, Rawat said, "From what I could witness, avionics are very good, its targeting is very good." He added it is a wonderful aircraft which will increase our air power. It's important to note that LCA Tejas was developed under Make in India campaign. It was designed by Aeronautical Development Agency (ADA) and manufactured by Hindustan Aeronautics Limited.
Watch: A content Rawat de-boards LCA Tejas
LCA Tejas was given clearance yesterday
On Wednesday, CEMILAC, the country's military aviation regulator, handed over LCA Tejas' final operational clearance certificate (FOC) to Indian Air Force Chief, Marshal Birender Singh Dhanoa. Along with FOC, other release-to-service documents were also handed over. Calling it a landmark day, Marshal Dhanoa said, "The aircraft (LCA Tejas) could fly in many sorties and has demonstrated the precision with which it can deliver weapons."
IAF has placed an order for 83 Tejas jets
Marshall Dhanoa revealed IAF has placed an order for 83 advanced FOC LCA Tejas jets. About the future, he said, "Not only will we have to induct the LCA Tejas MK II, but we will also replace the Jaguar, Mirage, and MiG 29 fighter jets."