This 76-year-old man is obsessed with breaking Guinness world records
This 76-year-old man is obsessed with breaking Guinness world records
Oct 27, 2018, 08:13 pm
2 min read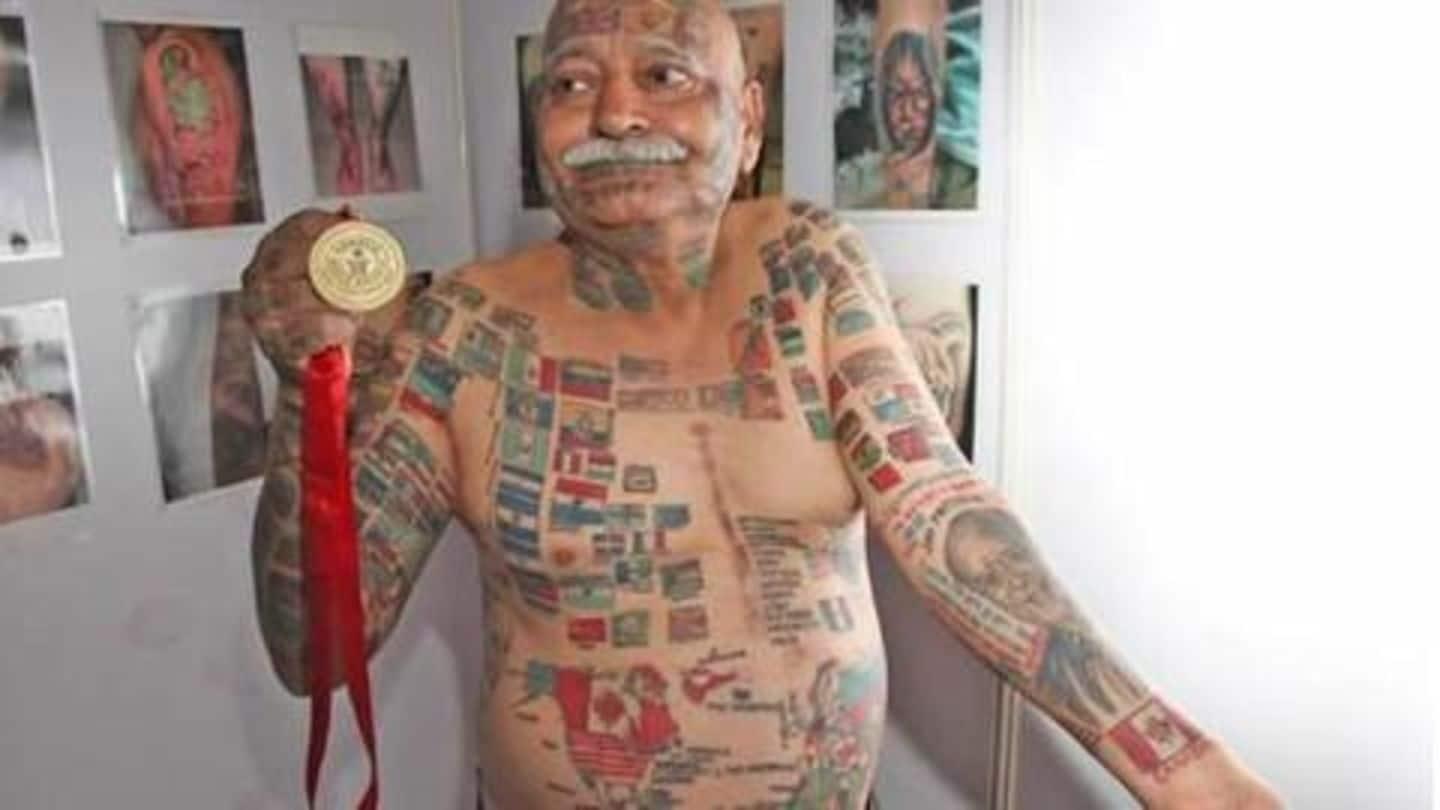 What would you do for fame? Or for getting your name into the Guinness Book of Records? Would you remove all your teeth? Or make your body a walking atlas with "Let's unite against terrorism" written in many languages? Would you turn your body into a canvas with portraits of Gandhi, Obama, and Modi? Well, this man has done all that. Here's his story.
Meet Har Prakash Rishi aka Guinness Rishi
76-year-old Har Prakash Rishi has done it all - from delivering Pizza from Delhi to London and then to Washington and San Francisco, this man has not left any stone unturned to appear in the Guinness Book of World Records. His first record was achieved in 1990 for riding across India for 1,001 hours on his Kinetic 100CC.
The records of this Guinness genius
Rishi also has a record of holding 65 burning candles in his mouth and drinking a 500gm of ketchup bottle using a straw within 39 seconds. He's now expecting another certificate by writing the world's longest will of 9,500 pages. While seven out of his 20 records are featured in Guinness Book of World Records, 13 are registered with Limca Book of Records.
The secret behind the world map on his body
In 2009, when Rishi visited Russian Embassy, he witnessed children distributing Russian flags "with pride and joy". On his visit, he said, "I thought, why shouldn't I bring the entire world together myself?" He then inked 499 flags on his body and the world-map on his stomach. "Whenever I visit any country, people ask me to locate their flag on my body," he said.
But keeping up this passion is not easy
While Rishi wants to defend his records at any cost and his wife is equally supportive of it, he is often bullied by neighbors and relatives. They make fun of his tattoos and records. "Everyone thinks I am crazy. People call me a fool, they taunt me and call me names. But I don't pay any heed," he says.
Moral of the story: Don't listen to people
Rishi says that at times, people's comments hurt him but he smiles, shows his medals, and said proudly in an interview to Al Jazeera, "If I had listened to these people, I would not have achieved this."