Kanwar-Yatra: Star attraction 'Golden Baba' dons 20kg gold this year!
Kanwar-Yatra: Star attraction 'Golden Baba' dons 20kg gold this year!
Written by
Pallabi C Samal
Aug 01, 2018, 12:26 pm
3 min read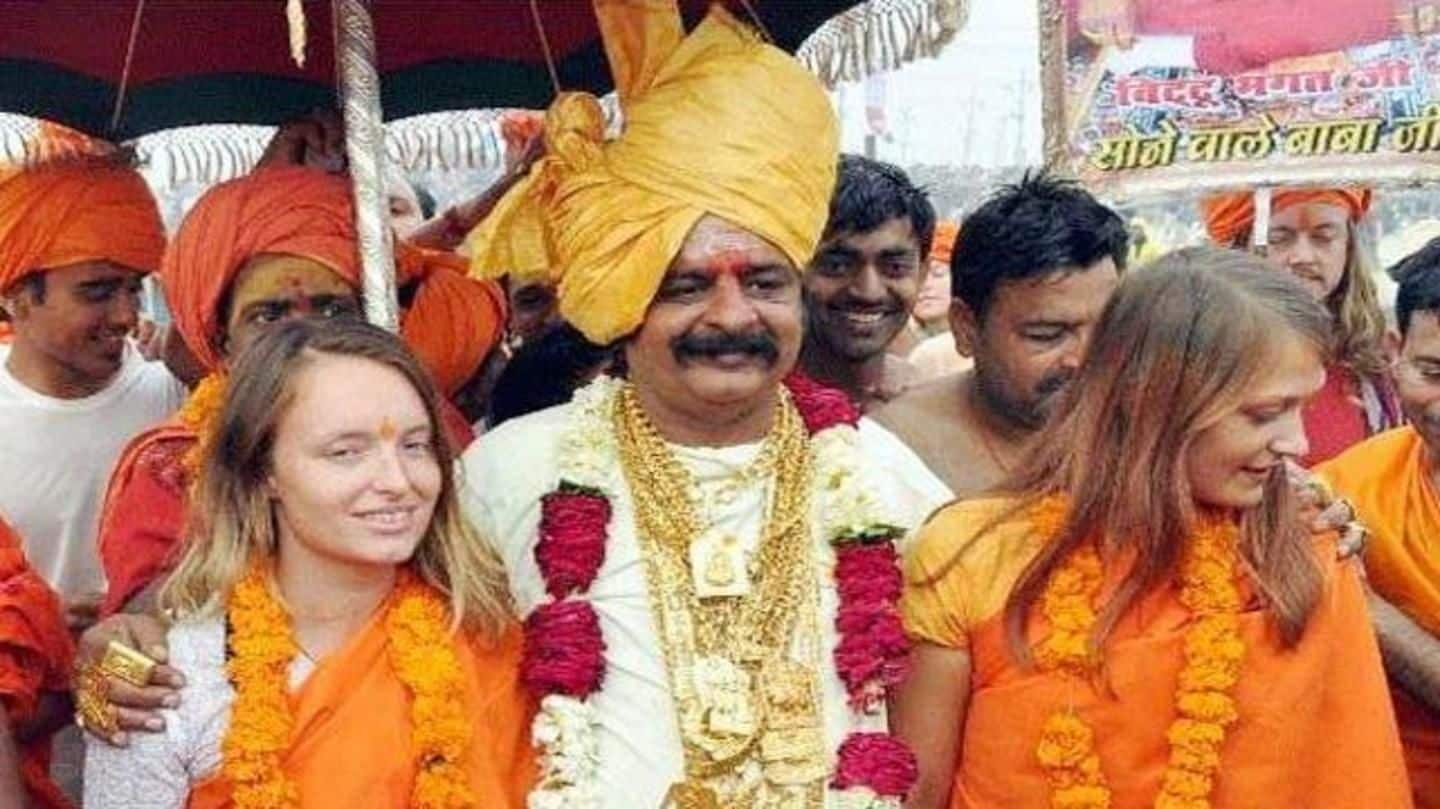 Giving tough competition to 'Gold-Man' aka music composer Bappi Lahiri is Golden Baba. Like Lahiri, this 'godman' is also known for his gold collection that he wears up his sleeve, literally. Known to take the annual pilgrimage Kanwar Yatra wearing gold, this Shiva devotee is donning 20kg of gold this year, 5.5kg more than 2017. At Rs. 27L per kg, that's worth Rs. 5.5cr!
Last year he wore 14.5kg gold, 2.5kg more than 2016
With every year his gold acquisition goes north. In 2017, he wore 14.5kg of jewelry including 21 gold chains, 21 pendants, armlets and even a gold jacket. In 2016, he was sporting 12kg. For this, he also needs and gets police security. This is the 25th Kanwar Yatra for Golden Baba or Sudhir Makkar and "probably his last," he had said last year.
Not wearing 'much' gold this year, as it affects health
Describing his chain that he bought for this year's journey, Makkar said, "The new chain weighs two kg and has a locket of Shiva." He adds he's not wearing "much gold" this year, since the weight affects the nerves of his neck and vision in one eye. His taste for luxury doesn't end with gold. He's known for his high-end cars too.
Claims to have spent Rs. 1.25cr for this year's yatra
Since this year is Silver Jubilee for Makkar, he made it extra special and bought 4kg of gold. The pot, or 'kanwar' in which he'd fill Ganga water, is also gold-plated. He claims to have spent Rs. 1.25cr for this yatra, apart from the gold.
Unlike others, Makkar travels in a car for Kanwar Yatra
Unlike other devotees, Makkar undertakes this 200km yatra from Delhi to Haridwar in a car. He has a cavalcade of vehicles comprising a BMW, three Fortuner, two Audi and two Innova, in which his personal pantry, bodyguards, 250-300 followers etc. are accommodated. At times, for trips to Haridwar, he has also traveled in cars like Hummer, Jaguar and Land Rover, which he rented.
'The love for gold and cars will not die'
The 56-year-old is unabashed about his love for gold and cars. "The love for both will not die," he shared, adding he uses his followers' donations to procure them. Narrating his life story, he says he struggled in his youth and sold rosary beads and cloth on pavements. Eventually, he ventured into real estate and garment business and operated from Delhi's Gandhi Nagar market.
Baba owns high-end flat, wears Rolex watch worth Rs. 27L
With "bhole ki kripa," both businesses flourished. Today he owns a high-end flat in Indirapuram, wears a Rolex watch worth Rs. 27L and has a massive amount of gold. "When I started wearing gold around 1970s, I had 40gm," recalled the Golden Puri Maharaj, also known as Bittu Light Baaz. Some reports suggest he's a criminal and became a 'godman' to escape police action.