Bachendri Pal-led 'Mission Gange' removed over 50 tons of garbage
Bachendri Pal-led 'Mission Gange' removed over 50 tons of garbage
Written by
Garima Bora
(PTI desk)
Nov 01, 2018, 02:34 pm
2 min read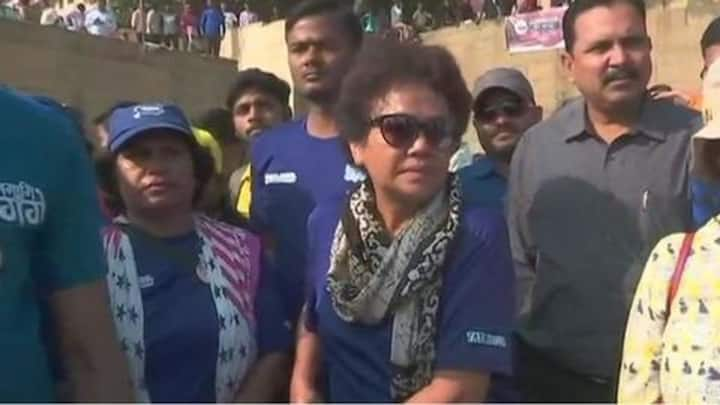 Over 55 tons of garbage and waste were removed from the Ganga by a 40-member team during its month-long expedition in the river, said its leader Bachendri Pal, India's first woman who reached the summit of Mount Everest in 1984. Throughout its 1,500 km 'Mission Gange' expedition route from Haridwar to Patna, the team found the holy river to be polluted, Pal said yesterday.
Team included Everesters Premlata Agarwal, Hemant Gupta, Binita Soren
Detailing on the expedition, Pal said her team left Jamshedpur on October 1 for the month-long tour. The team, which included Everesters Premlata Agarwal (first Indian woman to climb all the seven summit of the world), Hemant Gupta, Binita Soren, favored 'Shramdaan' (voluntary work) by the common people to make the river free of pollutants, Pal told reporters in Jamshedpur, Jharkhand.
Garbage disposed of by respective municipalities of the towns
Apart from the Everesters, the team also included 26 employees of Jamshedpur-based Tata Steel, the sponsor of the event. They sailed through the river along Bijnor, Farukhabad, Kanpur, Allahabad, Varanasi, Buxar, and Patna, said the 64-year-old mountaineer. She added that the garbage and waste pulled out of the river were disposed of by respective municipalities of the seven towns the team touched upon.
Had a good experience creating awareness about cleaning Ganga: Pal
Advocating for intense awareness campaign to clean the river, Pal said the Central Government has already taken up several measures for it. "We had a good experience in making hundreds of people, including school children, aware about the need for clean Ganga," she wrapped up.