This engineer modifies Maruti 800s into sports car-looking vehicles
This engineer modifies Maruti 800s into sports car-looking vehicles
Feb 09, 2019, 03:43 pm
4 min read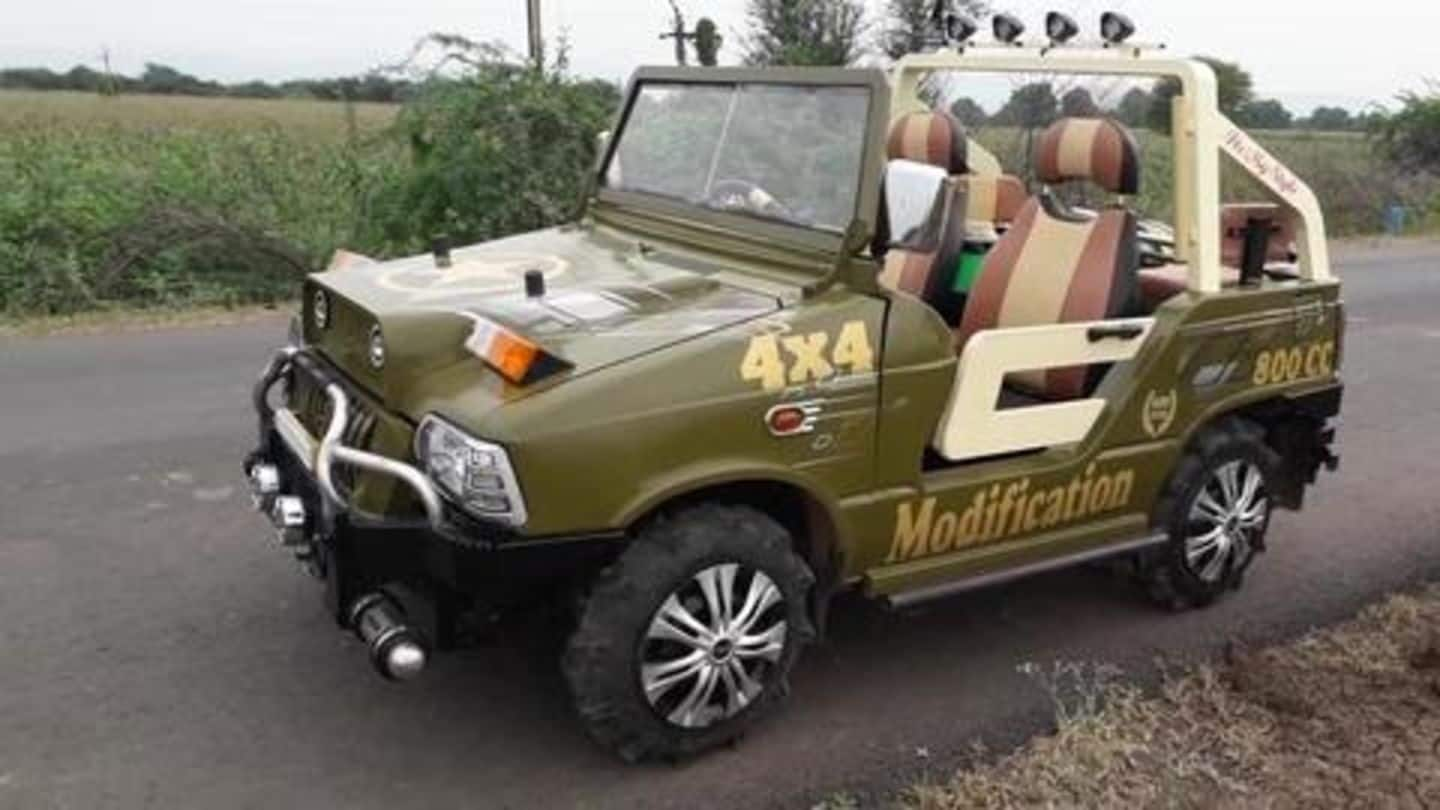 If you were a 90s kid, you'd surely remember what a gem Maruti 800 was. Maruti 800, whose last model was manufactured on January 18, 2013, was often termed as "the car that changed India". Holding on to that thought, two youngsters from Madhya Pradesh have started to modify the old Maruti 800 models into stunning sports car-looking vehicles. Here's more on this.
Duo started working on old car models from November 2017
Puneet Sharma, 27, and Wasim Mansoori, 24, from Barwani, are the brains behind the modified models. It was love at first sight for Sharma, who first saw Mansoori's broken Maruti 800 in Nov'17. The duo then started talking about the possible options for the car's broken bonnet. Notably, Sharma comes from an engineering-background and Mansoori has years of experience working in his father's garage.
Duo's YouTube channel on the modified cars is a hit
The two decided to replace the car's bonnet with a new one, which took about 20 days. Sharma recorded the whole repairing video and uploaded it on his YouTube channel Magneto 11. The video got 1,000 views in two weeks. Sharma used all descriptions and tags he knew, picked up from another YouTube video, making sure his video ranked higher in searches.
"I knew from a long time that you could make money on YouTube and become popular," Sharma said. "I named the channel 'Magneto11' because 11 is a lucky number. I'm a Brahmin, so I believe in ankshastra (numerology) and Magneto because I love the character from the X-Men movies. Car design too, in a way, is a supernatural power like Magneto's," he quipped.
The channel was started in December'17 and today, it has nearly 4 lakh subscribers on YouTube, with 80 lakh average views on every video. Sharma does the work of shooting, editing, and designing the cars, while Mansoori puts the pieces together in his father's garage. In fact, to get a better and clearer footage, the duo also invested in camera and related equipments.
People from other states coming to duo for car modification
The popularity of Magneto 11 has reached to a level that Maruti 800 connoisseurs from other states like Rajasthan, Chhattisgarh, and Punjab have gone to the duo to modify their cars. "One guy drove down his Maruti 2,000 km from Kashmir last month," Mansoori shared.
Duo takes inspiration from toys, modifies cars in 15 days
The duo revealed that much of their inspiration comes from an unusual place: Toys. "We watch Leepu and Pitbull, CNBC Awaaz'sOverdrive, but the biggest resource is toys. We Google different toys, with keywords like, 'Mini Hummer', print out their pictures and start working," Sharma said. "Earlier it used to take us 30-45 days to modify one car; now it only takes 15," he added.
Duo has so far made 24 cars; received no complaints
Sharma explained they only modify Marutis because it's what many people drive in their area. "Now we want to make bigger cars," he said. They've modified 24 cars in 14 months and haven't received any complaints. They believe it's because while modifying any part, they do so keeping in mind the original-engine line, making sure the car can be used as it was intended.
Duo's family have no idea of their internet fame
Interestingly, the duo's families are completely oblivious of their Internet fame. Sharma works with his father at a local furniture supply firm, while Mansoori works in his father's garage. Both sets of parents don't even know what 'subscriber' means. Mansoori shared that he wants to go on a 'road trip', but his father won't even allow him to travel outside Barwani.