#MuzaffarpurShelterCase: Absconding ex-Bihar minister, Manju Verma, surrenders
#MuzaffarpurShelterCase: Absconding ex-Bihar minister, Manju Verma, surrenders
Written by
Shiladitya Ray
Nov 20, 2018, 02:22 pm
2 min read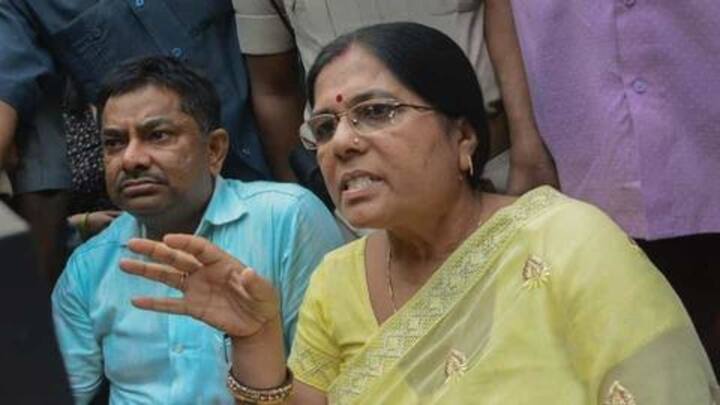 On Tuesday, former Bihar social welfare minister Manju Verma, believed to have links to the Muzaffarpur shelter home rape case, surrendered before a court in the district of Begusarai in Bihar. Prior to her surrender, Verma had been absconding for weeks, and the Bihar Police's inability to locate her had invited the wrath of the Supreme Court. Here are the details.
Manju Verma's husband had surrendered earlier
Manju Verma's husband, Chandrashekhar, had also surrendered before the same court on October 29, after he was found in possession of 50 rounds of live ammunition during a raid conducted at their residence in connection with the Muzaffarpur shelter home rape case. The couple was booked under the Arms Act. On November 1, a non-bailable arrest warrant was issued for Verma's arrest. However, she remained absconding.
The SC had earlier lambasted the Bihar government
Subsequently, on November 12, the Supreme Court pulled up the Bihar government, criticizing the Bihar Police's inability to locate and arrest Verma. Lambasting the Bihar government, the Supreme Court said that nobody seemed to be bothered about the law anymore. "Just because she happens to be cabinet minister doesn't make her above the law," the livid SC bench had said.
What the Supreme Court had said on November 12
"Fantastic! A cabinet minister is on the run, fantastic. How could a cabinet minister be absconding and nobody knows where she is? You realise the seriousness of the issue that a cabinet minister is not traceable? It's too much," Justice Madan B Lokur had said.
The Vermas allegedly have links to the prime accused
Chandrashekhar is believed to have ties with the prime accused in the case, Brajesh Thakur. Investigations into the case had revealed that Chandrashekhar had spoken to Thakur several times between January and June. Soon after, Manju Verma had resigned from her post of social welfare minister. Meanwhile, on October 30, Thakur was transferred from Bihar's Bhagalpur prison to a high-security prison Patiala, owing to his influence in Bihar.
Backstory: The Muzaffarpur shelter case
For those unaware, the Muzaffarpur shelter case pertains to the rape of several girls at a shelter home run by Thakur. It is alleged that Thakur raped and sexually assaulted over 30 girls in the shelter home. The victims were also allegedly starved, and beaten, and some of them were even killed. The CBI, too, found five skeletons in connection with the case.