Ganga activist Swami Gopal Das' disappearance raises questions on government
Ganga activist Swami Gopal Das' disappearance raises questions on government
Dec 25, 2018, 06:55 pm
4 min read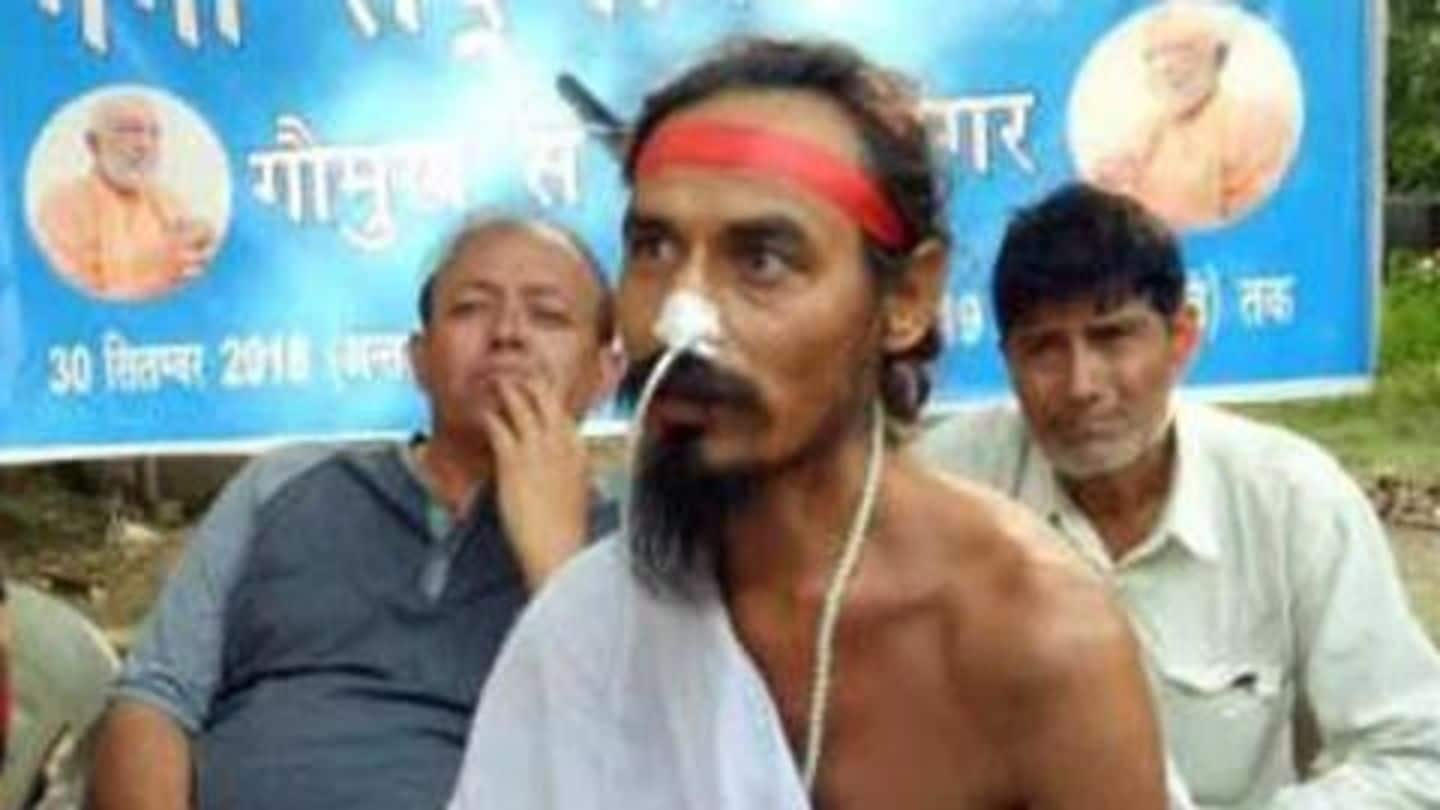 For the last six months, Swami Gopal Das has been fasting for Ganga river. But on December 4, he mysteriously disappeared from Government Doon Medical College (GDMG) in Dehradun, where he was admitted. His case has not seen any positive development in the last few weeks and his family and well-wishers smell a conspiracy, FirstPost reports. The hospital, however, maintains he left willingly.
An environmentalist, Das has been on fast since June 24
Das is a keen environmentalist and has a Ph.D. in Environmental Sciences. He began fasting on 24 June at Badrinath and later moved to Triveni Ghat in Rishikesh. After GD Agarwal (Swami Sanand) died on October 12, Das decided to move to Matri Sadan. Swami Sanand was also fasting to save Ganga. Earlier, Das was admitted to AIIMS but was later shifted to Dehradun.
Das did not take his phone 'with him'
At the GDMG Hospital, lie a few of Das' belongings including his mobile phone. His aged parents, Shamsher Malik and Shakuntala Devi are confident their son didn't leave the hospital premises voluntarily. Malik said Das wasn't a criminal who went into hiding. He argued if he left the hospital willingly, he wouldn't have left his phone. He claimed there was something sinister at play.
Malik claims government wanted to transfer him
"The hospital attendants at AIIMS had informed him that the authorities did not want to suffer the embarrassment of having him around during the Winter Session of Parliament. If that was the case, why they didn't leave him in his village with us," Malik asked.
My son was treated worse than criminal, says Das' mother
Shakuntala, upset with her son's disappearance, went on a fast till death on December 13. A week later, she was convinced to eat food. She questioned why was her son moved from one medical facility to another. "We follow the practices of Mahatma Gandhi and yet he was treated worse than a criminal," said Shakuntala. Das' transfer is odd, to say the least.
He was moved from one hospital to another, frequently
Ganga activist Mallika Bhanot said Das was taken to AIIMS Rishikesh forcibly. He was discharged four days later, only to be admitted to the same facility later. From there he was taken to PGI Chandigarh and brought back to AIIMS Rishikesh. He was then taken to Jolly Grant Hospital in Rishikesh and then to Rishikul Ayurvedic college. He was re-admitted to AIIMS Rishikesh and then transferred to an Ayurvedic facility in Sarita Vihar. He was admitted to ICU on November 7, she said.
While mystery continues, officials maintain he left hospital willingly
However, SP Haridwar Mamta Vohra found no faults in admitting him to AIIMS Rishikesh. She said steps were taken to keep him healthy. About Das' disappearance, SP Vohra said CCTV footage of hospital showed he walked away on his own. SSP Dehradun Nivedita Kukreti also concurred. She said a missing complaint has been registered. But no one close to Das buys this explanation.
How can he walk on his own, his father asks
Malik asked how was it possible for a man, who has been fasting for six months, to walk alone. Attacking Prime Minister Narendra Modi, he said he had referred to himself as the son of Ganga. "Then why he has not bothered to address the concerns of the seers and saints who are protesting and fasting to save the Ganga," Malik asked.
"Seers fasted during Congress regime too, but no one died"
Swami Sivananda of Matri Sadan, who has been fighting for Ganga, also doubted the government's intent. He said during Congress regime seers went on fast but no one died. "Here this young Sant Gopal Das was been tossed from one medical facility. It was obvious that the government wanted him out of the way because they do not want bad publicity," said Sivananda.
Meanwhile, a letter has been written to government
Environmentalist Ravi Chopra said the government should come clean on Das' disappearance. He added Das' physical and psychological torture were evident. Notably, activists like Medha Patkar, Swami Agnivesh, Rajendra Singh, Bharat Jhunjhunwala have written an open letter to the government asking why no one tried to contact Das who has been fasting for months now. The letter pointed out the flaws in the government's approach.
Another saint, who was on fast, was also admitted forcefully
Notably, another saint Brahmachari Aatmabodhanand is also on fast since October 24. His aide claimed authorities are harassing him by admitting him to hospitals, despite him being healthy. His associate Brahmachari Dayanand said he took salt, water, and honey and also went on walks. But the authorities took him to AIIMS Rishikesh and his health deteriorated. So, they got him discharged. The Modi-led government has many questions to answer.