J&K: NSA Ajit Doval assesses ground situation; speaks to locals
J&K: NSA Ajit Doval assesses ground situation; speaks to locals
Written by
Siddhant Pandey
Aug 10, 2019, 09:25 pm
2 min read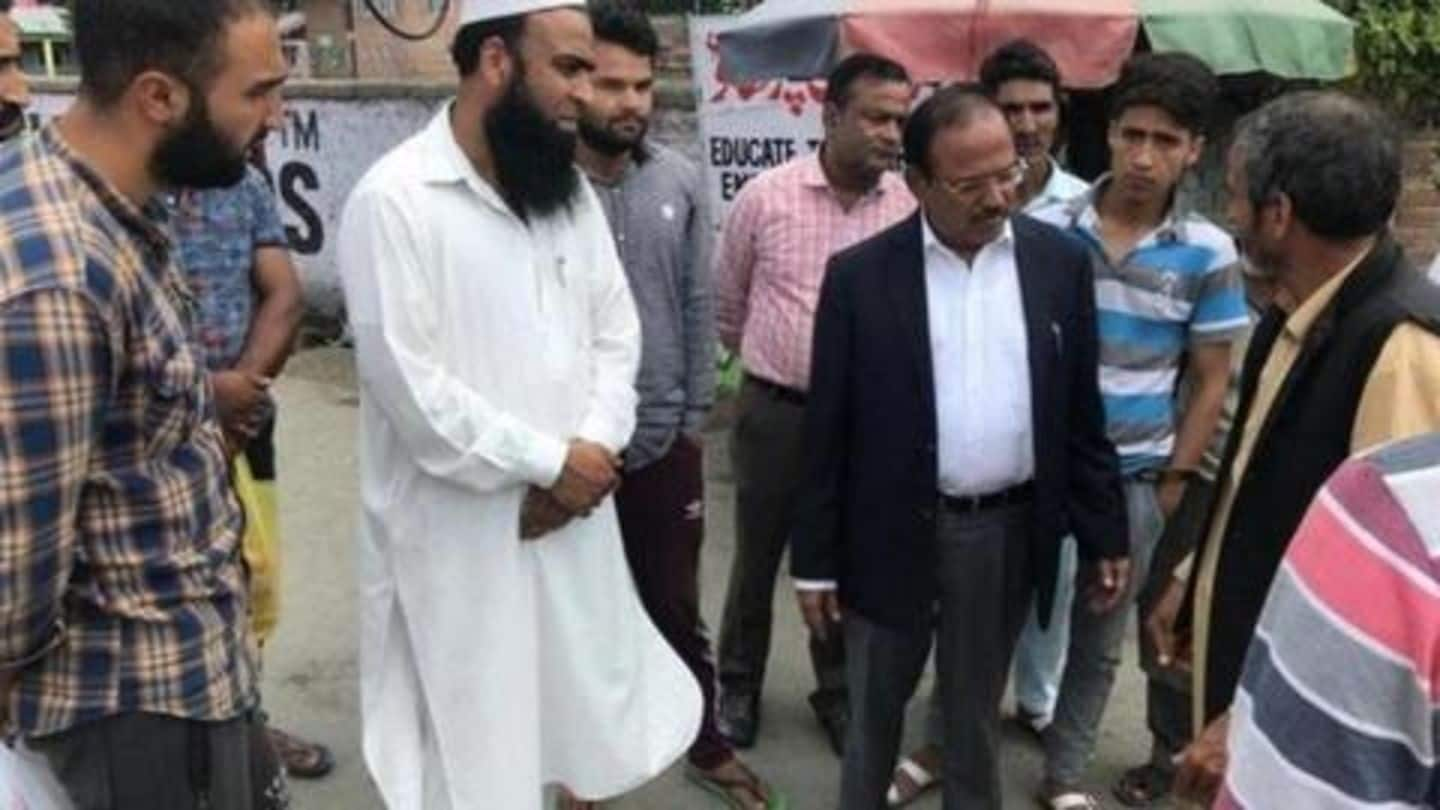 National Security Advisor (NSA) Ajit Doval visited Anantnag in south Kashmir and interacted with locals on Saturday. Doval, who has been in the region since August 6, interacted with cattle traders and locals in the streets of Anantnag, ahead of Eid al-Adha. The visit was significant as the region is often a hotbed of militancy. Here are more details.
Doval inquires cattle trader about price, weight of sheep
In a video, which has since gone viral, Doval is heard inquiring about the price and weight of sheep from a cattle trader. The cattle trader, who didn't recognize Doval, informs him the sheep cost Rs. 10,000, weigh 35-40 kgs, and were from Drass, Kargil district. Deputy Commissioner of Anantnag Khalid Janagir then informed the young trader that he was talking to the NSA.
Check out the video below:
Locals complained about network connectivity to Doval
In another video, Doval was seen asking locals about the problems they have been facing since the Centre's August 5 notification on the bifurcation of Jammu and Kashmir. Locals complained about the lack of network connectivity. Doval also spoke to a child, asking him if he was happy that the schools are closed. People were also seen lining up at ATMs ahead of Eid.
Watch: Doval listens to issues faced by locals in Anantnag
NSA found locals support government's decision
Doval held several meetings with local officials in the valley. A source disclosed to ANI that the NSA discovered that locals are supportive of the government's move and believe it was a well-planned decision. On Friday, Doval spoke to locals in downtown Srinagar for two hours. On Wednesday, he visited Shopian and assured locals that the government prioritized their welfare.
Prohibitory orders were issued as govt revoked Article 370
On August 5, the Centre revoked J&K's special status by abrogating Article 370 and also bifurcated the state into two Union Territories-Jammu and Kashmir, and Ladakh. Ahead of the Centre's bold move, prohibitory orders were issued in the state imposing Section 144 of the CrPC, suspending mobile, broadband internet, and cable TV services, etc. The region is now only limping back to normalcy.