Before tomorrow's Kashmir visit, EU delegation meets PM Modi
Before tomorrow's Kashmir visit, EU delegation meets PM Modi
Oct 28, 2019, 07:18 pm
3 min read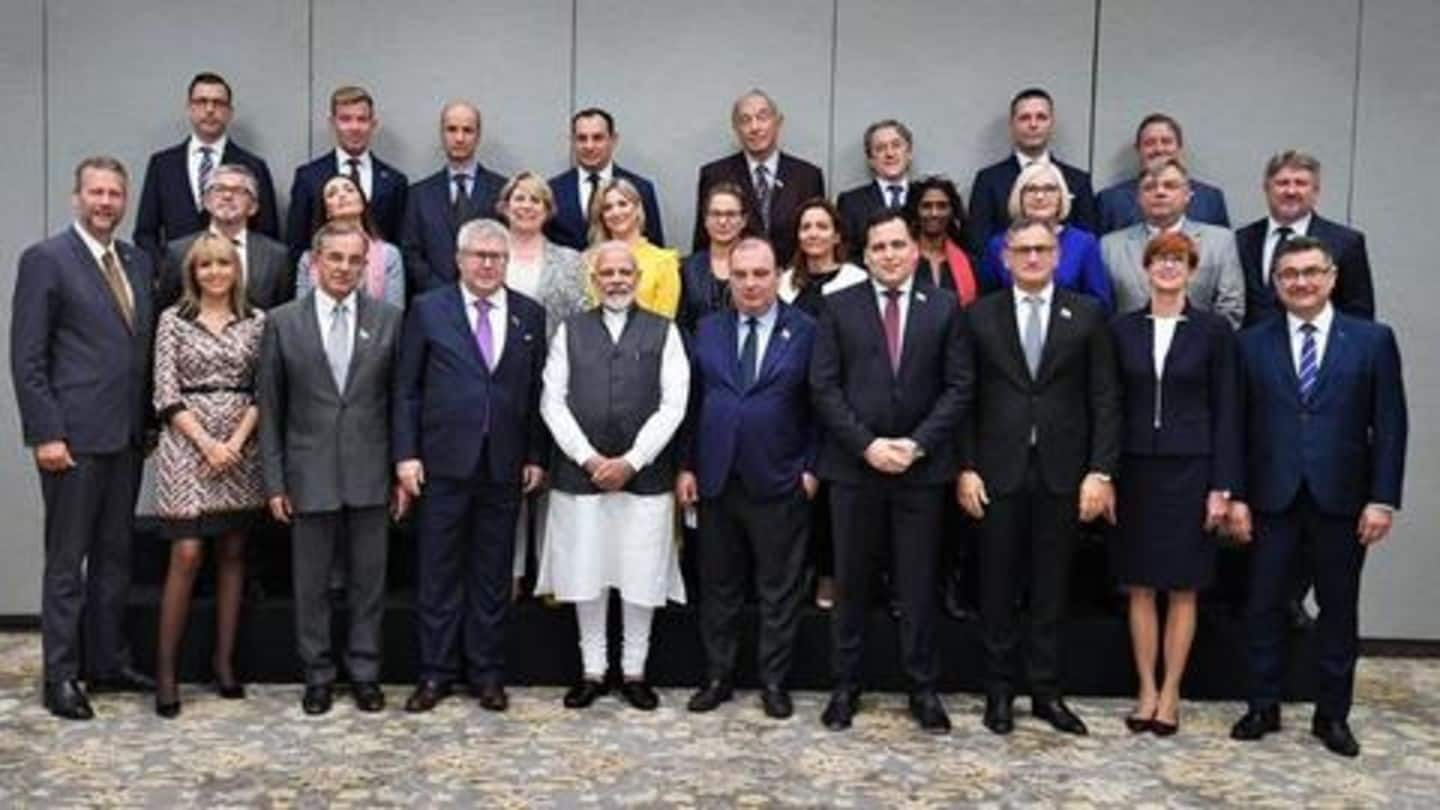 Kashmir has been reeling under an unprecedented lockdown since August raising concerns among rights groups. The area has been off-limits for almost everyone from journalists to activists. And for the first time in months, the Valley's gates have opened for foreign dignitaries as a delegation of the European Union will visit Kashmir tomorrow. Before their visit, they met Prime Minister Narendra Modi today.
In case you are unaware, here's what happened in Kashmir
On August 5, BJP moved the J&K Reorganization Bill in the Rajya Sabha. The Bill revoked Article 370 and split the state into two UTs. But before the historic move, the government upped security, snapped communication modes, and detained politicians. Though the restrictions were lifted gradually (J&K was opened for tourists), situation isn't normal as forces still dot the streets.
For first time, international delegation was allowed to visit Kashmir
Though superpowers like the US and Russia stood with PM Modi, despite Pakistan's constant jibes, of late questions are being raised about denial of basic amenities. And looks like Centre wants to tell the world everything is fine. Hence, it allowed the delegation, consisting of over 25 MPs to assess the situation. Apart from PM Modi, the delegation also met NSA Ajit Doval.
PM hoped the delegation has a fruitful visit: Office
About the group's meeting, PM Modi's office said, "Prime Minister, while welcoming the delegation to India, expressed the hope that they have a fruitful visit to various parts of the country, including to Jammu and Kashmir." The statement added this visit will give the delegation a better understanding of the cultural and religious diversity of the region, and tell them about government's priorities.
Without mentioning Pakistan, PM Modi spoke about terrorism's sponsors
"Urgent action must be taken against all those who support or sponsor terrorists or support such activities and organizations or use terrorism as a state policy. There should be zero tolerance for terrorism," PM Modi said, without explicitly taking Pakistan's name.
Want to see how things are, said a delegation member
After having a word with PM Modi, one of the members of the delegation said the former explained why revoking Article 370 was necessary. "But I want to see on the ground how it actually is and talk to some local people. What we all want is normalcy and peace for everyone," BN Dunn said. All the 27 members will fly to J&K tomorrow.
Earlier, a US senator was stopped from visiting J&K
To recall, earlier this month, Chris Van Hollen, a US Senator from Democratic Party, was denied permission to visit J&K. Later, Hollen said the government told him it wasn't the "right time" to visit the state. "My personal view is that if you have nothing to hide, there is nothing to fear by allowing visitors to the state," he had told IE.
Notably, Swamy opined this visit was "immoral"
Now, BJP might be hoping that this visit gets it some brownie points in the international forum, and perhaps fewer brickbats back home, but a member of the party feels this isn't the right decision. Subramanian Swamy, known for not mincing his words, said this is a "perversion" of foreign policy and urged the Ministry of External affairs to cancel this "immoral" visit.
Swamy is surprised a permission was given in first place
I am surprised that the MEA has arranged for European Union MPs, in their private capacity [Not EU's official delegation],to visit Kashmir area of JK. This is a perversion of our national policy. I urge the Government cancel this visit because it is immoral.

— Subramanian Swamy (@Swamy39) October 28, 2019