Someone is trying to disrupt peace in J&K: Army Chief
Someone is trying to disrupt peace in J&K: Army Chief
Oct 21, 2019, 11:02 am
2 min read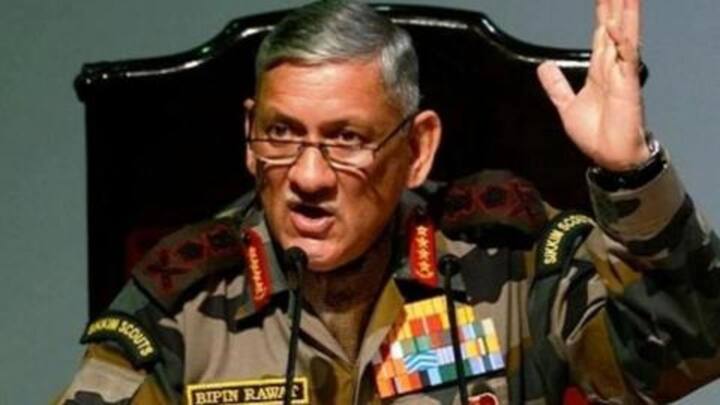 The condition in Jammu and Kashmir has been headlining news for quite some time now. Though the government claims there's no clampdown in the border state, things are far from normal. Weighing in on the situation, Army Chief Bipin Rawat on Sunday blamed "someone behind the scenes" for trying to disrupt peace in J&K. His comments came after Army destroyed terror launch pads in PoK.
Backstory: Pakistan, fuming since August, violated ceasefire, got befitting reply
To ensure terrorists, supported by Pakistan, don't create troubles in J&K after the abrogation of Article 370, Centre put the state under a communication blockade. Last week, postpaid mobile services were restored. On Sunday, the Indian Army reacted strongly to Pakistan's unprovoked ceasefire violations, inflicting severe damage on the neighboring country's forces. Reportedly, six-ten Pakistani soldiers and an equal number of terrorists were killed.
Recently, infiltration bids have increased, said Rawat
Speaking on the operation, Rawat said infiltration bids have increased in the last couple of weeks. Intelligence agencies and forces are taking extra caution, considering the festive season is upon us. Rawat revealed they received credible information about the presence of terrorists at these pads. The last time India struck terror camps was in February when Indian Air Force jets bombed Jaish-e-Mohammed's Balakot camp.
Somebody is working behind the scenes: Rawat
"Gradually, things are returning to normal in the Valley, but obviously somebody is working behind the scenes, at the behest of terrorists and agencies, some within and some outside Pakistan and Pakistan-occupied Kashmir, to disrupt the peaceful atmosphere," Rawat told PTI.
Two Indian soldiers were martyred after Pakistan violated ceasefire
The terror pads which were demolished were located opposite the Tangdhar sector of Kupwara. Rawat revealed they had the coordinates of these camps and decided to retaliate before the terrorists could cross over. To note, in the unprovoked violations, the Indian Army lost two soldiers, and one civilian was killed. Two shelters housing 19 cattle and sheep were also destroyed, said reports.
Meanwhile, Pakistan summoned Indian envoy to lodge a protest
As media carried reports about India's successful operation, Pakistan obviously denied it. Mohammad Faisal, the spokesperson of Pakistan's Foreign Ministry, on Sunday, summoned Indian envoy Gaurav Ahluwalia to lodge a protest against the Army's action. Islamabad claimed five Pakistani nationals were killed. It also said nine Indian soldiers were killed and two bunkers were destroyed, but India denied this vehemently.