As coronavirus batters India, Modi wants Kumbh to be symbolic
As coronavirus batters India, Modi wants Kumbh to be symbolic
Apr 17, 2021, 10:51 am
2 min read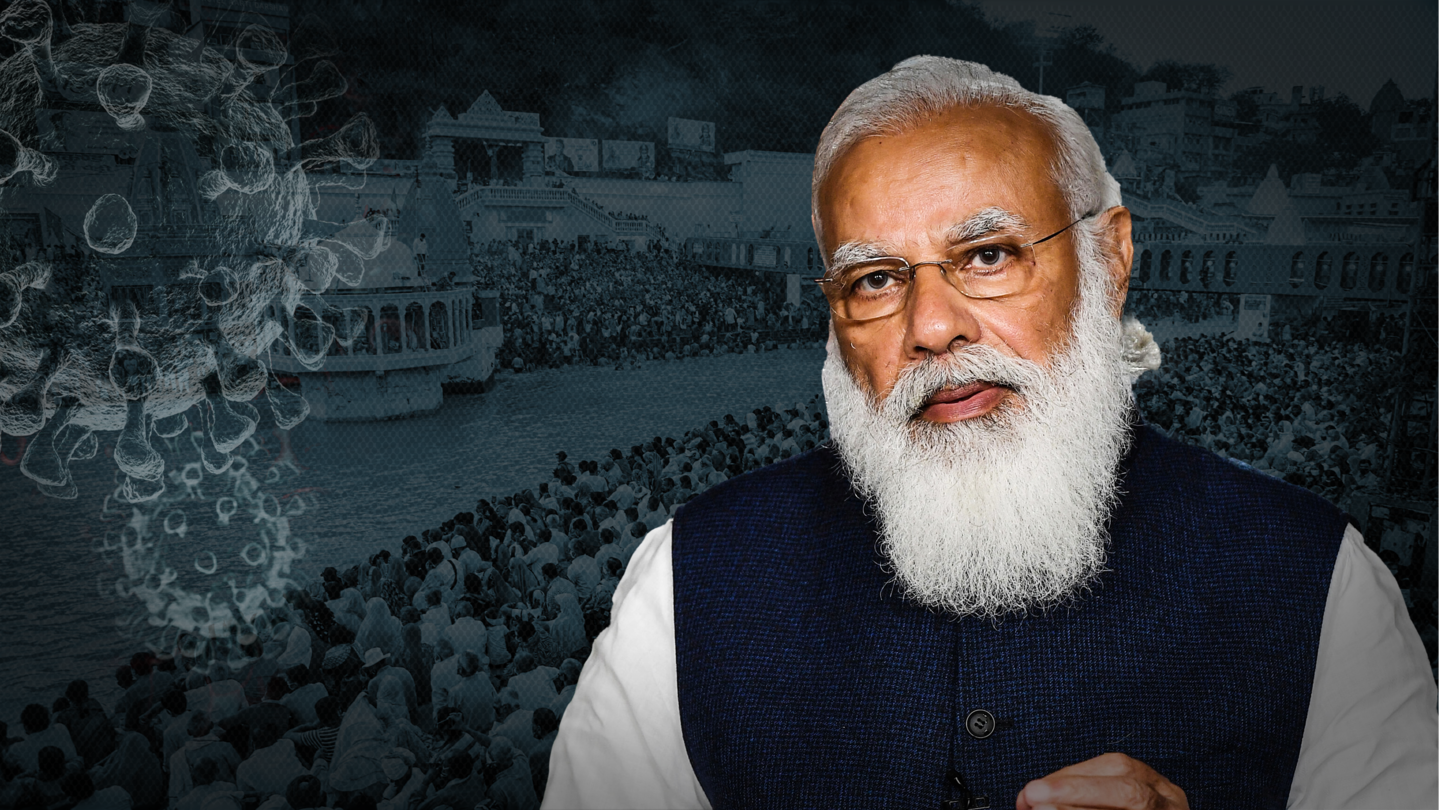 On Saturday, Prime Minister Narendra Modi put out two tweets regarding the ongoing Kumbh Mela in Haridwar, Uttarakhand, where coronavirus-linked guidelines have gone for a toss. The Bharatiya Janata Party (BJP) leader wrote that the mega Mela "should now only be symbolic amid the coronavirus crisis." He revealed that he spoke with Hindu Dharma Acharya Sabha President Swami Avdheshanand Giri Ji Maharaj.
PM Modi thanked saints for helping the administration
He disclosed that during the conversation he inquired about the well-being of seers and added that they are providing support to the administration. "Now that two shahi snans have taken place, I appeal to everyone to keep Kumbh Mela symbolic due to the coronavirus crisis," one of his tweets read. He suggested this would strengthen India's battle against the disease.
You can read his tweets here
मैंने प्रार्थना की है कि दो शाही स्नान हो चुके हैं और अब कुंभ को कोरोना के संकट के चलते प्रतीकात्मक ही रखा जाए। इससे इस संकट से लड़ाई को एक ताकत मिलेगी। @AvdheshanandG

— Narendra Modi (@narendramodi) April 17, 2021
'Protecting life is a great virtue'
Thereafter, the religious leader also posted a tweet, saying that the saint community respects PM Modi's call. "Protecting life is a great virtue. We urge the public to not come for a bath in large numbers and observe the rules, given the circumstances," his tweet read. The two shahi snans had taken place on April 12 and April 14.
The fact that Kumbh Mela continued unabated had sparked worries across India. Thousands have been gathering at the religious city to take a dip in the Holy Ganges, increasing the risk of transmission. In fact, between April 10 and 14, a total of 1,701 people had tested positive. Despite the threat, a senior official had underlined that the Mela might not be cut short.
Have no information of it being curtailed: Official
"The Kumbh Mela used to begin in January, but looking at the COVID-19 situation, the state government decided to start it in April this time. The Centre's SOP said because of the situation, the duration would be reduced. I have no information of it being curtailed," an official had said.
India added 2.34 lakh fresh cases to its tally
Meanwhile, India's coronavirus caseload reached 1.45 crore today with the addition of 2,34,692 fresh cases, the highest single-day spike since the beginning of the pandemic. As many as 1,341 people died in the last 24 hours, taking the death toll to 1,75,649. India now has 16,79,740 active cases. Maharashtra and Delhi reported 63,729 and 19,486 fresh cases respectively.