People are loving these pictures of PM with Bollywood celebrities
People are loving these pictures of PM with Bollywood celebrities
Jan 12, 2019, 05:19 pm
2 min read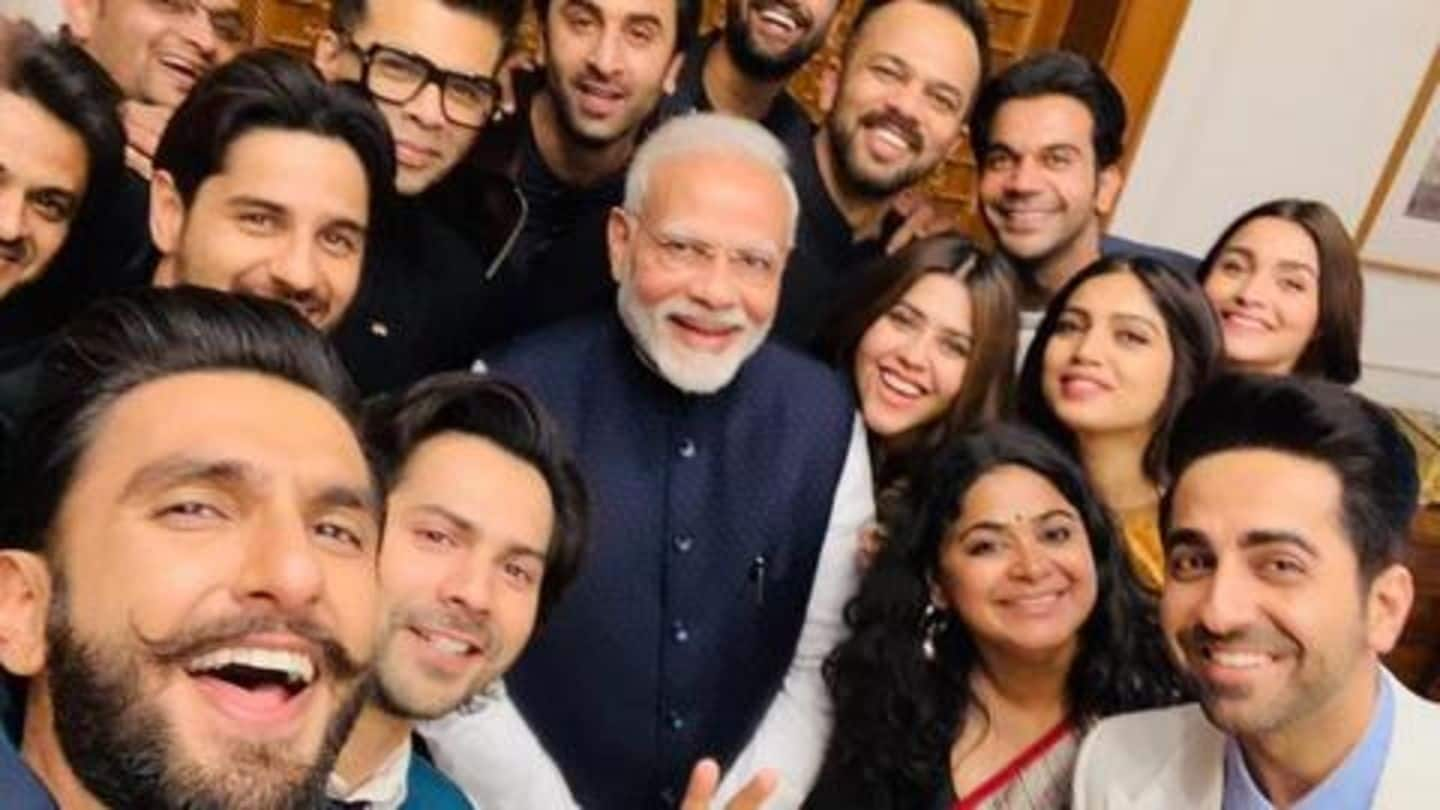 On Thursday, Prime Minister Modi met a delegation of Bollywood celebrities, which included Karan Johar, Alia Bhatt, Ranveer Singh, and Ayushmann Khurrana, among others. The meeting was to discuss how Bollywood industry can help in building the nation. However, what caught the netizens' eye was the photo-session of the celebrities with the PM, and they can't stop making hilarious memes on it. Here's more.
Delegation thanked Modi for reduction of GST on movie tickets
The delegation met the PM on January 10 in New Delhi, and had a thorough discussion about the contribution of the entertainment for the betterment of the nation. They also thanked PM Modi for the reduction of the Goods and Services Tax (GST) on movie tickets, which took place after the previous meeting of the PM with other Bollywood producers and actors.
Modi-celebs' selfie has become the talk of the nation
Other than those mentioned above, the delegates included Ranbir Kapoor, Bhumi Pednekar, Ekta Kapoor, Sidharth Malhotra, Rohit Shetty, Vicky Kaushal, Rajkummar Rao , and Varun Dhawan. But, what got everyone talking was the epic selfie of the PM with the celebs, which is now making rounds on the Internet. Karan shared the selfie on his social media platforms thanking the PM for his time.
'Would love to inspire positive changes towards a transformative India'
Thank u Hon'ble PM @narendramodi. All of us who had the incredible opportunity to interact with u today represent the world's largest film industry together we would love to inspire ignite positive changes towards a transformative India. pic.twitter.com/7h99wifTph

— Karan Johar (@karanjohar) January 10, 2019
Many thought this could beat Ellen DeGeneres' 2014 Oscar selfie
Watching the PM happily smiling beside their favorite actors left netizens in a frenzy. There were many who thought the selfie would beat the iconic selfie of Ellen DeGeneres with Hollywood stars including Bradley Cooper and Jennifer Lawrence during the 2014 Oscars. Meanwhile, others made memes over the separate photo-session of the celebrities with the PM, and they will leave you in splits!
'Can you beat the Oscar selfie?'
Of course, netizens didn't miss the 'chai', 'koffee' references
'Tera dhiyaan kidhar hai? Tera hero idhar hai'
Ranveer's jhappi becomes the hug of the year!
Previous meeting was criticized for lack of female representation
In December last year, another delegation of Bollywood personalities including Karan, lyricist Prasoon Joshi, Akshay Kumar, and Ronnie Screwvala, among others met the PM at Raj Bhavan (Mumbai) to discuss the issue of GST on movie tickets. However, the meeting was slammed by many, including actresses like Dia Mirza, as there were no female personalities present in the delegation to represent the Bollywood industry.