Won't be silenced: Prakash Raj on 'threats' from Lankesh killers
Won't be silenced: Prakash Raj on 'threats' from Lankesh killers
Jun 29, 2018, 02:00 pm
2 min read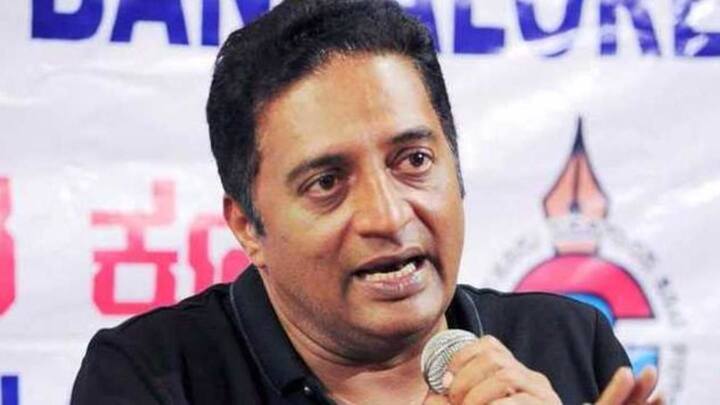 Vocal actor Prakash Raj, who has earlier criticized the government's alleged inaction in the Gauri Lankesh murder case, yesterday said he is "not threatened" by her killers. Investigation had earlier painted him as the next target of the killers, but he said his voice will only grow stronger. They won't manage to get away by playing hate politics, he said.
On September 5, 2017, as Lankesh reached home and got down from the car, a man came and fired at her. She tried to run, but he chased her and shot several more times. She was the daughter of poet-turned-journalist P Lankesh. 'Gauri Lankesh Patrike,' a tabloid edited by her, was known for its vocal criticism of communal violence, caste system and right-wing politics.
Prakash Raj and Gauri Lankesh were close friends
Raj, who knew Gauri for over 30 years, was an ardent follower of her father P Lankesh. "We were all children of (P) Lankesh, his ideologies and way of life. We were taught to be honest citizens, who would never seize to raise one's voice. I never dreamt that this day would come. I am really wondering where are we going towards?" he said.
Case filed against Raj for comments against Modi's "absolute silence"
On October 2, Raj questioned PM Narendra Modi's silence over Lankesh's murder, and slammed UP CM Yogi Adityanath, saying he was more a priest than a CM. Calling both of them better actors than himself, Raj said they were more deserving of his national awards and that he didn't mind returning them to the government. A case was filed against him for these comments.
Six people have been arrested in Lankesh's murder
In March, police arrested KT Naveen Kumar, founder of Hindu Yuva Sene, in Lankesh's case. He has now agreed to undergo a narco test. His advocate Vedamurthy has argued that the chargesheet filed by the SIT is full of discrepancies: the 'bullet-seller' apparently said he charged Rs. 3,000, but a witness claims it was Rs. 20,000. So far, six people have been arrested.