'Why'll Modi react if dog dies?': Muthalik on Lankesh murder
'Why'll Modi react if dog dies?': Muthalik on Lankesh murder
Jun 18, 2018, 01:48 pm
3 min read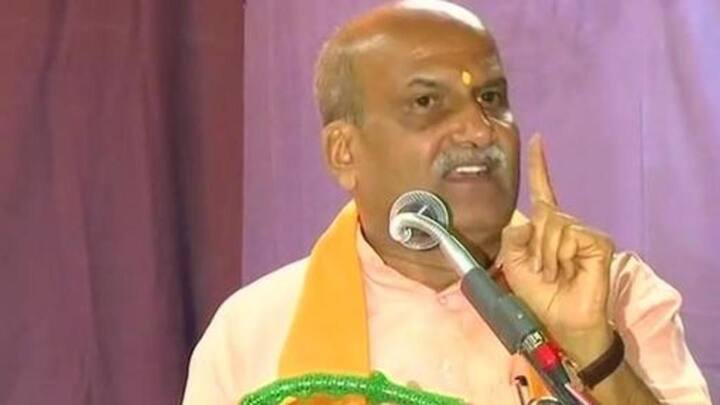 In extremely controversial comments, Pramod Muthalik, chief of the right wing group Sri Ram Sene, ended up comparing slain journalist Gauri Lankesh to a dog. "Many wanted PM Modi to react after Gauri Lankesh's death. Why should Modi react if some dog dies in Karnataka?" he's heard saying in a video. Raucous cheers of "Jai Shri Ram" rang out from the audience.
'Was simply pointing out Modi can't comment on every death'
Muthalik's comments came when he was criticizing activists for slamming Modi's silence on the matter. Defending himself, he said he wasn't comparing Lankesh to a dog, but simply pointing out that Modi can't comment on every death. Calling the comments "disgusting, nauseating, revolting," Congress Spokesman Manish Tewari asked Modi that he didn't condemn Lankesh's murder, but "are you now going to condone this too?"
Tewari lashes out at Muthalik, Modi
Disgusting,nauseating, revolting...vigilante group Sri Ram Sene's Head Pramod Muthalik compares assassinated journalist Gauri Lankesh to a dog. Mr Prime Minister @narendramodi you did not condemn Gauri Lankesh's murder are you now going to condone this too https://t.co/V3do2n5wIv

— Manish Tewari (@ManishTewari) June 18, 2018
Gauri Lankesh was the daughter of famous poet-turned journalist P Lankesh. A prominent name in Karnataka, she was a fearless anti-establishment dissenter-activist, known for her weekly Kannada tabloid 'Gauri Lankesh Patrike'. The tabloid did not take any advertisements, and was known for its vocal criticism of communal violence, the caste system, and right-wing Hindutva politics.
On September 5, 2017, as Lankesh reached home and got down from the car, a man on a motorcycle fired at her. She tried to run, but he chased her and shot several more times. He was wearing a helmet and was accompanied by another man. According to police, the two are reportedly aged between 25-35 years and are not Bengaluru residents.
Similarities to murders of other scholars and rationalists
A preliminary analysis of the bullets found in Lankesh's murder found they're from a similar pistol used to kill scholar MM Kalburgi in 2015. There were similarities in style too: in both, assailants arrived on motorcycles and killed them outside their homes. Later, it emerged that the same gun may have been used in the killing of rationalists Govind Pansare and Narendra Dabholkar too.
Two arrests made till now, but main accused still unidentified
In March, police arrested KT Naveen Kumar, founder of right-wing group Hindu Yuva Sene. Kumar and his associate staked-out Lankesh's home and provided relevant details to her killers. Parashuram Waghmare, the suspected shooter, was arrested a few days ago. He reportedly confessed to killing Lankesh to "save his religion." Recently, the SIT summoned Rakesh Math, Vijayapura district president of Sri Ram Sene, for questioning.