Kerala: 20 dead in rain-related incidents, Kochi Airport suspends operations
Kerala: 20 dead in rain-related incidents, Kochi Airport suspends operations
Aug 09, 2018, 02:51 pm
2 min read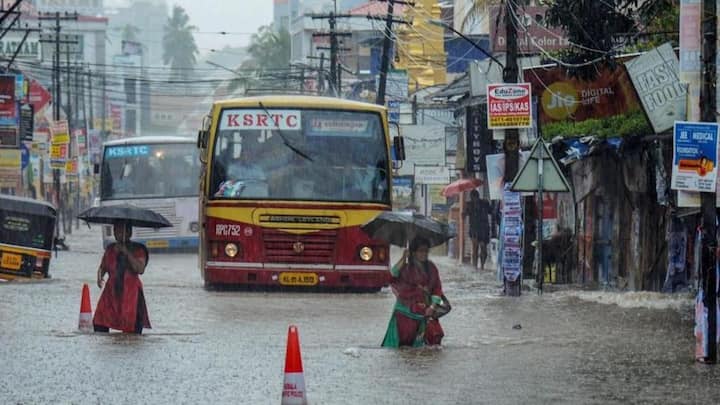 At least 20 people have died in the last 24 hours in Kerala, which has been lashed by heavy rains. Kochi Airport suspended arrivals after 1:10pm today. All four shutters of the Idukki dam were opened after 26 years, after showers pushed up water levels in the reservoir to nearly 2,399ft. This has led to flood alerts in low-lying areas like Choornikkara and Kombanad.
Visuals of the opened shutters
Floods and landslides in Alappuzha, Wayanad, Kannur and elsewhere
Continuing rains have caused landslides and floods in several parts. Many people staying in the eastern hill areas have been forced to evacuate. Alappuzha district has been flooded. Rains combined with strong winds disrupted life in Wayanad and Kannur. Rescuers are attempting to evacuate 50 families from the banks of the Chalippuzha near Elanthukadavu. At Marippuzha, 12 families are trapped after a bridge collapsed.
Impact: Train services suspended, schools and colleges shut down
Normal life has been thrown out of gear. Train services between Palakkad and Coimbatore have been called off after tracks on Line B got submerged. They are now being rerouted through Line A. Schools and colleges in several places have been shut down.
At least 20 killed, many others missing
A person in Wayanad died after earth caved in on their house. In Malappuram, six of a family were killed in landslides at Chettiyanpara. In Manikandanchal, a person reportedly died of shock after seeing the rising water levels of the Pooyamkutty River. A man and his daughter-in-law were killed in Ayyankunnu when their house collapsed on them in a landslide. Many people are missing.
Dams opened due to rising water, but locals at risk
Officials have now opened the 45-year-old Idukki dam, one of Asia's largest, which hasn't been opened in 26 years. Water is now flowing into the Cheruthoni river, which merges into the Periyar, but this has put the inhabitants on the banks at risk. Shutters of the Kuttiyadi dam in Kozhikode were also opened. People living nearby have been urged to remain alert.
Territorial Army teams deployed, rescue camps set up
Teams of the Territorial Army have been deployed in different places. They are involved in evacuating people. Rescue camps have been set up, where displaced people are being provided shelter, food and water.