Delhi-restaurant serves dish named 'Sunny Leone Chaap'
Delhi-restaurant serves dish named 'Sunny Leone Chaap'
Nov 30, 2018, 06:35 pm
2 min read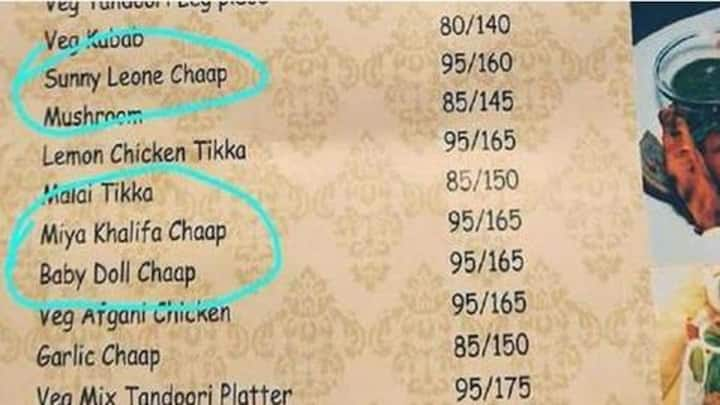 In India, small eateries and restaurant owners often ignore the concept of intellectual property or copyright law. And with their knack of coming up with unique names for their dishes, they often cross the line of moral standards. In one such development, a restaurant in Delhi was found serving dishes named 'Sunny Leone Chaap', 'Miya (Mia) Khalifa Chaap', and 'Baby Doll Chaap'.
Image of restaurant menu was shared on Imgur
A social media user recently uploaded an image of a menu of Delhi restaurant 'Veer Ji Malai Chaap Waale' on photo-sharing site Imgur. Names of certain dishes were highlighted- 'Sunny Leone Malai Chaap', 'Baby Doll Malai Chaap' and 'Miya Khalifa (sic) Malai Chaap'. The names obviously did not appeal to many, who found them highly offensive towards women and the mentioned actors. Rightly so!
Restaurant specializes in Malai Chaap or desi mock meat
The restaurant brand serving the poorly named dishes is a chain of eateries called Veer ji Malai Chaap Wale. It specializes in Malai Chaaps or desi mock meat. Mock meats are purely vegetarian dishes but give a perfect non-vegetarian taste of meat.
Goats named Salman Khan, Shah Rukh Khan were also sold
It is not just the female actors whose names are used for such obnoxious marketing, names of male actors are also endorsed in a not-so-pleasant way. In 2015, goats named 'Shah Rukh Khan' and 'Salman Khan' were on sale in goat markets in Uttar Pradesh, ahead of Eid. Unsurprisingly, the prices of the celebrity goats were between Rs. 50,000 and Rs. 1 lakh.
Adult actresses as mock meat is simply sexist
The question now arises is that when will people stop endorsing Bollywood bigshot names in a derogatory manner. Not only it's offensive but naming mock meats after adult actresses is blatant objectifying of women. Their creativity for business is undoubtedly atrocious. It is high time such restaurants revise their unique or rather cheap marketing skills.