Battleground Sabarimala: Over 1,800 arrested; bombs hurled; violence continues
Battleground Sabarimala: Over 1,800 arrested; bombs hurled; violence continues
Written by
Shiladitya Ray
Jan 05, 2019, 11:52 am
3 min read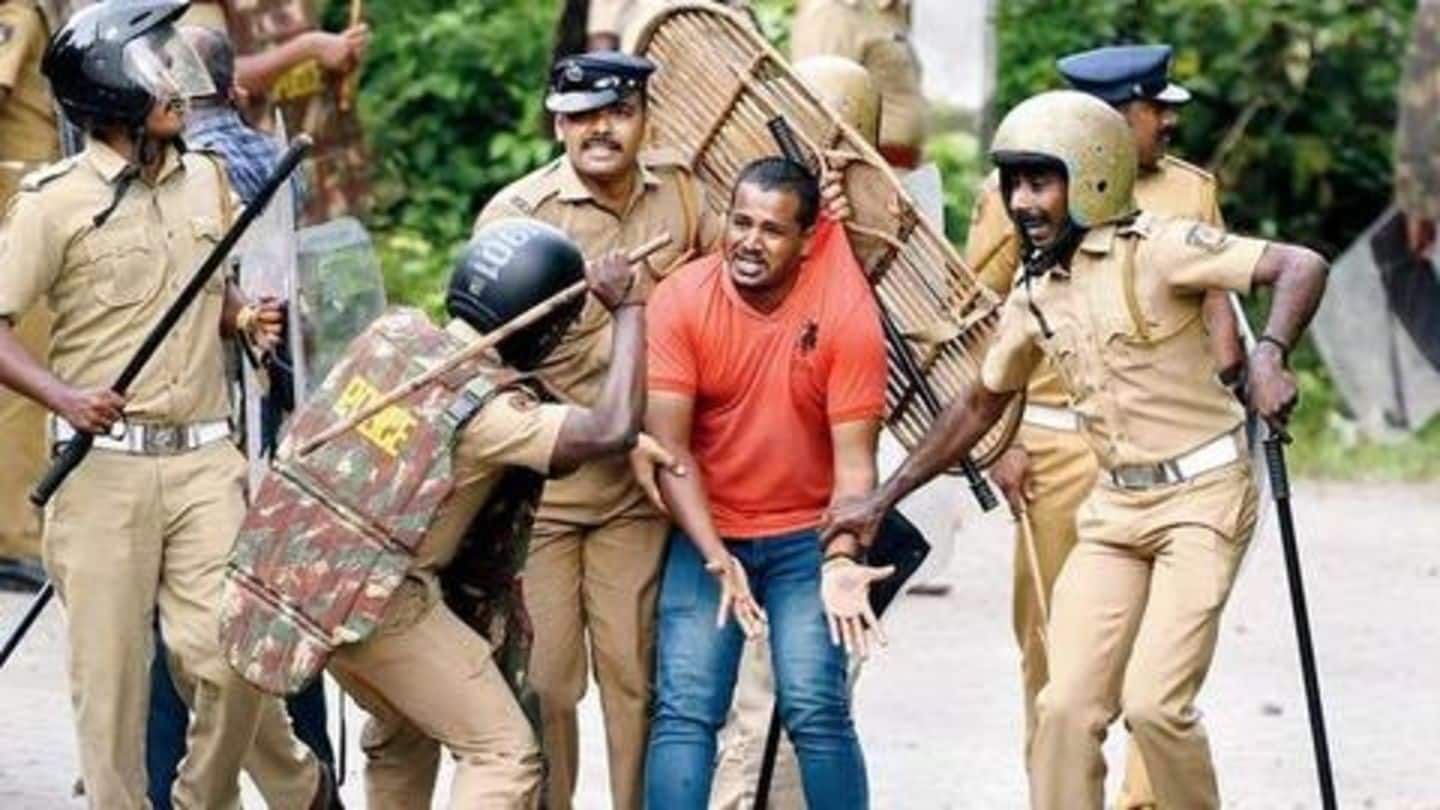 Kerala is still in the grips of violent protests after two women in their 40s entered the 800-year-old Sabarimala temple, and reportedly, over 1,800 arrests have taken place since the women's entry. Protests apart, the violence in the state was exacerbated after right-wing groups led by the BJP tried to impose a strike and clashed with CPI(M) activists. Here are the details.
There seems to be no end to the violence
While hundreds of the incidents of violent clashes have been reported since the two women entered the temple, the latest incident includes a CPI(M) worker getting stabbed, and MLA AN Shamseer's house being attacked. Meanwhile, a crude bomb was thrown at BJP MP V Muralidharan's house, and unidentified people torched a Rashtriya Swayamsevak Sangh (RSS) office in the Pariyaram area.
BJP, RSS, CPI(M) workers attacked each other's houses earlier
Prior to the aforementioned attacks, crude bombs were allegedly hurled by RSS members at the residence of Malabar Devasom Board member Sasikumar in the Kozhikode district. Meanwhile, at least 50 houses of BJP and CPI(M) workers were attacked on Thursday night, as violence in the state escalated. Notably, since the women entered the temple on Wednesday, over 800 cases of violence have been registered.
On Thursday, another woman in her 40s entered the temple
While the two women entering the temple had already riled right-wing groups and Ayyappa devotees, their fury was further instigated after another 46-year-old woman, one Sasikala from Sri Lanka, entered the temple on Thursday night. Kerala police confirmed her entry, as did CCTV footage. Sasikala claimed to have had her uterus removed, and said she did not fall within the 'menstruating women' category.
Eight women have entered since SC verdict: Kerala police
Adding insult to injury, Kerala police have also claimed that eight women have entered the Sabarimala temple since the Supreme Court, on September 28, quashed the ban on the entry of women aged 10-50 years. However, the Sabarimala Karma Samithi, an umbrella organization of many Hindu outfits, claimed that the Kerala police were fabricating the truth to invite other women to the temple.
BJP to step up protests; PM Modi to address rallies
Given the sudden escalation in the situation pertaining to women's entry, BJP has decided to intensify their protests and will reportedly march to the secretariat on January 15. Meanwhile, Prime Minister Narendra Modi, who was slated to visit Kerala on Sunday, will do so at a later date, and will address two rallies in Kollam and Thrissur on January 15 and January 24, respectively.
Police are trying their best to maintain law & order
In the mean time, police are trying their level best to restore law and order in the state. On Thursday, police began a clampdown operation, dubbed 'Broken Window', and prohibitory orders were issued for three municipal towns - Palakkad, Nedumangad and Mancheawaram. Following the violence of Thursday and Friday, police, on Saturday, also took out a flag march in Thalassery, CM Pinarayi Vijayan's native town.