Meet Sangeeta Bahl, the oldest Indian-woman to scale Mount Everest
Meet Sangeeta Bahl, the oldest Indian-woman to scale Mount Everest
May 28, 2018, 10:10 am
2 min read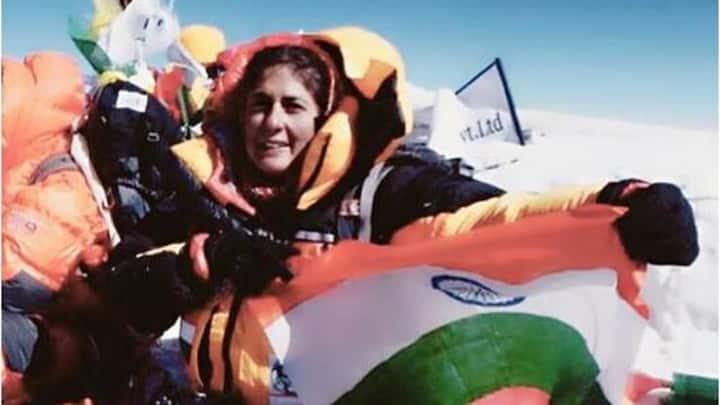 On Sunday, Sangeeta Sindhi Bahl, the oldest woman to scale Mount Everest met Indian Ambassador to Nepal, Manjeev Singh Puri. 53-year-old Bahl broke the record previously held by Premlata Agarwal, 48, who climbed Everest on May 20, 2011. A former model and now an entrepreneur, Bahl scaled the Everest on May 19. Two Sherpas helped her in the tedious journey.
Sangeeta and her husband Ankur meet Ambassador Puri
Ambassador Puri with Ms. Sangeeta Bahl, India's oldest woman to have scaled Mt Everest at age 53 and her husband Ankur Bahl, who climbed Mt Everest in 2016. pic.twitter.com/tRJlVaakRO

— IndiaInNepal (@IndiaInNepal) May 27, 2018
Sangeeta's husband motivated her to scale the Everest
Sangeeta tried climbing the Everest in 2017, but high-altitude sickness forbade her to do so. Her husband, Ankur Bahl (who himself scaled the Everest on the same date two years ago) kept motivating her to not give up. Her application for mountaineering course at the Himalayan Institute of Mountaineering in Darjeeling was rejected because of her age, but she kept going.
Other feats achieved by Sangeeta Bahl
Sangeeta scaled the Mt Vinson (4,897 m) in Antarctica in 2014. The same year she tried climbing Mt McKinley (6,190 m) in North America but suffered a knee injury. In 2015, she scaled the climbed Mt Aconcagua (6,962 m) in Argentina, South America.
Sangeeta Bahl wishes to spread awareness about breast cancer
A 1985 Miss India finalist, Sangeeta wanted to use her mission to spread awareness on early breast cancer detection in women. To support Tata Memorial Hospital's women cancer initiative, Sangeeta took a banner to the peak. Sangeeta holds an MBA degree from the University of Bradford, UK, and lives in Gurugram. She has spearheaded many programmes to spread cancer awareness.
PM Modi congratulates Sangeeta
Sangeeta and Ankur Bahl wanted to scale seven summits in seven continents, which they achieved. They scaled some peaks together. On Sunday's 'Mann Ki Baat', Prime Minister Narendra Modi congratulated Sangeeta. "Wish to thank each one of you who have supported me through your prayers, wishes and constant goodwill," Sangeeta, who hails from Jammu, wrote on Facebook.
Jammu and Kashmir CM Mehbooba Mufti sends wishes
Congratulations to our very own @SANGEETASBAHL from Jammu who has brought pride to the state the entire nation by scaling the mighty Mount Everest.

— Mehbooba Mufti (@MehboobaMufti) May 25, 2018