The curious case of scientist Nambi Narayanan and ISRO espionage
The curious case of scientist Nambi Narayanan and ISRO espionage
Jan 19, 2018, 07:27 pm
2 min read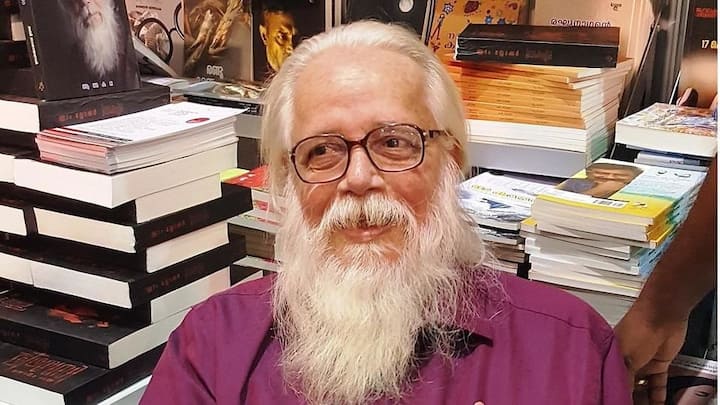 It has taken ex-ISRO scientist Nambi Narayanan over two decades to come out with his story. Accused of espionage by the Kerala Police and the Intelligence Bureau (IB) in 1994, he was exonerated by the CBI two years later. His autobiography, Ormakalude Bhramanapatham, was released in October 2017. With its English translation ready, we look at the mysterious case that still has stakeholders divided.
Nambi Narayanan demands fresh investigation
Narayanan had long sued the IB and Kerala Police for falsely implicating him, torturing him and delaying the development of cryogenic technology in India. He now demands a fresh probe to uncover the motivations behind his arrest. Notably, the CBI's 1996 report that had absolved Narayanan, slammed the IB and Kerala Police for an 'unprofessional investigation' and making up a false case.
Narayanan was accused of leaking material relevant to national security
In 1994, the Kerala police arrested ISRO scientist D Sasikumar and Maldivian nationals Mariam Rasheeda and Fausia Hassan, on suspicions that they had leaked 'material relevant to national security'. Based on Rasheeda and Hassan's statements, several others including scientist Sasikumar, businessman SK Sharma, and Nambi Narayanan were arrested, reported The Quint. Kerala's IB unit subsequently got actively involved in the case.
On Kerala Police's recommendations, the CBI took the case within a month. In its report filed in 1996, the CBI found that Sasikumar and Mariam knew each other only socially and that they didn't compromise national security in any way. According to the CBI, the two women, whom Narayanan didn't even know, named him under torture. Furthermore, the CBI recommended action against former investigators.
IB, Kerala police rubbish claims of wrongdoings
However, despite the CBI findings, the IB and the Kerala Police support their investigation and dismiss claims of wrongdoings. The IB has the expertise and resources to probe espionage cases and was hence involved. The case's police chief, Siby Mathews, says he had adequate reasons to arrest the scientists. He alleges that he wouldn't have recommended a CBI inquiry if he had ulterior motives.
Despite multiple probes, loopholes remain
In 1998, Narayanan first filed a defamation suit against his interrogators - officers of the IB and the Kerala police. The National Human Rights Commission had also ordered the government to compensate Narayanan. However, despite multiple investigations and reports, several questions still remain unanswered