What is China's role in the Statue of Equality controversy?
What is China's role in the Statue of Equality controversy?
Feb 10, 2022, 12:06 pm
2 min read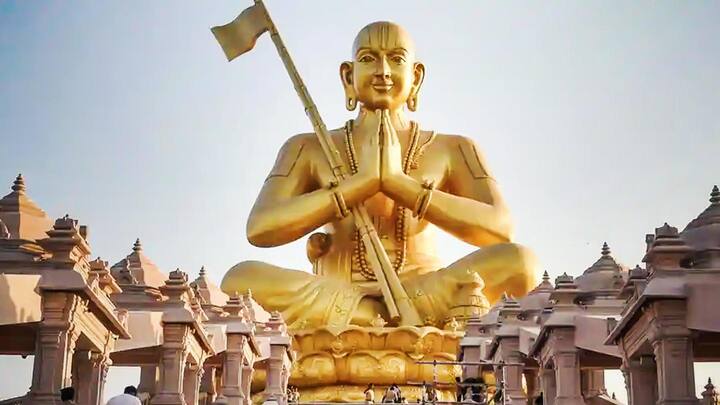 The Statue of Equality, the 216 feet seated Ramanujacharya idol in a temple in Hyderabad, has created a dispute among Congress and the ruling Bharatiya Janata Party (BJP). Congress' Rahul Gandhi on Wednesday said the statue was built in China and criticized India's concept of 'Aatmanirbhar Bharat' (self-reliant India). Union Minister of Tourism and Culture G Kishan Reddy said Gandhi's comments were "shallow."
Why does this story matter?
Gandhi's comments came a few days after Prime Minister Narendra Modi inaugurated the Statue of Equality and highlighted India's vision of lowering dependence on Chinese goods.
Notably, the BJP government started initiatives like the 'Aatmanirbhar Bharat' and 'Make in India' to make the nation self-reliant in every aspect.
India's ties with China have also remained tense since a border row erupted in 2020.
Statue of Equality is Made in China.

'New India' is China-nirbhar?

— Rahul Gandhi (@RahulGandhi) February 9, 2022
How did the Union Minister react to Gandhi's comments?
Reddy clarified that the State of Equality was a completely private project that had been planned for over eight years. "At that time Congress was in power in both center and state," he tweeted. "100% funds were raised privately and the government of India provided NO financial support." Reddy also clarified that the project was planned before India launched the 'Aatmanirbhar Bharat' initiative.
Chinese firm acquired the tender in 2015
China's Aerosun Corporation had acquired the tender for the project in 2015. An Indian company was notably also in the race to acquire the tender. While the metallic statue was cast in China, it was installed in India for around 15 months. The idol was delivered to India in 1,600 pieces, and around 70 Aerosun Corporation employees had assisted with its assembly in India.
Entire project worth Rs. 1,000 crore; spread over 45 acres
The statue was placed within Samata Kendram, a temple in Shamshabad near the Hyderabad airport. Reportedly, the spiritual center is erected on 45 acres of property given by industrialist Jupally Rameswar Rao. The entire project is around Rs. 1,000 crore, while the statue alone cost Rs. 135 crores. The project had been conceived by Chinna Jeeyar Swamy.
Who is Sri Ramanujacharya?
Ramanujacharya was a social reformer and a Hindu philosopher whose teachings influenced the Bhakti movement. He is famous for writing Bhashyas on the Brahma Sutras and the Bhagavad Gita in Sanskrit and for being the chief proponent of the Vishishtadvaita subschool of Vedanta. Modi had inaugurated the statue on February 6. The inauguration marked the 1,000th birth anniversary celebrations of the saint.