New Mumbai-Delhi Rajdhani Express: Free Wi-Fi, VR headsets, and more!
New Mumbai-Delhi Rajdhani Express: Free Wi-Fi, VR headsets, and more!
Written by
Ramya Patelkhana
Jan 22, 2019, 04:21 pm
3 min read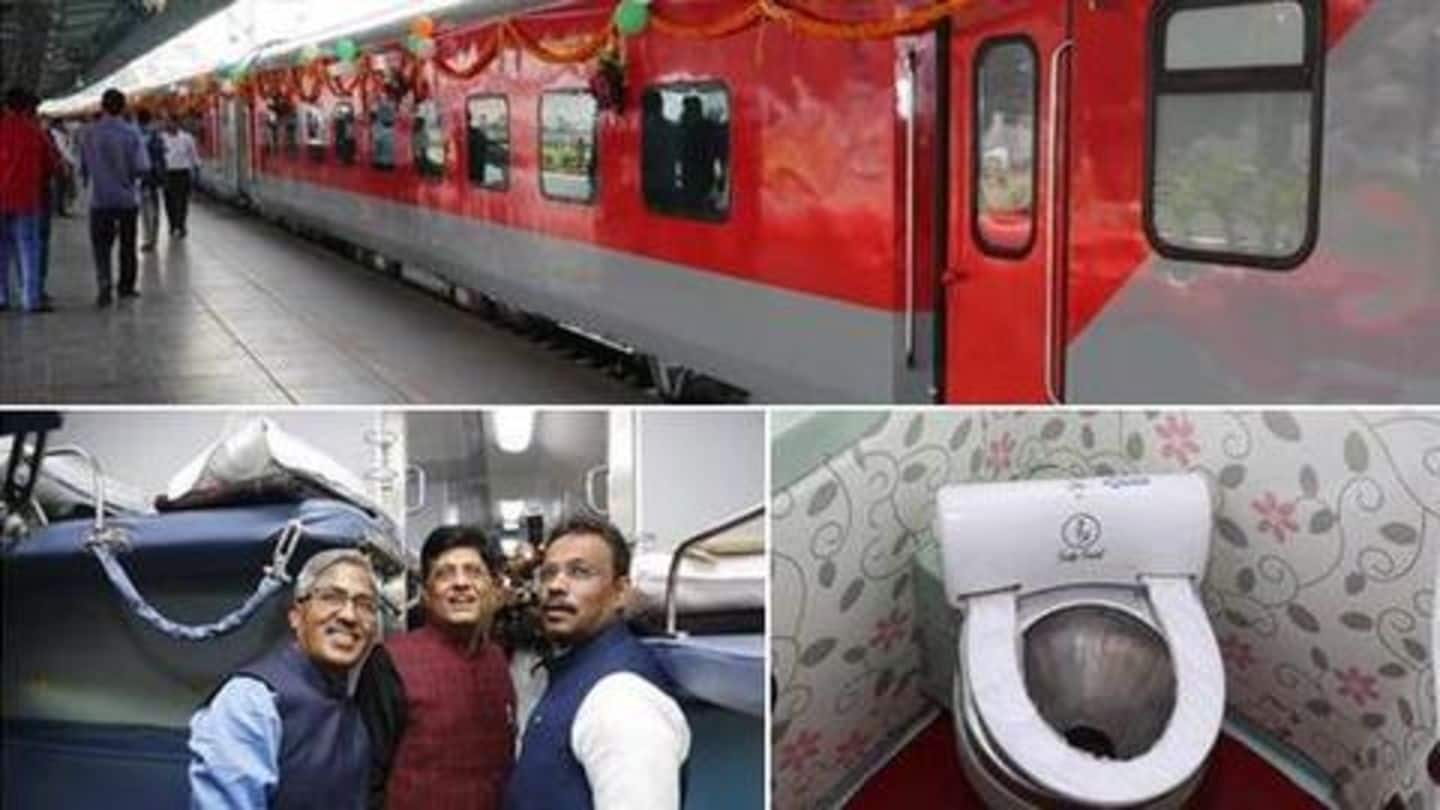 The Indian Railways recently launched a third Rajdhani Express between Mumbai and Delhi that was flagged off by Railways Minister Piyush Goyal on 19 January. The bi-weekly premium train will ply between Mumbai's Chhatrapati Shivaji Maharaj Terminus (CSMT) and Delhi's Hazrat Nizamuddin. From free Wi-Fi to 3D VR headsets to advanced hand-held terminals, here are some amazing features of the new Mumbai-Delhi Rajdhani Express.
A little about the new Mumbai-Delhi Rajdhani Express
While Indian Railways already operates two Mumbai-Delhi Rajdhanis, the new train is the first Rajdhani between the two cities to pass through Bhopal. It will stop at Kalyan, Nasik Road, Jalgaon, Bhopal, Jhansi, and Agra Cantt stations. It is also the first Rajdhani Express service for the Central Railway. Also, the new Rajdhani has brand new LHB rakes instead of the old ICF coaches.
Passengers can enjoy free Wi-Fi and 3D VR headsets
To provide free Wi-Fi and digital entertainment services to passengers, all coaches of the new Rajdhani Express are equipped with Wi-Fi hotspots. One can access Wi-Fi on their devices to enjoy 500+ hours of free infotainment. Also, First AC coach passengers will be provided with VR (Virtual Reality) headsets, on a returnable basis, to enjoy the heritage of Indian Railways through 3D graphics.
The train will also offer upgraded washroom amenities
The new Rajdhani Express will offer better washroom amenities to passengers. It has modular bio-toilets with air fresheners, handsfree sensor-activated soap dispensers, Duro Wipe floor mats, comfortable seats, and taps with water-conserving aerators among others. For better hygiene, the Third AC coaches have disposable paper toilet seat covers while the toilets in First and Second AC coaches have toilet safe seats (fresh disposable seats).
Better-quality linen for passengers; window roller blinds for First-AC coaches
For the comfort of the new Rajdhani Express passengers, the Indian Railways is also providing better quality linen, including branded bed sheets, blankets, pillows, and pillow covers. Also, the First AC coaches will have new curtains, flooring, backlit LED pictures, upgraded toilet facilities, special sanitation kits, and window roller blinds for a better viewing experience too.
Real-time feedback from passengers; hand-held terminals for TTEs
Passengers of the new Rajdhani Express can also send their feedback on train services, including on-board services and amenities, cleanliness, and meals, in real-time through Aap-ki-Rai mobile app. Also, Travelling Ticket Examiner (TTEs) on the train will be equipped with advanced hand-held terminals (HHTs) for seamless checking of tickets and real-time updating of seat/berth occupancy status for improving chances of confirmation of waitlisted tickets.