#CBSE2019: How can Class-10 students overcome fear of Mathematics?
#CBSE2019: How can Class-10 students overcome fear of Mathematics?
Written by
Ramya Patelkhana
Jan 28, 2019, 11:52 pm
3 min read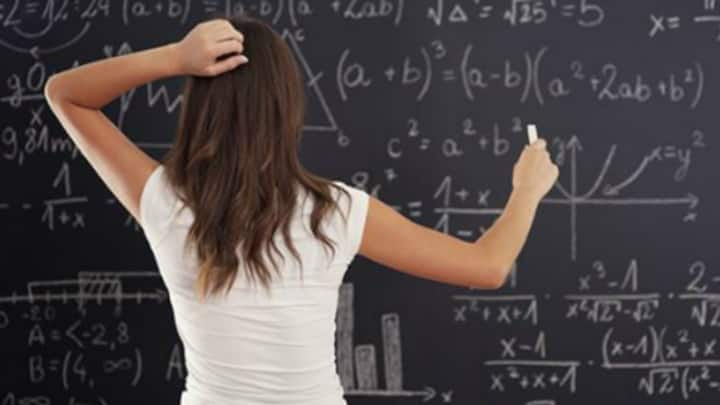 Mathematics is a challenging subject and can be a nightmare for many Class-10 students, who are scared of the subject as it involves a vast syllabus, formulae, and concepts. However, math isn't difficult; it's scoring and only requires a thorough understanding of concepts and practice. With the CBSE Class-10 Mathematics exam just weeks away, here are some tips to get rid of the phobia.
Understand what topics you need to cover; get doubts cleared
To overcome the math fear, students must first have a clear understanding about the syllabus and know what concepts they have to cover and then decide how much time to dedicate for practicing them considering their difficulty level. They shouldn't be afraid of math and ask their teachers or friends for help whenever they have doubts/questions; it can enhance their understanding of concept.
Math is all about thorough understanding of concepts and practice
It is also important for students to have a study hour after school to practice the math concepts taught in class that day when they are still fresh in mind. This would help them absorb the concepts better. Math is all about understanding the concepts thoroughly and regular practice. While memorizing different concepts is essential, mugging up would not be of much help.
Get a good grip on basics to understand advanced concepts
Students should focus on learning and mastering one topic at a time before going to the next. This would be helpful because most concepts build upon the previous ones. If they don't get a good grip on basics, students may struggle with advanced concepts. Also, to avoid confusion, students should focus on NCERT textbooks and understand core concepts before jumping to advanced reference books.
#4: Do not skip any topic while learning math
While learning concepts, some students might get stuck on any topic or don't understand some questions or solutions. In such cases, instead of skipping the topic or question and moving to the next, they should seek help and get their doubts cleared.
Design a strategy to convert weaknesses into strengths
While practicing math concepts, students must identify their weak areas on which they need to focus more. They can also note down their weaknesses and prepare a strategy to convert them into strengths through regular practice. They should also have a study plan and need to find a balance between tough and easy topics while preparing a schedule for math.
Practice is key to succeeding at math; learn from mistakes
When it comes to mathematics, the importance of practice cannot be emphasized enough. The more students practice, the easier math becomes. They must solve previous papers and take mock tests to get an idea of the actual exam. They must analyze their performance regularly. If there are mistakes, they should compare them with correct solutions, understand their mistakes, and ensure not to repeat them.