Sterlite violence: 'Police shot agitators to safeguard themselves,' says CM
Sterlite violence: 'Police shot agitators to safeguard themselves,' says CM
May 24, 2018, 02:23 pm
3 min read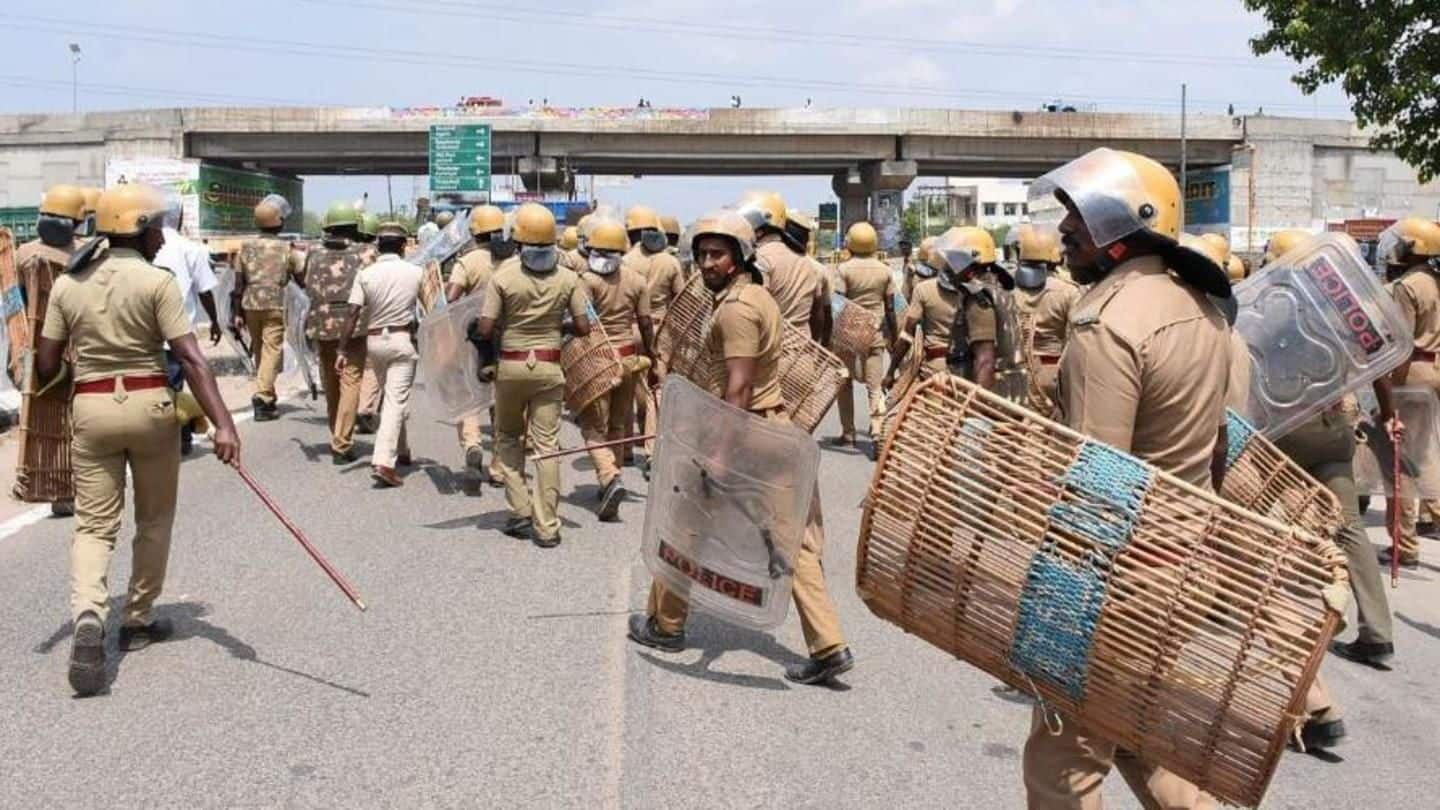 A fresh controversy erupted today when TN CM E Palaniswami defended police-firing on protesters, saying they were "defend(ing) and safeguard(ing) themselves." Public anger is high after 13 people died when protests against Sterlite Copper in Tuticorin ended in violence. DMK leader MK Stalin was dragged out of the CM's office, where he was protesting the deaths. Home Minister Rajnath Singh has appealed for peace.
Why is Tuticorin protesting?
Since long, residents have been demanding the closure of Sterlite Copper, the copper unit of Vedanta, alleging pollution caused by it is hampering the water quality in the area and seriously harming health. Demonstrations turned more intense recently after the company announced plans of expansion of its 400,000-tonne per annum unit. Sterlite insisted it has necessary permits and wasn't violating any norms.
TN Police in trouble over videos of assault on protesters
Tuesday, violence broke out after protesters were reportedly stopped from marching to the plant. Thirteen people died. Agitators toppled vehicles and vandalized property. Police resorted to lathicharge, tear-gas and water-cannons, but have denied using bullets. However, videos later emerged showing police tracking protesters to their homes in the night and assaulting them. Another showed two cops climbing atop a van and aiming at protesters.
Sterlite construction work halted, panel set up to probe violence
Yesterday, the Madurai bench of the Madras High Court stayed the construction of a new copper smelter by Sterlite in Tuticorin. The government has announced compensation of Rs. 10L for families of those who were killed, and Rs. 3L for those who were injured. It has also set up a commission headed by a retired judge to investigate Tuesday's violence.
Mobile internet suspended, shops shut, administrators transferred
These days have seen quick corrective actions on the ground. Internet has been suspended for five days. Section 144 has been imposed. Shops remained shut for the third day. The Tuticorin Collector and SP have been transferred. Around 70 people have been arrested for the violence. Stalin and other leaders were detained while they were protesting at the secretariat.
CM defending police firing creates fresh controversy
Things turned worse after Palaniswami said this morning, "The entire episode which happened was primarily because of certain political parties, NGOs and anti-social elements, who took protestors to a wrong path." The DMK has announced a state-wide bandh tomorrow, demanding permanent closure of Sterlite. Meanwhile, the protests spread to Delhi, where agitators shouted slogans outside the TN Bhawan.