No more elephant rides in Jim Corbett, Rajaji Reserve
No more elephant rides in Jim Corbett, Rajaji Reserve
Aug 07, 2018, 06:38 pm
3 min read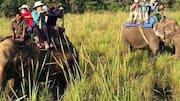 Those visiting Jim Corbett and Rajaji Tiger Reserve in Uttarakhand in the hope of elephant rides are in for a big disappointment, as Uttarakhand HC has banned the commercial use of jumbos. The court also ordered the Chief Wildlife Warden to take control of private elephants within 24 hours. In a country that doesn't have strong animal rights, this is definitely a welcome move.
Elephants are to stay, undergo treatment at Rajaji National Park
As per the ruling issued last week, the elephants will be staying at Rajaji National Park, Chilla, temporarily. The injured and maimed animals should be treated within 12 hours, for which "the Chief Warden is to issue proper receipts to the elephant owners." SSPs of Nainital, Udham Singh Nagar Haridwar, and Pauri districts should also assist forest officials in saving the elephants.
Slash jeep safaris to 100 per day: Uttarakhand HC
The HC bench comprising Justices Rajiv Sharma and Lok Pal Singh also put a cap on the number of daily jeep rides at 100, as against the current 200 that ply in protected areas. Jeeps are used for safaris and charge Rs. 4,800 and Rs. 8,000 per trip for Indians and foreigners respectively. Maximum six persons and two children are allowed in each jeep.
Only private vehicles possessing valid permits to be allowed
Further, the HC said only private vehicles possessing RTO-issued permits are to be allowed in the National Parks. Dehradun-based The Wildlife Institute should carry out a survey "to assess the carrying capacity of these zones pertaining to the number of vehicles that can be permitted." The Chief Wildlife Warden will also have to publish an exhaustive list of jeeps available on their official website.
Owners of jeeps and resorts unsettled, wildlife activists welcome ruling
Both commercial and private safari vehicles ply in Sitabani, Bijrani and Dhela zones of Corbett, Kalagarh and Rajaji National Park every day, while elephant rides are conducted by resort owners. While the HC ruling has naturally unsettled them, wildlife activists have hailed the move. "I am not in favor of elephant safaris. The domesticated elephants aren't treated well," said Ullhas Karanth, Wildlife Conservation Society.
Elephants used in commercial rides are regularly abused, mistreated: PIL
The court's ruling came while it heard a 2012 PIL filed by Mayank Mainali, Chairperson, Himalayan Yuva Gramin Vikas Sanstha. Echoing Karanth, Mainali said domestic elephants are mistreated by their mahouts, in a clear violation of the Wildlife Protection Act 1972 and the Prevention of Cruelty to Animals Act 1960. Mainali also pointed out that safari vehicles disturb the peace of wildlife.