WFI President Brij Bhushan to step aside until probe ends
WFI President Brij Bhushan to step aside until probe ends
Jan 21, 2023, 10:22 am
3 min read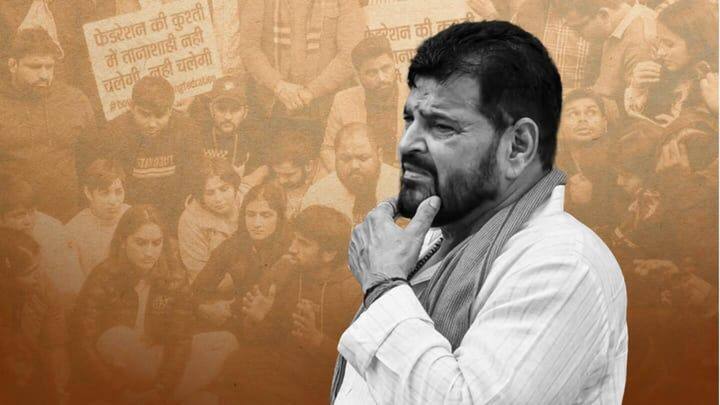 Union Sports Minister Anurag Thakur revealed on Friday that Bharatiya Janata Party (BJP) MP Brij Bhushan Sharan Singh would step down as the president of the Wrestling Federation of India (WFI) amid the allegations of sexual misconduct against him and his associates. An oversight committee was formed by the government to probe the sexual harassment allegations by women wrestlers against the WFI president.
Why does this story matter?
Numerous Indian wrestlers have accused the WFI president and his associates of sexual harassment and have been protesting at Jantar Mantar in Delhi, demanding Singh's removal and the wrestling body's dissolution.
Top wrestlers like Bajrang Punia, Vinesh Phogat, Ravi Dahiya, Sakshi Malik, etc., decided to end their protest on Friday after a breakthrough was made during a marathon second round of talks with Thakur.
Probe committee to submit report within a month
Thakur also revealed the probe committee would submit its findings within a month. "It has been decided that an oversight committee will be formed, names for which will be announced tomorrow. The committee will complete its investigation within four weeks. It will thoroughly probe all the allegations, be it financial or sexual harassment, that have been levelled against WFI and its chief," said Thakur.
Visuals of Thakur with protesting wrestlers on Friday night
It has been decided that an oversight committee will be formed names for which will be announced tomorrow. The committee will complete its investigation in 4 weeks will thoroughly probe all the allegations that have been leveled against WFI its chief: Union Sports Minister pic.twitter.com/lj7mvopveQ

— ANI (@ANI) January 20, 2023
Bajrang Punia confirms end of protest from wrestlers
As per ANI, Bajrang Punia revealed that the wrestlers never wanted to take the protest route but were pushed to the limit. "The protest is over. We did not want to sit on dharna but 'paani sar se ooper chala gaya tha'. The government has assured us safety and security, we have been threatened by the WFI president in the past also," said Punia.
Wrestler's letter to IOA president
The agitating wrestlers had earlier written to the Indian Olympic Association (IOA), calling for an investigation into the allegations. Addressing the IOA President PT Usha, the letter claimed financial misappropriation on WFI's part and alleged that the national camp's sports science staff and coaches are "absolutely incompetent." They had also reinstated their demand to dissolve WFI and the sacking of its president.
Who are in IOA's seven-member probe panel?
The IOA formed a seven-member panel headed by MC Mary Kom, to investigate the claims. The panel also includes the likes of Yogeshwar Dutt, Dola Banerjee, Sahdev Yadav, and advocates Shlok Chandra and Talish Ray. Besides this, former Indian shuttler and IOA joint secretary Alaknanda Ashok has been named the vice chairperson of the emergency probe unit.
Singh denied charges, refused to resign as WFI president
So far, Singh has refuted all the allegations against him and denied stepping down as the WFI president. Thakur had also ringed the BJP MP to warn him about making any statement to the media. "If I speak, there will be a tsunami...I am not here because of someone's charity. I have been elected by the people," Singh told reporters.