Cash crunch will be resolved by tomorrow, says SBI chairman
Cash crunch will be resolved by tomorrow, says SBI chairman
Apr 19, 2018, 06:09 pm
3 min read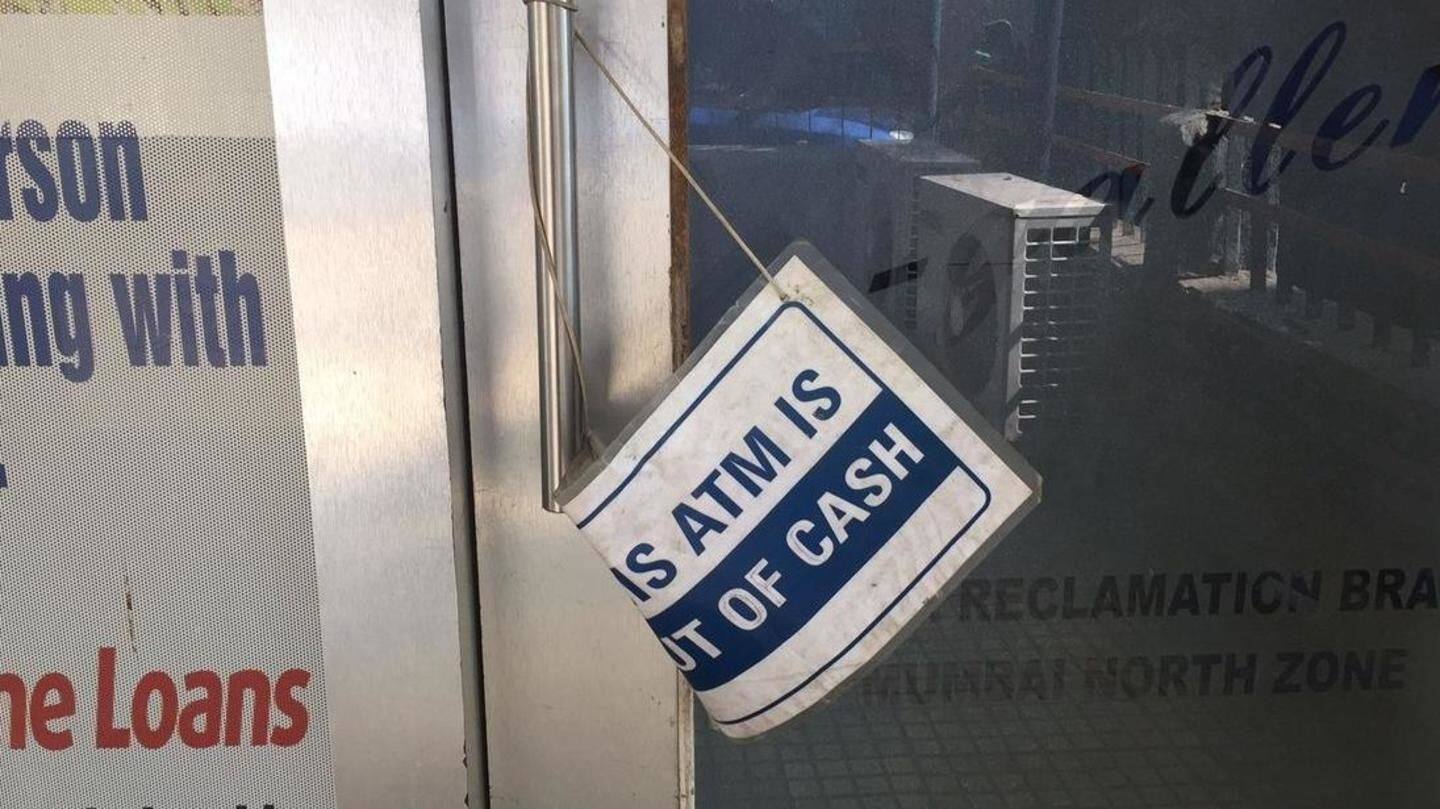 A severe cash crunch still persists across various cities and states, but SBI Chairman Rajnish Kumar has assured the problem will be resolved by tomorrow. The system is currently short of cash worth Rs. 70,000 crore, a third of the overall monthly withdrawal from ATMs, says SBI. Officials have mentioned two factors: possible hoarding of Rs. 2,000 notes and printing of Rs. 200 notes.
The unexpected crisis that has gripped India
People in several states including Delhi, Telangana, MP, Bihar, Chhattisgarh, Karnataka, Maharashtra, AP, Rajasthan and Gujarat are facing an unexpected cash crunch as ATMs run out of money. In some places, ATMs stopped dispensing more than 15 days ago. #ATM and #cashcrunch have been trending on Twitter. For the masses, it has brought back memories of demonetization, when Indians struggled due to lack of cash supply.
Delay in ATM recalibration hindering dispensing of Rs. 200 notes
Apart from other factors, faster printing of Rs. 200 notes might be responsible as it "may have altered the demand for smaller-denomination notes to possibly substitute for the currency of larger denominations," an SBI report said. But delay in recalibration of ATMs is hindering dispensing. "As ATMs have to be replenished more frequently, it can lead to the conjecture that cash is not available."
Government suspects hoarding of Rs. 2,000 notes
A worrying concern is that people are hoarding high-value notes, especially Rs. 2,000, which might deem the demonetization exercise ineffective. Economic Affairs Secretary Subhash Chandra Garg says they haven't investigated the case of the less inflow of Rs. 2,000 notes, but "this is the one note most suitable to hoard as this is a high-value note." However, it isn't affecting supply, he said.
Several factors have possibly contributed to this trend
Among other theories being speculated, one is procurement season: payment to farmers have gone up, thus affecting supply. RBI sources said there was "higher than normal withdrawal" due to harvest festivals. Rumors about a new bill that would transfer banks' losses to depositors are also driving people to withdraw cash. However, some bank officials believe RBI is deliberately doing it to boost digital transactions.
What is the RBI and the government doing?
The RBI has now increased supply to cash-starved regions. To check hoarding, the government also plans to increase printing of Rs. 500 notes five-fold. "In the next couple of days, we will have a supply of about Rs. 2,500cr worth of Rs. 500 notes daily. In a month, supply would be about Rs. 70,000-75,000cr. These notes alone can more than meet the demand," Garg said.
'Taking all steps to resolve matter at the earliest'
The Government of India with the Reserve Bank of India have taken all steps to meet this unusual demand. We had adequate reserves of currency notes which have been used to meet fully the extraordinary demand generated so far

— Ministry of Finance (@FinMinIndia) April 17, 2018
For now, no cash-handling charges, withdraw more from PoS machines
For now, to ease life for people, the government has instructed banks to waive cash handling charges, Bank of India CEO Dinabandhu Mohapatra said. SBI is also letting people in smaller towns withdraw up to Rs. 2,000 from its PoS machines at retailers for free.