Aadhaar helpline number auto-saved on phones: Check your contact-list now
Aadhaar helpline number auto-saved on phones: Check your contact-list now
Aug 03, 2018, 04:56 pm
2 min read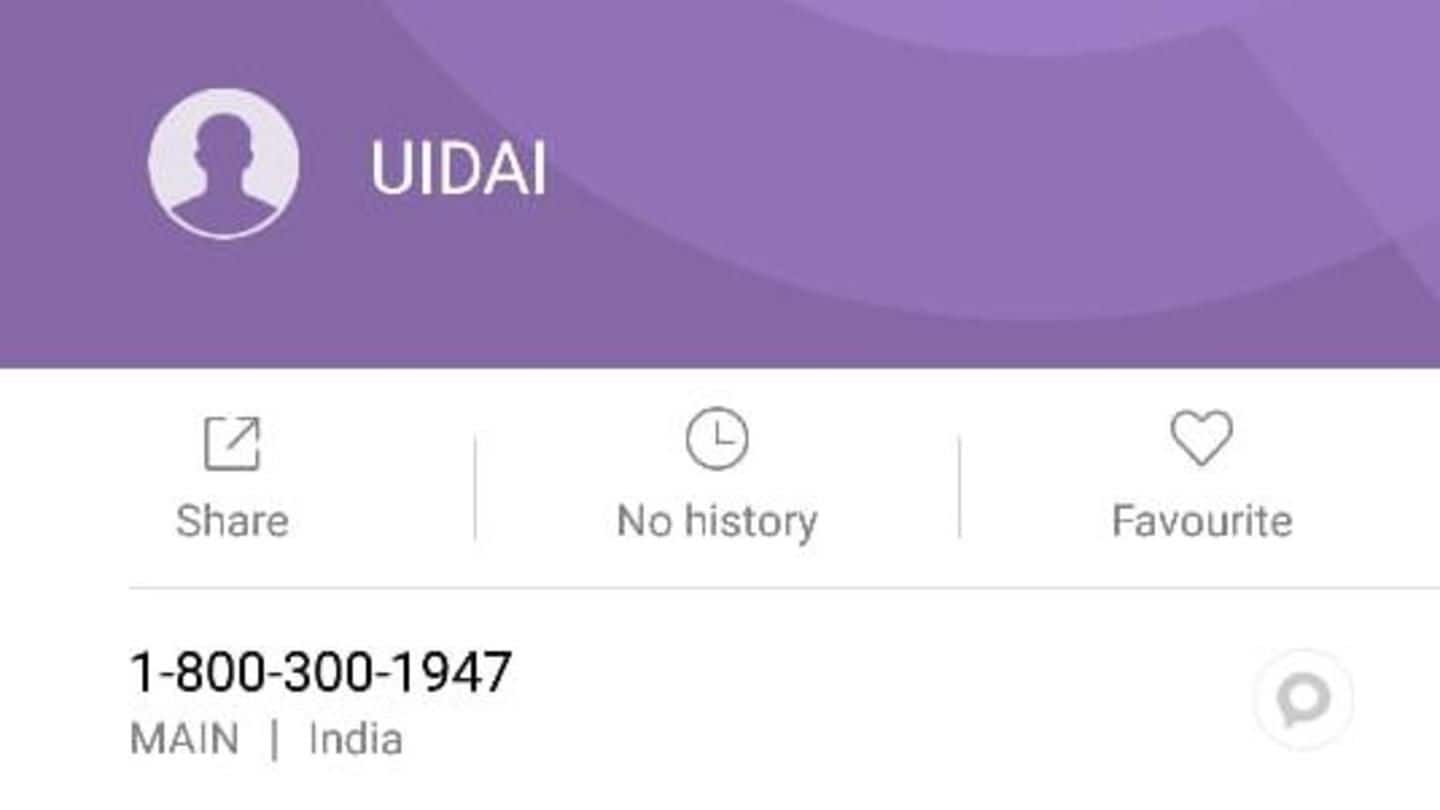 Have you ever saved UIDAI's number on your phone? Even if you haven't, chances are your phone will have the number saved. Search for 'UIDAI.' The issue was discovered last year, popular security researcher Elliot Alderson said, but it gained attention only now, after he pointed it out on Twitter again. This is happening "with different providers, with and without an Aadhaar card/mAadhaar app."
'Number installed by default, without users' knowledge'
Hi @UIDAI,

Many people, with different provider, with and without an #Aadhaar card, with and without the mAadhaar app installed, noticed that your phone number is predefined in their contact list by default and so without their knowledge. Can you explain why?

Regards,

— Elliot Alderson (@fs0c131y) August 2, 2018
Note: UIDAI doesn't qualify as 'emergency services'
In most cases, SIM cards of different providers come pre-loaded with a few numbers, but these are of emergency services, like police and ambulance. Considering the Unique Identification Authority of India (UIDAI), in charge of dispensing Aadhaar cards and maintaining the database, is none of these, people are outraged. Incidentally, the pre-saved number shows up as 1800-300-1947; the new number is 1947.
Nokia, Samsung, Xiaomi, Apple... UIDAI number comes in all devices
Business Standard says it reviewed different handsets from various companies, including OnePlus, Motorola, Samsung and Nokia and found that the number was pre-loaded across all companies' devices. This writer found the number present in Xiaomi and Apple handsets too. After hundreds confirmed the number's presence on their phones, Anderson has put forward another question "What if it is only the top of the iceberg?"
UIDAI hasn't passed any such communication: Statement
In a statement, UIDAI denied it is involved. "UIDAI hasn't asked or communicated to any manufacturer or service provider for providing any such facility." "It is emphasized that the said 18003001947 is not a valid UIDAI toll-free number and some vested interest are trying to create unwarranted confusion in the public." The new number has been in use for over two years, it added.
According to this expert, automatic-upload isn't possible without government instructions
A source tried to explain the matter to Business Standard, saying "manufacturers must have found the (UIDAI) helpline number to be as useful as emergency numbers." But Arnav Gupta, co-founder, Coding Blocks, pointed out that even numbers like women's helpline and fire emergency aren't added automatically. Android phones automatically download a list of basic emergency numbers, he said, adding this couldn't have happened without government instructions to manufacturers.