Gujiya, thandai and more: Top 5 foods for Holi
Gujiya, thandai and more: Top 5 foods for Holi
Mar 08, 2022, 01:45 pm
2 min read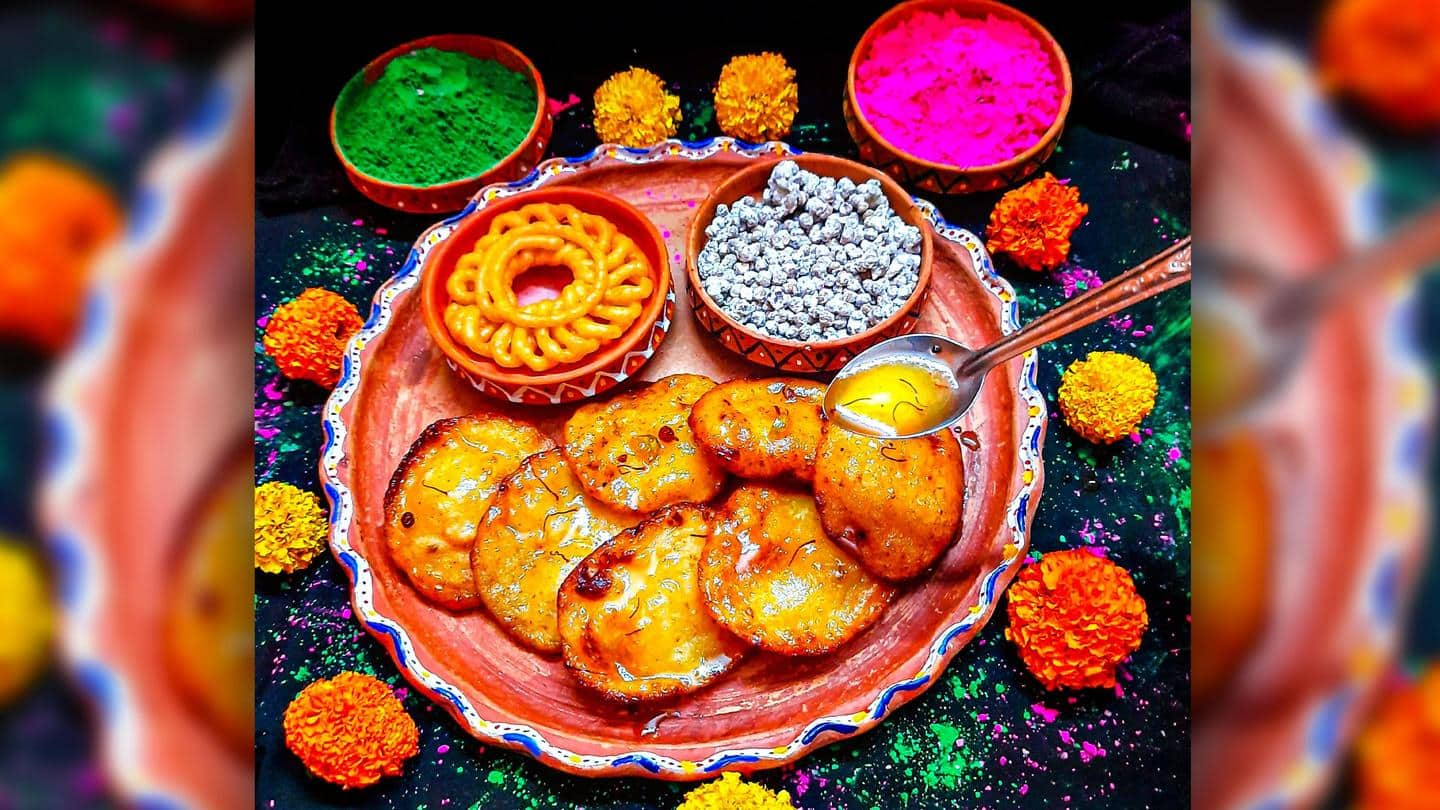 Holi is all about colors, good food, fun parties, and unlimited enjoyment. It is the perfect time to meet your friends and plan get-togethers with your family as you gorge on some delicious food. From gujiyas, laddoos, and malpua to chilled thandai and different yummy snacks, there are a lot of Holi delicacies to choose from. Here are five Holi recipes you must try.
Gujiyas are a classic Holi dessert that is loved by everyone. Make a dough using flour, water, and ghee. Saute semolina and khoya and let it cool. Combine it with powdered sugar, dry fruits, and cardamom. Make round balls from the dough and add the stuffing. Roll the sides into a crescent shape and deep-fry. Garnish with some pistachios and saffron strands before serving.
Mix together overnight-soaked urad dal, ginger, green chilies, asafoetida, salt and grind well. Add some salt and fry the runny batter making small balls while adding it to the oil Let them cool and then soak in water. Squeeze out excess water and put them on a plate. Now put them into yogurt. Serve with tamarind chutney, green chutney, and cumin powder.
This traditional Maharashtrian delicacy has a sweet and savory flavor that will leave you craving for more. Roast blanched chana dal in ghee along with jaggery, ginger, cardamom, fennel, and nutmeg powder. Then, mash the dal. Combine flour, salt, oil, turmeric, and knead stiff dough. Make small balls and fill them with the chana-jaggery filling. Roll out the rotis and cook them well. Enjoy!
Holi is incomplete without some creamy and refreshing thandai that is prepared with milk and flavorful spices. Mix together blanched almonds, pistachios, white poppy seeds, melon seeds, dried rose petals, fennel seeds, whole black pepper and keep overnight. Grind the mixture along with sugar, cardamom, and saffron. Add the thandai paste to a glass along with chilled milk. Stir the mixture well and enjoy.
This coconut milk murukku recipe is light, crispy, and absolutely delicious. Mix together rice flour, sesame seeds, urad dal flour, and butter. Add coconut milk and knead soft dough. Press the dough over the murukku maker in a circular motion to form a twisty shape. Fry the dough until golden brown and serve hot. You can store the murukkus for up to a week.