5 different ways to use yogurt in summers
5 different ways to use yogurt in summers
Apr 06, 2022, 02:26 pm
3 min read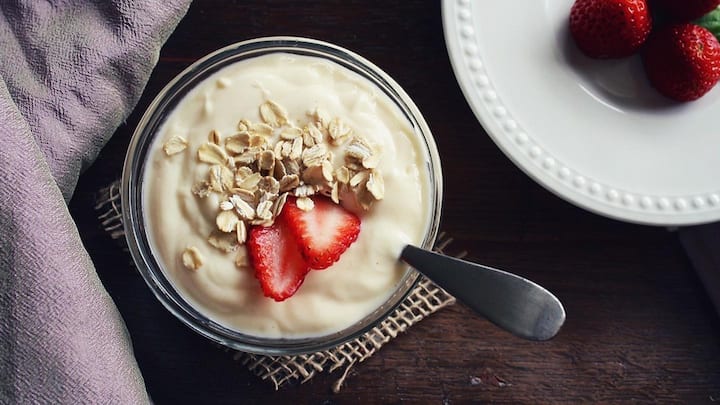 Summers are all about consuming light and refreshing foods that would have a cooling effect on your body. Yogurt is one of the perfect summer-friendly foods that is loaded with protein and calcium. It cools down your body and also helps in digestion. Yogurt is also great for your skin and hair during the summers. Here are five different ways to use yogurt.
Can be used to heal sunburns
Yogurt is perfect to provide relief to your delicate skin from the scorching heat. The cooling curd can help to soothe painful sunburns and moisturize your skin. Packed with zinc, probiotics, and anti-inflammatory properties, it restores your skin's natural barrier. Apply some cool yogurt to the affected areas. Wait for 20-25 minutes and wash off with lukewarm water.
Use it as a hair conditioner
Summer and sweat can make your hair dry, frizzy, and dull. Instead of investing in expensive conditioners from the market, use yogurt on your hair as a natural conditioner. It repairs dry and damaged hair and moisturizes your scalp. Mix yogurt with honey and coconut oil and massage it well from the roots to the tips. Leave it for 20 minutes before washing off.
Make buttermilk with yogurt
Beat the summer heat by making some chilled buttermilk and say goodbye to dehydration, fatigue, and tiredness. Made with yogurt, this refreshing summer drink cools the body, relieves constipation, and also aids in weight loss. To make buttermilk, blend yogurt with chilled water, black salt, cumin powder, asafoetida, and coriander leaves until smooth. Adjust the consistency. Garnish with coriander leaves and enjoy.
Fruity yogurt popsicles for your kids
Kids are usually fussy about their food. But summertime requires them to eat cooling foods and drink plenty of fluids. So, keep your kids hydrated and healthy with some fun yogurt recipes that they will love. You can serve them frozen fruit yogurt popsicles made with fresh summer fruits that will provide them with the essential nutrients of the cooling curd.
Use a yogurt and besan face pack for instant hydration
Your skin needs special care and attention in summer. Yogurt can be used in multiple ways to keep your skin beautiful and radiant. Mix some besan with yogurt and a little turmeric. Apply it to your skin. Wait for 15 minutes and then scrub your face with wet hands in a circular motion to remove tan and dirt. Wash it off with water.