Mumbai: Sacked, drunken man threatens to commit suicide
Mumbai: Sacked, drunken man threatens to commit suicide
Jul 07, 2018, 07:27 pm
3 min read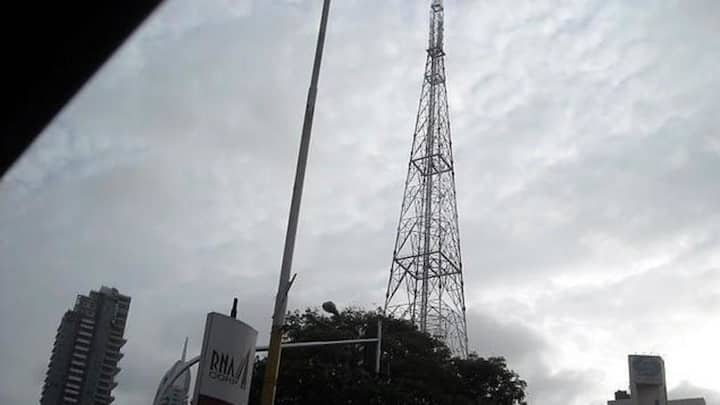 A drunken man created some high-voltage drama for Mumbai Fire Brigade in the wee hours of Friday, as he threatened to jump off from atop the Doordarshan Tower at Worli. He shared that since he has been sacked from his job, he would not be able to feed his family anymore. The man worked as a driver for 13 years, before being fired.
Paswan himself had called up PCR to alert them
Vithalwadi resident Ajay Paswan was perched on a platform when he was rescued by fire brigade officials around 7AM. By that time, a four-hour-long drama had already unfolded. Cops said they received a call around 3AM about a man who had entered the premises, unauthorized, and had climbed halfway up the 350mtrs TV-tower. It was later found that Paswan himself had made that call.
High-velocity winds and rain worsened rescue operations, said officials
However, when police and fire brigade teams tried to call him back and urged him to come down, he didn't adhere. "He kept demanding he'd talk to the media and threatened he'd jump," said Devendra Shivaji Patil, assistant divisional fire official. Not paying heed to his threats, Patil and his colleagues braved high-velocity winds and rain to rescue Paswan.
Paswan refused to budge; officials finally decided to pretend
They were already 125mts above the ground level constantly prodding Paswan to budge but he "didn't allow us to come close to him and reiterated his demand." With no option left, fire brigade officials decided to put up an act and pose as reporters from news channels. Patil and his colleagues Vijay Devre, Prashant Talekar and Sagar Dongardive, signed up for this challenge.
His demands: More salary, bonus to be given to drivers
They arranged for dummy cameras and placed those below the antenna. Patil then called up Paswan, posing as a reporter. That was when he shared about his sacking and demanded that drivers be paid more than the current salaries and that they should also be given bonus. After pacifying him for hours and assuring him help, the officials managed to bring him down.
Paswan has a two-year-old, his wife is pregnant again
Paswan was then handed over to Worli Police, where he said he was completely distressed over not having a job. He already has a two-year-old son, and his wife is pregnant again. Confirming the incident, Zonal DCP Virendra Mishra informed that Paswan has been fined Rs. 5,000 for entering a restricted property and is now in police custody.