On February 16, Kejriwal to take oath at Ramlila Maidan
On February 16, Kejriwal to take oath at Ramlila Maidan
Feb 12, 2020, 12:07 pm
3 min read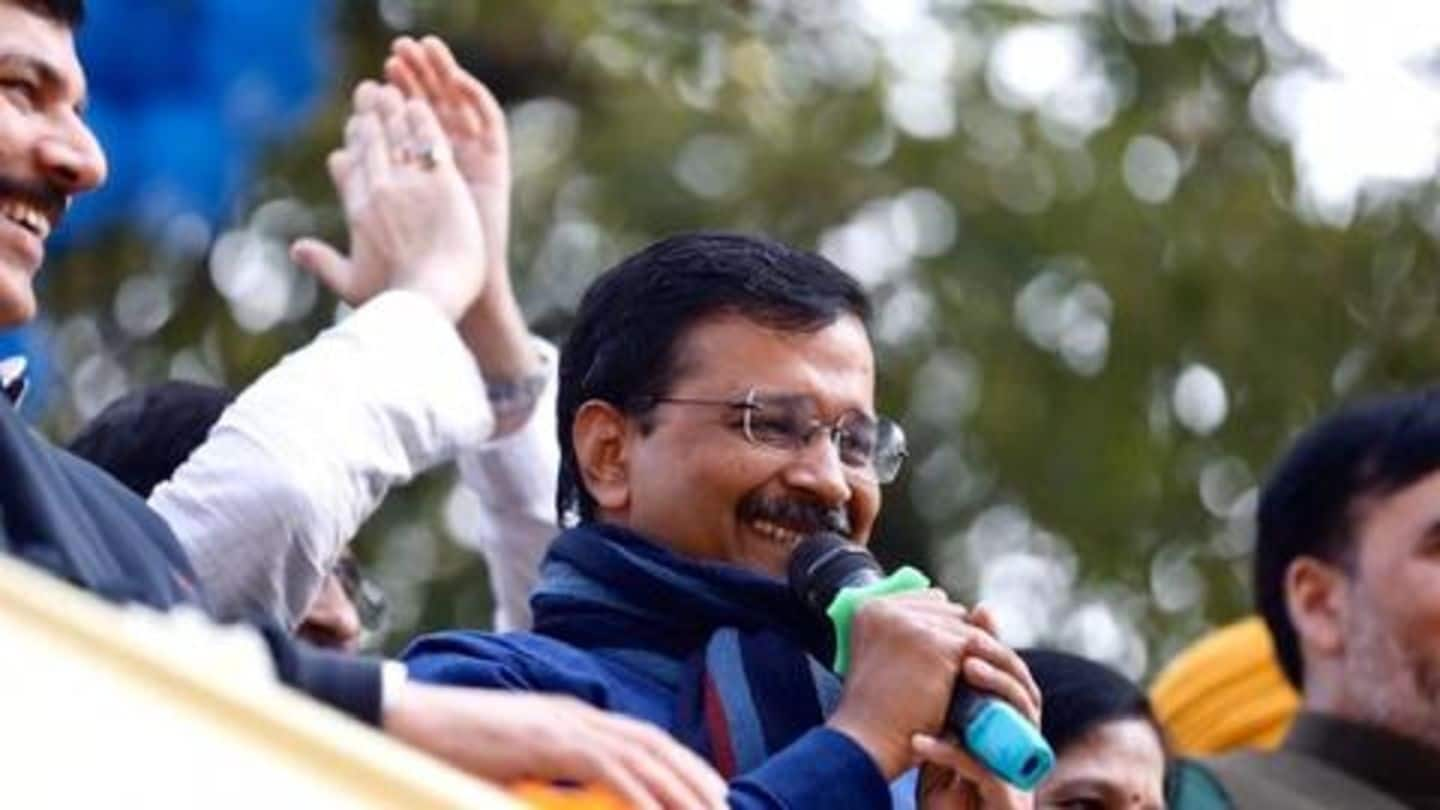 Rewarded with a stunning mandate by people of Delhi, Arvind Kejriwal will take the oath as the Chief Minister for a straight third time on Sunday, February 16. The venue of his oath-taking ceremony is Ramlila Maidan, the same place where he swore to serve Delhi when he became the youngest CM in 2015. He will meet Lieutenant-Governor Anil Baijal today.
AAP's performance proved there was no anti-incumbency
Of the 70 Assembly seats, AAP won 62, five less than what it got in 2015, but splendid nevertheless. Its closest rival, BJP, was shrunk to merely eight seats; and Congress repeating its 2015 performance got zero seats. Not making the crucial Assembly elections a contest between Kejriwal and Prime Minister Narendra Modi, AAP focused on its performance and the freebies it handed over.
It's win for Mother India: A grinning Kejriwal told supporters
Kejriwal made a brief appearance at the party office to greet workers and blow kisses at Delhi voters. With wife Sunita by his side, he called AAP's resounding victory a win for Mother India. "This is a win for every family whose children are now getting a good education in school, whose family members are getting good treatment in hospitals," he added.
Keeping his promise, Kejriwal visited Hanuman Temple
In the evening, Kejriwal also led a victory parade to the famed Hanuman Temple at Connaught Place. His earlier visit to the same temple took political tones after BJP accused him of soiling the idol. Before elections, Kejriwal also recited the Hanuman Chalisa during a live show on television. On the reactions he received, he said God belongs to everyone.
AAP workers are happy "divisive politics" was defeated
Ecstatic after the win, AAP supporters said this vindicates their decision to focus on "governance and development" and not "divisive politics". Notably, BJP's hate-filled campaign was centered around the contentious Citizenship Amendment Act. The saffron party threw in heavyweights like Prime Minister Narendra Modi, Home Minister Amit Shah, BJP President JP Nadda, and Uttar Pradesh CM Yogi Adityanath to seek votes. But it lost.
Five years ago, Kejriwal took oath as Delhi's eighth CM
The former bureaucrat jumped to national headlines after participating in the anti-corruption movement of Anna Hazare. He split from the movement later, asserting he needed to get involved in politics to change it. In 2015, when he took oath as Delhi's eighth CM, Kejriwal addressed a crowd of some 50,000 people and declared that he would only concentrate on the national capital.
Kejriwal promised to work only for Delhi
"We paid for our arrogance in the 2014 Lok Sabha polls. God punished us for it. I will stay here for the next five years and work for Delhi with full dedication," Kejriwal had said. The current mandate shows he sort of delivered.
Kejriwal was flooded with wishes from supporters and opponents alike
By the end of Tuesday, Kejriwal was inundated with congratulatory messages, including one from PM Modi. Thanking the tall BJP leader for his wishes, Kejriwal sought Centre's assistance in making Delhi a world-class city. Among others who wished him were Nadda, Delhi BJP unit chief Manoj Tiwari, West Bengal Chief Minister Mamata Banerjee, and former Congress President Rahul Gandhi.
Kejriwal is looking forward to his next term