Who is Om Birla, the new speaker of Lok Sabha?
Who is Om Birla, the new speaker of Lok Sabha?
Jun 19, 2019, 12:28 pm
3 min read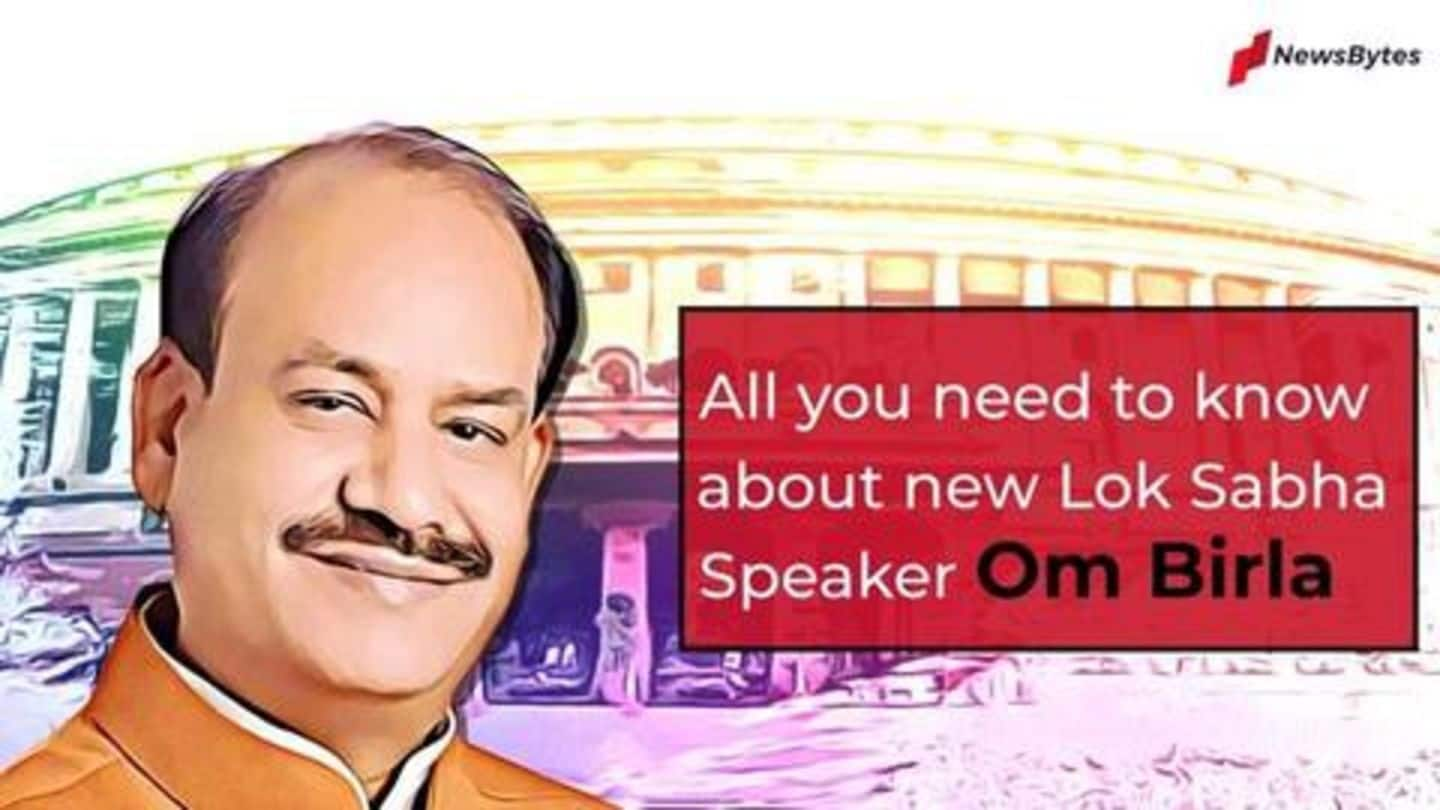 On Wednesday, BJP leader Om Birla was elected as the speaker of Lok Sabha. In the last tenure of Prime Minister Narendra Modi, the coveted post of the speaker was held by Sumitra Mahajan. 56-year-old Birla is a two-time MP from Rajasthan and represents the Kota-Bundi constituency. He was also elected to the state assembly thrice. Here's everything you need to know about him.
Birla started his public life at 17
Birla was born on November 23, 1962, and his public life started at a tender age of 17. In 1979, he was elected as president of Students' Association, Government Senior Secondary School in Kota's Gumanpura. He chose Commerce stream in Graduation and Masters but didn't lose touch with politics. Soon, he became the Joint Secretary of Rajasthan College of Commerce in Kota.
Apparently, Birla was picked by Shah and Modi
Birla joined RSS and grew exponentially. He held the position of district president of Bharatiya Janata Yuva Morcha in Kota for four years. He was the president of BJYM in Rajasthan for six years. Reportedly, Birla was handpicked by PM Modi and Union Home Minister Amit Shah because of his political astuteness. PM Modi hailed the work which Birla did in Kota.
Participated in Ram Janmabhoomi movement, won first election in 2003
Birla wrote in his profile for the Parliament that he was actively involved in the Ram Janmabhoomi movement, which led to the demolition of 16th-century Babri Masjid. He claimed he was jailed in Uttar Pradesh for his involvement in the movement. Notably, Birla won his first assembly election from Kota South in 2003. He defeated Congress' Shanti Dhariwal by a margin of 10,100 votes
Birla held an important post in Vasundhara Raje's government
He also won assembly polls in 2008 and 2013. Between 2003 and 2008, Birla remained the Parliamentary Secretary (MoS rank) in Chief Minister Vasundhara Raje's government. During PM Modi's first tenure, he was made the member of a Standing Committee on Energy in Parliament and member of Committee on Petitions and Consultative Committee for Ministry of Social Justice and Empowerment.
Interestingly, Birla had to wait long for good opportunities
While Birla's career graph has been exceptional, the rise was far from easy for him. Despite handling BJYM for years, Birla was overlooked by senior leaders like Lalit Kishore Chaturvedi and Raghuvir Singh Kaushal when it came to getting a ticket. In 2003, he got the ticket after Vasundhara Raje's clout grew. However, after Raje established her stronghold, Birla was again relegated to shadows.
Birla is famous for working for the underprivileged
When it comes to booth-level management, there are few leaders who can trump Birla. Last year, when Raje was drawing ire from several quarters, he was tasked with reorganizing BJP in the state. In 2012, he launched an initiative to distribute clothes and books among the poor. He also started medicine banks to provide free medicines. Birla is a close aide of JP Nadda.