#RoadTo2019: Chandrababu Naidu joins hands with Congress to 'save democracy'
#RoadTo2019: Chandrababu Naidu joins hands with Congress to 'save democracy'
Nov 01, 2018, 05:26 pm
2 min read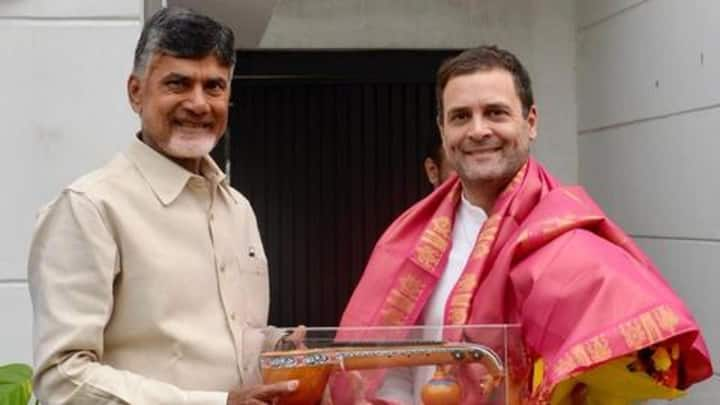 In what is sure to give a major push to the Opposition's unity, TDP's Chief Chandrababu Naidu joined hands with Congress in Delhi on Thursday. This was the Andhra Pradesh Chief Minister's second trip to the national capital, in hope to stitch a grand alliance. Announcing the decision after meeting Congress President Rahul Gandhi, he said democracy needed to be saved. Here's more.
Not looking into past, worried about future, says Rahul Gandhi
About the meeting, Gandhi said the idea was to defend democracy and the institutions of the country. "We are coming together. Both agree to not get into past, we're going to talk about present and future. Because of what's happening in the country," he added. Naidu said he and Congress agreed on principle and the alliance was a democratic compulsion.
Want to save the nation, says Naidu
Naidu added Congress was the main Opposition party and they will form future plan later. When asked about the seat sharing and other details, Naidu replied, "You are interested in candidates, we're interested in the nation. We will work all these things". He said they would organize everything and want a common platform. "We have to save the nation and the democracy," he said.
Naidu ditched NDA over Andhra's special status
Notably, Naidu walked out of NDA this March and has since then been a staunch critic of the Modi government. He had expressed displeasure over the Centre's refusal to grant Andhra 'special status'. It was TDP which initiated the no-confidence motion in the Parliament, a few months ago, which the BJP sailed through smoothly. This new alliance has set the tone for 2019, definitely.